Welcome to Alizon's Psychic Secrets...
Hello, I'm Alizon, White Witch, Spell Caster, Psychic.
I am a real Witch, casting real Spells with real Results!
If you have an interest in spirituality, are intrigued by astrology, fascinated by Tarot cards or captivated by Psychic abilities, then the next logical step is to look into the power of Magic.

Having a Spell cast is Magic you can believe in.

And even if you are slightly sceptical, uncertain or wary, powerful positive energies combined with expert Spell casting will soon have you convinced in the power of Magic.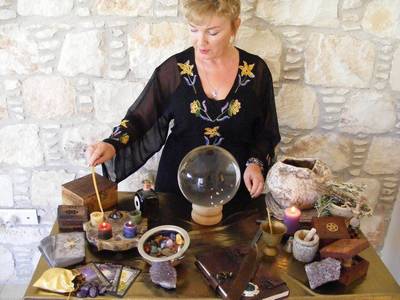 Discover some amazing tips and techniques on how to improve your life. Things that are really simple, but very effective.
With over 1000 pages of insight and information here on my website, you are certain to find something to interest you - and benefit you too.
Spells That Work

Learn about simple Spells you can cast yourself (or have powerful Spells that work cast for you by me, Alizon, an English White Witch) to bring dreams and goals into your life. You can have a powerful personalised Spell cast by me on your behalf by choosing from the wide range of Spells I offer.
I conduct Love Spells, Money Spells and Attraction Spells - plus many more Spells that work to bring health, wealth and happiness in all aspects of your life.
You'll also find my free Spells that work to rid bad luck for good that I offer alongside any other Spells I cast.
A number of factors need to be taken into consideration for Spells to work and help you

In its most basic form a Spell is a set of steps that uses a specific formula.

And just as conducting a scientific experiment, baking a cake or learning to drive all need a formula to follow then so does successful Spell casting.

Magic in its purest form is the manipulation and harnessing of specific energies combined with will, intent and action. The specific energies needed for Spells that work in the way they were intended need to be carefully put together.

A skilled and experienced Spell caster will have a wide knowledge of the energies contained in specific ingredients needed for Spells to work.

Energy exists in all things including thoughts, emotions and feelings along with tangible things such as humans, animals, plants etc.

Just like baking a wonderful, tasty and successful cake a Spell needs the correct ingredients in the correct amounts by using tools and utensils in the correct way.

I am an experienced Spell caster and have a wide knowledge of herbs, oils, crystals and other ingredients, their qualities, their energies and how to use them successfully.

I have a deep understanding of the power of colour, moon phases, solar phases, astrological matters and other natural phenomenon. I am also very skilled in the use of altar tools and am attuned to the elements of air, earth, fire and water.

Attracting Abundant Wealth

Discover the real secret to attracting huge wealth towards you with Spells that work.

Increase your own Psychic Ability
I also show you ways to increase your own Psychic Ability
• To help you make the right decisions and choices in your life
• To help you see deception and dishonesty in someone
• For your instincts and psychic intuition to become stronger and more accurate
And see your Psychic powers or Sixth Sense grow and develop.
Feel motivated and inspired to help yourself and others.
Benefit from a growing creativity and awareness of your own abilities.
See negative people and things fall away from you, and positive, energetic people enter your life.
Feel a growing sense of serenity and ability to deal with all your everyday problems.
Immerse yourself in Alizon's Psychic Secrets
I have sections on astrology, auras, colours, crystals and chakras, numerology along with your chance to join my free Coven – The Green Witches Coven
I've also developed an easy but effective Tarot Reading Course that can help you find answers for yourself and others.
Discover the Seven Secrets and you learn more about how things and why things happen to you and others in the world. There is a lot more too! Check the links at the top of the page. I'm adding new pages all the time so please bookmark my site, add it to your favourites and come back to it when you can. It could change your life!
If you want to know more about me, please go to my About Me page!
---
Client Reviews


Christine from Stamford, Connecticut, USA

"Hi Alizon! Thank you for another GREAT Casino win! after casting me a Money Spell."
Thomas from Muir, Switzerland

"You cast a Money Spell for me. My turnover increased 70% during the last three months! You helped me in a great way."
Terrence from Sacramento, California USA
"I wanted to thank you for the Money Spell you cast for me. I have seen immediate results and look forward to the continuous positive energy. Blessings to you."
Alexa Aurora, Colorado USA
"Hi! Again, thank you for all your work on the Money Spell. There have been amazing positive energies flowing around my finances already."
Judith from Wrexham, North Wales, UK
"I just wanted to thank you for casting the Full Moon Triple Cast Love Spell from the bottom of my heart. I know the full moon can be powerful but I didn't expect such great results so soon."
Charles from Smithfield, Queensland, Australia
"Thank you so much for the amazing and fantastic extreme success you had in the Return Lover Spell you did. Within 24hrs my ex contacted me and wanted to see me straight away. I could not believe it. It was amazing."
Lynne from Topeka, Kansas, USA
"You cast an Attraction Spell for me. It took several weeks to work, but when it did, it worked like ... well like magic! I have found the most wonderful, perfect, man in the world for me!"
Graham from Dartmouth, Nova Scotia, Canada
"Just one word – UNBELIEVABLE!!! The reaction I got just days after you cast the Sex Spell was incredible."
Nina from Picton, NSW, Australia
"I just wanted to share with you the best news ever! Your Fertility Spell worked! I've waited so long for this to happen and I'm over the moon. Thank you so much Alizon."
Yvette from Singapore
"The Psychic Ability Spell you cast has begun to work. I can sense the connections with spirit much stronger than before. I have been more and more sensitive to other "beings" around me also."

The law requires me to state that the contents of this website are for entertainment purposes only.
Psychic, tarot and spell casting services cannot be a substitute for professional, legal,
medical, financial or psychiatric advice/care, where appropriate.
You must be at least 18 years old to make any purchase from me.

© Copyright All Original Content 2006 – 2017 Alizons-psychic-secrets.com. All Rights Reserved.
Reproduction in whole or in part without permission is not permitted.