Complete Guide to Numerology
What is Numerology?
With this complete guide to Numerology, you discover hidden aspects of yourself - AND reveal your destiny!
Most people are aware of their Astrology Star Sign and the traits and personality associated with a particular Star Sign but many people are unaware of the power of numbers.

It is an ancient and fascinating discipline, which many people trace back to the Greek mathematician and philosopher Pythagoras (569-470 B.C.) Here you can learn a little bit about yourself and your life path number. It can reveal Purpose, Motivation, and give clues as to talents and things you need to be wary of.
In relationships too, a Numerology report offers insights into compatibility. Is he the one for you? Your Life Path Number will help you decide!
Numerology is the interpretation of aspects of your Self through your birth date, and also through your birth name, when the letters of which are represented by numbers. When a number is derived from you birth date, this number is your Life Path Number.

---
A Complete Guide to Numerology:
Calculating Your Life Path Number
Your Life Path Number is one of the most important and influential numbers derived from a person's birth date. It represents the core of an individual's personality, their innate strengths, weaknesses, talents, and the challenges they may face in life. The Life Path Number is believed to offer insights into one's life purpose, as well as provide guidance for personal growth and self-discovery.
One interesting element of the study of numbers is the Life Path Number. This number is found by reducing the digits in your birth date to one (or in some cases) two digits.
To calculate your Life Path Number, follow these steps:
Step 1
Write down your birth date in the format of MM/DD/YYYY (month, day, and year).
Step 2
Reduce each component (month, day, and year) to a single digit.
For example, if your birth date is December 15, 1990:
Month: December is the 12th month, so 1 + 2 = 3 Day: 1 + 5 = 6 Year: 1 + 9 + 9 + 0 = 19, then 1 + 9 = 10, and finally 1 + 0 = 1
Step 3
Add the single digits obtained in step 2:
3 (month) + 6 (day) + 1 (year) = 10
Step 4
If the result is a double-digit number that isn't a master number (11, 22, or 33), reduce it further by adding its digits:
1 + 0 = 1
In this example, the Life Path Number is 1.
Remember that if the result in step 3 or 4 is 11, 22, or 33, you should not reduce it further, as these are considered master numbers and have their own unique interpretations in numerology.
---
 Numerology Meanings
In this, your complete guide to numerology, it's important to understand the importance of your Life Path Number.
The Life Path Number holds great significance as it represents the core of an individual's personality and provides insights into their life purpose, innate strengths, weaknesses, talents, and the challenges they may encounter throughout life. It is considered one of the most important numbers in a person's numerology chart, and it can offer guidance for personal growth and self-discovery.
Each Life Path Number, ranging from 1 to 9, and including the master numbers 11, 22, and 33, carries its own unique set of characteristics and life lessons:
Life Path 1
Independent, driven, ambitious, and creative, with a strong desire to lead and make their mark in the world.
Life Path 2
Diplomatic, sensitive, intuitive, and cooperative, with a natural ability to bring people together and create harmony.
Life Path 3
Expressive, artistic, communicative, and social, with a talent for uplifting and inspiring others through their creativity.
Life Path 4
Practical, hardworking, disciplined, and organized, with a strong sense of responsibility and a focus on building a solid foundation.
Life Path 5
Adventurous, freedom-loving, adaptable, and versatile, with a desire for constant change, growth, and new experiences.
Life Path 6
Nurturing, compassionate, responsible, and supportive, with a strong inclination to help others and create a harmonious environment.
Life Path 7
Analytical, introspective, spiritual, and contemplative, with a deep desire for knowledge, understanding, and personal growth.
Life Path 8
Ambitious, goal-oriented, authoritative, and efficient, with a talent for managing resources and achieving material success.
Life Path 9
Humanitarian, compassionate, generous, and idealistic, with a strong desire to make a positive impact on the world.
Life Path 11 (Master Number)
Highly intuitive, spiritual, and visionary, with a potential for inspiring and leading others on a larger scale.
Life Path 22 (Master Number)
The "Master Builder," with the potential to turn dreams into reality and manifest on both the spiritual and material planes.
Life Path 33 (Master Number)
The "Master Teacher," with the ability to uplift and inspire others through their wisdom, compassion, and self-sacrifice.
Understanding the significance of one's Life Path Number can help individuals align their goals, decisions, and relationships with their true purpose, ultimately leading to greater self-awareness, fulfillment, and personal growth.
Once you've calculated your own Life Path number tap or click the appropriate link below and discover its meaning: Here you'll find a free Numerology Reading that can guide you through life, help you make decisions and give you a little more understanding into your true nature and personality type.
For example if you have a Master Number 11 you are said to be very psychic and attuned to nature. You are probably very trusting and understand the pain and joy of others.
Or if you are a Master Number 22 you are destined to be very successful and are determined and dedicated to making your life better.
If you are a Master Number 33 you are doubtless very spiritual, psychic and have a very understanding nature.
For Your Complete Guide to Numerology
Tap or Click below:

Positive energy is very important if you are to live an abundant and prosperous life and build up good karma. A great way to do this is by undertaking some voluntary charity work.   

---
The NEW Moon is approaching!
Get your New Moon Spell for May 2023

Don't miss out on the coming New Moon May 2023... Your chance to change your destiny:
You may want a New Moon Spell to:
Boost your Ancient Magical Chants

Attract a new love into your life
Begin a fresh start with an ex-lover
Commence a new career or business

Manifest a new period of abundant wealth and prosperity
Bring positive good luck for lottery wins and gambling
Or any positive purpose you may have
---
Powerful New Moon Spell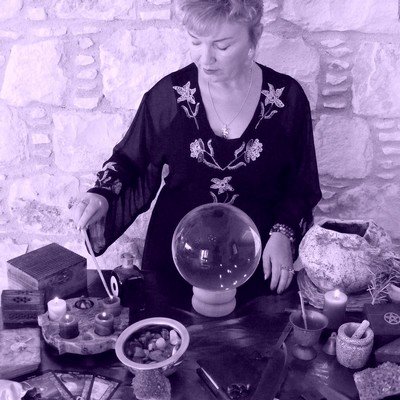 Cast within 24 hours of the New Moon by Alizon, an experienced White Witch and Spell Caster.
A powerful New Moon Spell Ritual to manifest change and success for you.
PRICE
From $80

AFTER YOU HAVE PAID
Click Here
to send me your details
I will need your full name and date of birth
Within 24 hours I will email you with confirmation and more details

When purchasing this service from me you are assumed to have read my Terms and Conditions
---