Using Magic to Achieve Your Dreams
Have you considered using Magic to achieve your dreams?
There have been many practices and techniques developed by many civilisations in the history of mankind that have helped us control and manipulate the world around us.  Magic is one of them, and you can use these ancient techniques to alter yourself and the environment according to the Will – and achieve all you desire.
Using Magic to achieve your dreams means you can achieve whatever you want in your life, including:

lose weight
quit smoking
financial success
real happiness
Using Magic to Achieve Your Dreams - But What is Magic?
Magic is merely the study and application of forces and powers within us all.  It uses elements of mental training, concentration, and a system of symbols or foci to help us programme positive thoughts and produce positive results in our environment.  

Real Magic is simply using the forces that already exist within the universe, and ourselves, to consciously manifest things that we need, want or desire.

Successfully using Magic to achieve your dreams means you need to be focused, determined, positive and benevolent.
---
Set Realistic Achievable Goals
You have to be specific about what you want before you can achieve it.  This is an important principle of Magic.

Deciding what you want in life is the most important step on this journey of achievement.  Don't decide on something that is impossible for you to achieve – but don't sell yourself short either!

If you choose achievable goals, then when they are achieved your belief will be strengthened, and the list of things that are achievable by you will increase.

As you achieve things in your life, you can set new goals and new desires to enrich your life further.   The more you succeed the greater the potential you will have to achieve what you want.

In order to invoke the Magic within you and help you achieve your goals quickly you will need to develop certain aspects of yourself.
The First Principle of Magic - a Positive Attitude

Without a positive attitude Magic won't work for you.  You must believe in your ability to achieve what you truly desire in life.  If you do not, then you will not achieve.

If you do have such negative thoughts you can change them through positive affirmations of achievement and blessings.
The Second Principle of Magic - Your Imagination
If you can't imagine what you want in your life you will not achieve it – with or without Magic!

Imagining yourself living the life that you want with everything that goes with that life is not fanciful dreaming.  The subconscious will work towards you achieving what you want in life if you are clear about your goals, believe that you can attain them, and spend some time everyday doing something that will move you closer to them.

You will need to be clear and careful about what you wish for.  We call this kind of controlled imagining Visualisation.
The Second Principle of Magic - Your Intuition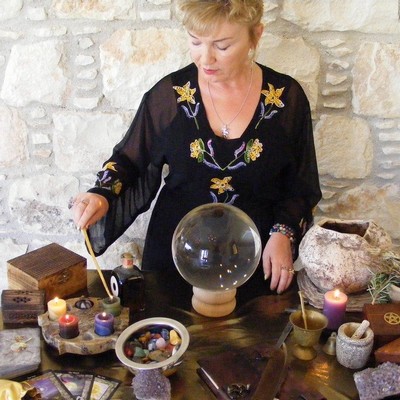 Visualisation when combined with a positive attitude is a potent force.  The ability of imagination and positive thought to bring things into being is a universal truth.

If you align this power with a highly tuned intuitive mind, then your capacity to achieve will be greatly enhanced.

A highly developed intuitive sense is the third principle we will use.  Some people call it a Psychic Sense, others Spiritual Awareness.  To the sceptical, we can call it the ability to always make the right decision.

The beauty of this ability is that the capacity to develop it increases as the first and second principles are developed.  With a positive attitude and a well-developed and controlled ability to visualise dreams and goals, the intuitive self will be irresistibly forged into a powerful tool for you to use in everyday life.

We all have the Magic within us to achieve what we want and what is good for us and for those we love.

You can Cast your own Spells to improve your life - using Magic to achieve your dreams!

To learn more about the range of Spells you can have Cast for you, to enhance and improve your life, visit my Spells page:
Positive energy is very important if you are to live an abundant and prosperous life and build up good karma. A great way to do this is by undertaking some charity work.

---
The NEW Moon is approaching!
Get your New Moon Spell for December 2023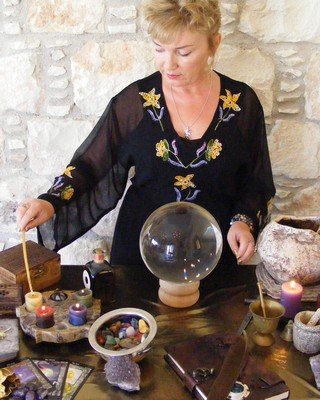 A New Moon Spell That Works


Have a New Moon Spell cast by a real Witch on the upcoming New Moon. A New Moon Spell to manifest whatever you most desire!
Cast on the next New Moon by Alizon, an experienced White Witch and Spell Caster.
---
D
on't miss out on the coming New Moon December 2023... Your chance to change your destiny:
You may want a New Moon Spell to:
Boost your Ancient Magical Chants

Attract a new love into your life
Begin a fresh start with an ex-lover
Success with any new project, enterprise or relationship

Commence a new career or business

Manifest a new period of abundant wealth and prosperity
Bring positive good luck for lottery wins and gambling
Or any positive purpose you may have
---