Free Spiritual Energy Healing
Free Spiritual Energy Healing to raise your vibrational energy, cleanse your Aura, heal your soul, release anxiety and improve your physical and mental health.
I want to offer you this Free Spiritual Energy Healing to firstly cleanse your Aura - your invisible energy field. Having a clean, vibrant and bright Aura is imperative if you are to avoid ill health.
Your physical health, mental health and spiritual health are all affected by your Aura. If you have a weakened, damaged or dull aura you are most likely to suffer from a number of ailments.
These can include mental health issues such as:
anxiety

depression

phobias

night terrors

bipolar disorder
Physical illness and ailments can be very wide ranging if your Aura is weak. The list of physical disorders is endless and includes fibromyalgia, M.E, fatigue, muscle weakness, muscle pain, joint pain, back pain, chest pain and migraine. Diseases of the organs can also occur.
I can cleanse your Aura using Spiritual Universal Energy from the life force of Minoan Healing Energy. This Minoan Healing Energy is directed with intent to repair your Aura, and remove Blockages.
In this way miracles can happen and your life can be transformed!
---
How Free Spiritual Energy Healing Works

Firstly, the principles involved require the strong desire to be healed.
Spiritual Energy Healing is directed at the Aura of the person who wishes to be healed, raising their Vibrational Energy.
This Healing is a gentle treatment facilitating the removal of blockages that often manifest themselves as pain, lacking of energy and lethargy, as well as emotional issues such as anxiety and depression.
---
Who will Benefit from Free Spiritual Energy Healing?

When you are ill you will feel low in energy. We see this in people around us. People with bright Auras can be seen to be full of energy and vitality, and free of anger and fear. This Healing Energy will help all those people whose life is impacted by a lack of energy and vitality, and particularly those suffering from chronic physical and mental issues.

This Healing is for those who are committed to being healed, with long term mental and physical problems including constant anxiety, bipolar disorders, feelings of depression, arthritis, ME, back pain, all chronic pain, persistent tiredness and fatigue. Such people will all benefit from this free Spiritual Energy Healing.
---
Benefits of Free Spiritual Energy Healing

The Spiritual Energy Healing does not require any specific spiritual or religious belief. The benefits of this treatment will be miraculous for those committed to health and well-being.
This treatment will free and cleanse your Aura, filling you with positive energy and a new lust for life.
Your whole being will be energised to help and support not only you and your path through life but will also give you the energy and insight to fully help and support the people you love.
Where other, more conventional therapies have failed to help, particularly with mental health issues, Free Energy Healing can provide the breakthrough. People who have found the support of spiritual healers and/or healing crystals will find this type of Spiritual Healing very beneficial with positive results.
You will feel connected to the Universe and the positive energy that surrounds you. The treatment will facilitate greater self-healing, as the blocks that prevent this are removed.
You'll find, in the coming days, reduced pain, reduced anxiety, more profound peace, greater opportunities for your happiness and fulfilment.
You will be better equipped to put into perspective the perceived challenges in your life, shifting inconsequential things, or things that you can't control to the background, and bringing to the fore those things that truly matter and those things that you can influence for you greater good and happiness.
You will experience a sharp focus. This is an ability to identify opportunities and risks immediately. You will see people for who they are, and not be confused in your judgements by the mists of a clouded Aura.
Problems with relationships often stem directly from a tainted Aura caused by stress, mental issues such as depression and anxiety, and an inability to sleep properly. This causes mood swings and irritability, and can impact any loving relationship negatively.

People who have problems with sleep will have their proper sleep patterns restored with Spiritual Healing Energy, enabling restful nights and refreshed days contributing to their productivity and health during the day.
You'll start to feel more alive almost immediately, the the prospects for tomorrow will bring interest and excitement, rather than dread and anxiety.

---
Are There Any Side Effects?

There are no bad side effects. You may at some point feel some slight tingling in the fingers, a lightness in your head and limbs as if some great burden has been lifted, and sometimes a momentary bright light even if your eyes are closed.
These are normal experiences people have indicated, and none are harmful or anything to worry about, or last more than a few minutes.
---
How Can I get the Free Spiritual Energy Healing and What Happens Next?

To get your Healing Treatment, simply complete the Form below. This Service is completely free.
I need your full name at birth and your date of birth, and country. I need this information to "locate" you and bind your Spiritual Connection. I need your email address to contact you with confirmation. This information is not used for anything else.

After I have received your details I will contact you acknowledging I have received them. There's no need for you to do anything, and I will confirm to you via email when I have completed the Healing.

FREE Spiritual Energy Healing Request

---
Positive energy is very important if you are to live an abundant and prosperous life and build up good karma. A great way to do this is by undertaking some voluntary charity work.   

---
The NEW Moon is approaching!
Get your New Moon Spell for December 2023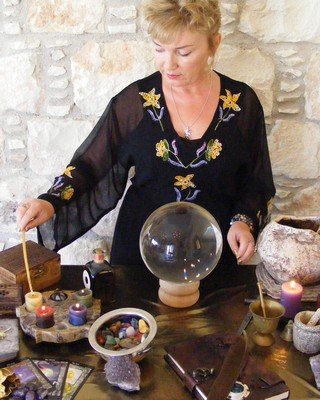 A New Moon Spell That Works


Have a New Moon Spell cast by a real Witch on the upcoming New Moon. A New Moon Spell to manifest whatever you most desire!
Cast on the next New Moon by Alizon, an experienced White Witch and Spell Caster.
---
D
on't miss out on the coming New Moon December 2023... Your chance to change your destiny:
You may want a New Moon Spell to:
Boost your Ancient Magical Chants

Attract a new love into your life
Begin a fresh start with an ex-lover
Success with any new project, enterprise or relationship

Commence a new career or business

Manifest a new period of abundant wealth and prosperity
Bring positive good luck for lottery wins and gambling
Or any positive purpose you may have
---