Love Spells That Work
---
Alizon - expert, experienced, skillful, knowledgeable...
The Power of Magic
If you have an interest in spirituality, are intrigued by astrology, fascinated by Tarot cards or captivated by Psychic abilities, then the next logical step is to look into the power of Magic.
Having a Spell Cast is Magic you can believe in.
Are you a Taurus?
Love Spells that Work

My Love Spells that work to bring to you the love relationship you most desire are cast only in love and light with pure white Magic. My Spells for love do not force someone to fall in love with you. They do not bend the will of anyone and cannot backfire.  

Instead positive energies created during the Spell casting process are sent to surround you and dispel any negative energies that may be blocking you. These negative energies are most likely to be the reason that true love has not run smoothly for you so far.

Here you'll find my selection of Love Spells that work with the Law of Attraction and the power of Magic. If you are unhappy with your love life and need a Love Spell cast, then you can ask me, Alizon, experienced, skilful and knowledgeable White Witch and Spell caster to assist you.

No matter what your current situation is I know I can help you achieve your desire of a loving, exclusive, committed and love filled relationship. I guarantee I will give 100% effort to get the results you require.

The moment I cast a Spell for you it immediately begins working on your request!
Skeptical about Spells?

Even if you are slightly skeptical, uncertain or wary, powerful positive energies combined with expert Spell casting will soon have you convinced in the power of Magic. I ensure that my Spells are carefully crafted, use only positive energies and are cast expertly and effectively.
Pure White Magic
All my Spells that I cast cause harm to none. My Spells cannot backfire and do not force or bend the will of anyone. I work only in love and light and use only the positive form of White Magic.

Thousands of my clients have already benefited from the powerful Spells I have cast for them. Discover for yourself the secret power of Magic.
Choose Your Love Spell

---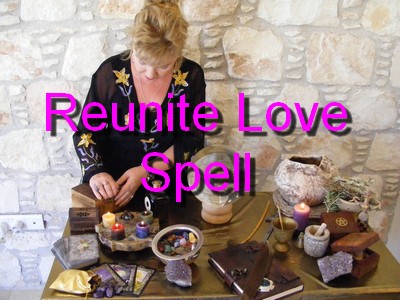 Reunite Spells

Choose the Reunite Spell if you want your ex to return to you. No matter how long you have been apart or how the break up happened.
My Reunite Spells are formulated to bring back to you your ex.

---
Attraction Spells
Choose the Attraction Spell if you want to have your feelings of yearning, desire and love reciprocated by a special someone.   

My Attraction Spells are crafted to allow your power of attraction to increase.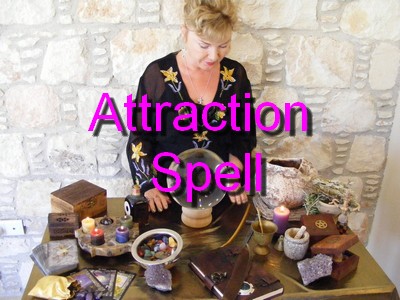 ---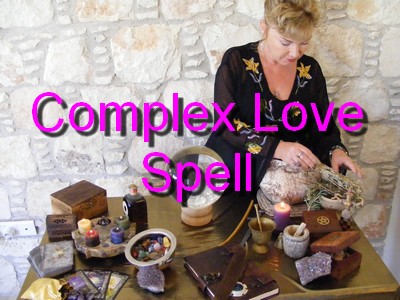 Complex Love Spells

Choose the Complex Love Spell if you find yourself in a complex and complicated situation in a love relationship.

For whatever reason and no matter who else is involved a Complex Love Spell is your best option to gain your heart's desire.   

---
Commitment Spells
Choose the Commitment Spell if you want to your lover to totally commit to you in an exclusive, faithful and loving relationship.

If you need and want total commitment from your lover then a Commitment Spell is just what you need.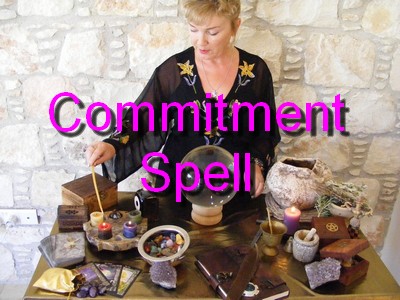 ---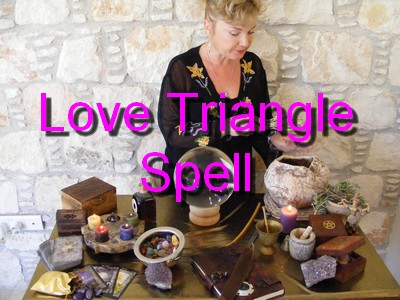 Love Triangle Spells

Choose the Love Triangle Spell if you are involved in a love triangle and your lover has ties, obstacles and commitments to others.
If you love someone deeply enough and know that the third party is bad, wrong or manipulative then the Love Triangle Spell is for you.

---
Soul Mate Spells

Choose the Soul Mate Spell if you want to attract a Soul Mate to make your life complete.

If you want to attract a Soul Mate to enter your life, transform and enhance it by forming a loving and lasting bond together then a Soul Mate Spell is perfect for you.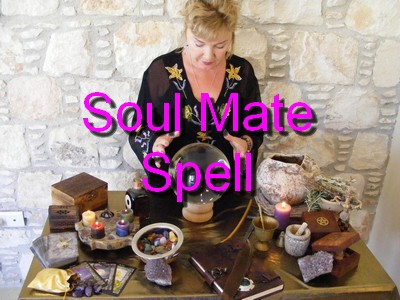 ---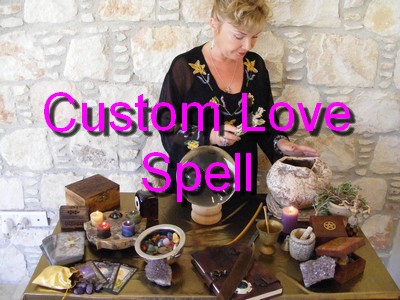 Custom Love Spell

Choose the Custom Love Spell if you feel my other Spells do not fit exactly with your love situation. 
This Custom Love Spell is crafted in a way that exactly matches your needs.

---
 Love Spells That Work with the Law of Attraction

The Law of Attraction

Fear of the future, feeling lonely or unloved and powerless are all negative emotions associated with a lack of true, faithful, committed love. These negative emotions will seep into your Aura causing dark and negative energies to surround you.

And as the Law of Attraction states 'like attracts like', so you are very unlikely to attract, keep or reunite with a true love without help.
Having me cast a Spell will dispel the negative energies surrounding you and replace them with only positive energies that are very attracting.
You will be sending out the powerful message that you want to love and be loved.
Having a pure white magic Spell cast will automatically cleanse your Aura.

A clear, bright and glowing Aura is essential in living a successful, fulfilling and happy life and is very attracting.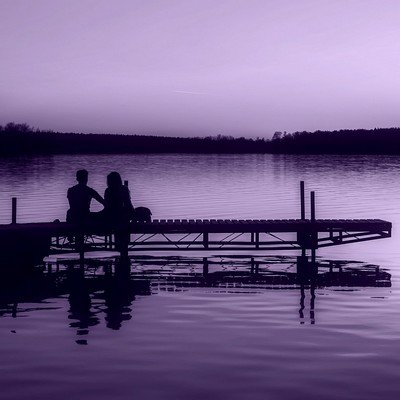 Happy Couple in Love
Having me cast a powerful love Spell  will dispel the negative energies surrounding you and replace them with only positive energies that are very attracting.

In this way you will be sending out the message to the Universe that you are open to receiving love.
You will be sending out the powerful message that you want a joyful life filled with love and  light and immense happiness.
---
REVIEWS


FAQ
Did you love this page? Please share it with your friends!

The law requires me to state that the contents of this website are for entertainment purposes only.
Psychic, tarot and spell casting services cannot be a substitute for professional, legal,
medical, financial or psychiatric advice/care, where appropriate.
You must be at least 18 years old to make any purchase from me.

© Copyright All Original Content 2006 – 2018 Alizons-psychic-secrets.com. All Rights Reserved.
Reproduction in whole or in part without permission is not permitted.