Sign-Up for Alizon's Newsletter

8 Reasons to Join my Mailing List
It's 100% free...and will be forever.
Get really helpful information, guides, printable (PDF) magical handouts, and tips to help you lead a Magical Life, including attracting good luck and good fortune into this life of yours!
Get news of new content on my Website and Blog.
Get special deals on Spells, Courses and products.
AUTOMATIC MEMBERSHIP TO THE GREEN WITCHES COVEN (if not already a member) including access to all the special offers and deals and information exclusive to Coven members.

Be the 1st to receive exclusive content and information.
Get news on Free Stuff available to you
It'll be the best move you make this year!
PLUS - you'll get a code to download my immensely popular eBook FREE."Rid Bad Luck for Good" !!
---
FREE eBook when you subscribe to my Newsletter!
"Rid Bad Luck for Good"
Alizon guides you through positive and easy techniques to help you repel negativity and attract all those things that you truly desire in your life.

By following simple steps as outlined here, you can rid bad luck in your life – for good!
This eBook will change your life!
"AMAZING! The real deal! The world needs to read this! She has tapped into what we as humans should innately do and this world would definitely be a brighter place! Thank GOD for giving her the insight to share this gift with us!"
Amazon Verified Purchaser, USA

"Clearly written, with knowledge and depth. This book has a very positive energy and I sense it has been "sent to the world" to bring light and change. Thank you."
Amazon Verified Purchaser, Italy

You can unsubscribe easily, at any time.
---
---
The NEW Moon is approaching!
Get your New Moon Spell for September 2023

D
on't miss out on the coming New Moon September 2023... Your chance to change your destiny:
You may want a New Moon Spell to:
Boost your Ancient Magical Chants

Attract a new love into your life
Begin a fresh start with an ex-lover
Success with any new project, enterprise or relationship

Commence a new career or business

Manifest a new period of abundant wealth and prosperity
Bring positive good luck for lottery wins and gambling
Or any positive purpose you may have
---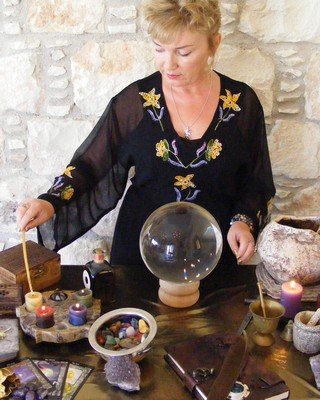 A New Moon Spell That Works


Have a New Moon Spell cast by a real Witch on the upcoming New Moon. A New Moon Spell to manifest whatever you most desire!
Cast on the next New Moon by Alizon, an experienced White Witch and Spell Caster.
---