Tarot Cards of the Minor Arcana
The Number Tarot Cards
In the number Tarot cards there are 4 suits and 56 cards. Similar to traditional playing cards, the 56 Minor Arcana Tarot cards are divided into four suits. These are Wands, Cups, Swords and Pentacles. Some packs assign different names to their suits such as Rods, Staves or Batons in place of Wands. Pentacles in some packs are also known as Coins or Discs.
Again similar to playing cards each suit has numbered cards Ace –10. However unlike the three face cards in a playing card pack, the Tarot pack has four face or court cards - Page, Knight, Queen and King. Again different packs may give alternative names to the court cards such as Prince or Princess.
You can find out more about Court Cards.

The four elements and Zodiac signs are assigned to each suit.
Swords are from the element of Air – Gemini, Libra, Aquarius and are connected with the intellect, thinking and learning.
Pentacles are from the element of Earth – Virgo, Capricorn and Taurus and are connected with practical, material and financial matters.
Wands are from the element of Fire – Aries, Leo, and Sagittarius and are connected with work, ambition and creativity.
Cups are from the element of Water – Cancer, Scorpio and Pisces. Cups are connected with emotions, feelings and love.
To learn more about each individual Tarot Card and it's meaning simply click or tap on its picture link below.
Tarot Cards of the Minor Arcana
---
The Suit of Wands

---
The Suit of Swords

---
The Suit of Pentacles

---
The Suit of Cups

---
Positive energy is very important if you are to live an abundant and prosperous life and build up good karma. A great way to do this is by undertaking some charity work.   

Powerful New Moon Spell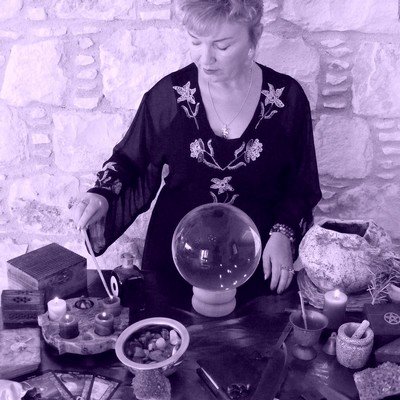 A powerful new Moon Spell Ritual to manifest change and success for you. Cast within 24 hours by Alizon, an experienced White Witch and Spell Caster.
PRICE
$80

Don't miss out on the coming New Moon June 2022.
This is your chance for a fresh start.
This is your chance to change the direction of your life.

You may want a New Moon Spell to:
Attract a new love into your life
Begin a fresh start with an ex-lover
Commence a new beginning in your career
Create a new successful business
Manifest a new period of abundant wealth and prosperity
Bring positive good luck for lottery wins and gambling
Enable a completely fresh start in your confidence
Or any positive purpose you may have