Three of Wands Tarot Card 
The Interpretation and Meaning of the Three of Wands
The Three of Wands is part of my Tarot Card Meanings series...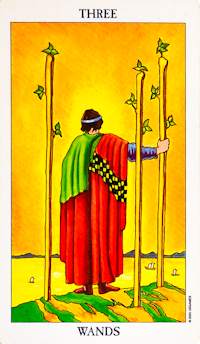 The Three of Wands Tarot card is from the number cards in the suit of Wands in the Tarot. This card is one of the Minor Arcana cards. The Wands are also known as Rods or Staves in different Tarot decks.
The 3 of Wands Tarot card meaning usually refers to prospects, potentials and possibilities. It shows a need to search out options and opportunities to increase your success. This card can be very encouraging in Readings and encourages you to think big, expect the very best and demand a great future.
It's a great card for ambitions and aspirations. It is the realisation that if you don't have a dream, then it can never come true. So dream some big dreams and aim high. Expand your horizons and look beyond the obvious, mundane and routine.   
Love
When this card appears in Tarot Readings concerned with love and romance it usually indicates that prospects look very good. If you are single and looking to find love, then this card shows you opportunities are awaiting you. If your current relationship is less than perfect you have the chance to change it or even change partners.

Career

The Tarot card meaning for questions concerning career or business in Tarot Readings is a very positive and encouraging one. It shows there are countless opportunities out there. You just need to widen your horizons and perhaps expand you knowledge and skill set to embrace the possibilities.
This is a great card for business success and can show reaching out to overseas markets and travelling to gain success. 

Money

The 3 of Wands Tarot card meaning for questions related to money and finance usually relates to the fact that there are plenty of opportunities to increase your income. Think creatively, be ambitious and entrepreneurial. Work harder, sell unwanted or unnecessary belongings and budget well. 

Health

When the Three of Wands appears in Tarot Readings concerning health and well being it can show that small changes can have a big impact upon health. A ten minute walk, a choice of skinny instead of full fat, an increase in fresh vitamin rich foods and a few early nights can make all the difference to your overall health and well being.

General

If the Three of Wands is prominent in a Tarot Spread it can encourage you to take a different look at what is happening and gain a new perspective. It can show any investment of energy into a project, a career, a relationship, a business venture can move forward positively if you consider the possibilities and potentials.  

The Suit of Wands

The Suit of Wands is connected with action, creativity and movement.
It belongs to the element of Fire, the colour red, the season of summer, the direction of south and the timing of midday. The astrological corresponding sun signs are Aries, Leo, and Sagittarius.
The key words connected with the Suit of Wands include adventure, bravery, charisma, confidence, courage, creativity, energy, enthusiasm, motivation, optimism, passion, risk-taking and zeal.

I use Tarot cards from the Suit of Wands in my Confidence Spell and Prosperity Spells for ridding negative energies and promoting attracting, positive energies. 
If you want to change your destiny for the better then use the power of Magic Spell Casting to make things happen!!!

The Full Moon is Approaching
Here's your chance to Order your own Powerful Full Moon Spell
Powerful Full Moon Spell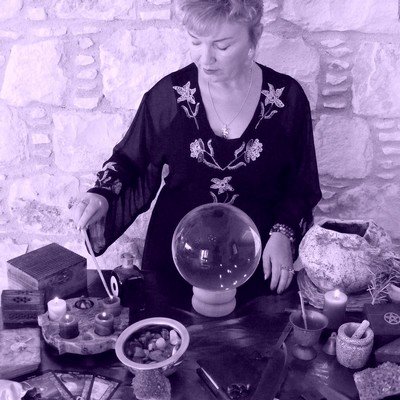 Cast within 24 hours of the Full Moon by Alizon, an experienced White Witch and Spell Caster.
A powerful Full Moon Spell Ritual to manifest change and success for you.
PRICE
From $80

AFTER YOU HAVE PAID
Click Here
to send me your details
I will need your full name and date of birth
Within 24 hours I will email you with confirmation and more details
When purchasing this service from me you are assumed to have read my Terms and Conditions
---
Don't miss out on the coming Full Moon February 2022...
Your chance to change your destiny
You may want a Full Moon Spell to:
Allow money to flow to you
Enhance your sexual attraction
Allow a business or career to prosper and grow
Gain committed love & total faithfulness from a lover
Reunite with an ex lover
Become prosperous and successful
Change your bad luck to good
Or any positive purpose you may have
Tap/Click here to learn more