The Ace of Cups Tarot Card

The Interpretation and Meaning
of the Ace of Cups
The Ace of Cups meaning keywords are new love, romance, conception, emotions, birth and abundance.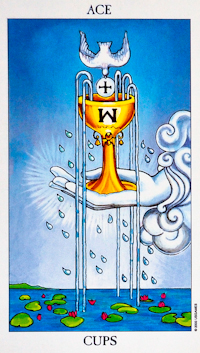 Ace of Cups
This card can be a very positive one in Tarot Readings and shows that you will feel emotionally receptive to new love, whether this be via a new love interest, a birth of a child or discovery of self love. It offers new beginnings and fresh starts related to love, strong emotions and feelings.
Love
When this Tarot card appears in Tarot Readings concerned with love and romance it usually indicates a new romance. This could turn out to be a true soul mate connection. If you are already within an existing relationship this card can show a fresh start or new beginning for the relationship with changes for the better.

Career

The Tarot card meaning for questions concerning career or business in Tarot Readings often represents finding your dream job or gaining the position or promotion you have longed for.
 
For business this card is an excellent omen and can indicate a fresh start and new lease of life.

Money

The Ace of Cups Tarot card meaning for questions related to money and finance usually relates to the possibility of finding new and fulfilling ways to increase your income. This should make you feel good.
Health

When this card appears in Tarot Readings concerning health and well being it can show new and fresh ways to improve your health and fitness. You should be feeling good about yourself and consequently have more confidence and self esteem.
This card can also indicate a pregnancy.

General

This Tarot card meaning usually refers to an abundance of joyful emotions and the potential for real happiness via love relationships.
It can be interpreted as commencing a journey of spiritual enlightenment. It can show the beginnings of psychic intuition becoming finely tuned and increased.
The other Tarot card meaning is that of the start of a new romantic relationship, conception or birth of a much wanted baby or the renewing of bonds of love.
The Ace of Cups Tarot Card is a Minor Arcana Tarot card and as such is not as powerful and life changing as any of the Major Arcana cards such as the Death Tarot card, The Magician Tarot card or the Fool Tarot card. However the Ace of Cups Tarot card still has significance and can show beginnings and fresh starts as far as emotions are concerned. This Tarot card is considered a very lucky omen in regard to love and romance.

This Tarot card for shows that strong emotions of love, joy and happiness will flood your soul. Look out for unexpected gifts and blessings coming your way.

If the Ace of Cups is prominent in a Tarot Spread it can indicate internally an increase in spirituality, a growing intuition, psychic abilities and feelings of inner beauty. Externally this card can show an offer being made, a gift being given or the beginnings of a meaningful relationship.

Reversed Ace of Cups Meaning
The reversed Tarot card meaning of this card can show an inability or unwillingness to enjoy close personal relationships.

Another meaning of the reversed Ace of Cups Tarot card is that of lack of trust, faith and self esteem.

It can often show that love is awaiting you.

To allow this to happen as destiny has planned, you need to have a powerful Love Spell cast.
The use of Tarot Cards, their meanings and what they represent are very important in my  Magic Spell Casting to change destiny for the better!!!
Spell Casting

To change your destiny for the better take a look at the Spells I cast. These include Money Spells, Love Spells and Sex Spells.

The Suit of Cups

The Suit of Cups is connected with emotions, feelings and relationships.
It belongs to the element of Water, the colour blue, the season of spring, the direction of west and the timing of dawn. The astrological corresponding sun signs are Cancer, Scorpio and Pisces.
The key words connected with the suit of Cups include affection, calmness; care giving, diplomacy, empathy, gentleness, imagination, intuition, love, peace, romance, sensitivity and spiritual.

I use Tarot cards from the Suit of Cups in my Love Spell casting for love, romance, soul mate attraction, commitment and reuniting manifestation. 
If you want to change your destiny for the better then use the power of Magic Spell Casting to make things happen!!!

The Full Moon is Approaching
Here's your chance to Order your own Powerful Full Moon Spell
Powerful Full Moon Spell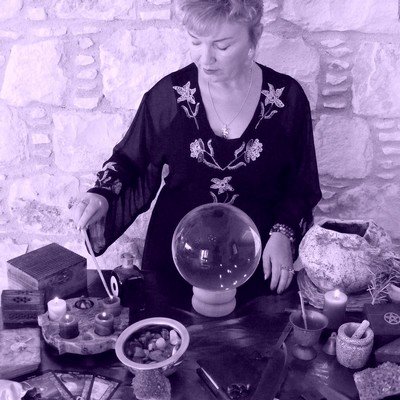 Cast within 24 hours of the Full Moon by Alizon, an experienced White Witch and Spell Caster.
A powerful Full Moon Spell Ritual to manifest change and success for you.
PRICE
From $80

AFTER YOU HAVE PAID
Click Here
to send me your details
I will need your full name and date of birth
Within 24 hours I will email you with confirmation and more details
When purchasing this service from me you are assumed to have read my Terms and Conditions
---
Don't miss out on the coming Full Moon December 2022...
Your chance to change your destiny
You may want a Full Moon Spell to:
Allow money to flow to you
Enhance your sexual attraction
Allow a business or career to prosper and grow
Gain committed love & total faithfulness from a lover
Reunite with an ex lover
Become prosperous and successful
Change your bad luck to good
Or any positive purpose you may have
Tap/Click here to learn more