The Three of Cups Tarot Card

The Interpretation and Meaning
of the Three of Cups
The Three of Cups meaning keywords are celebrations, friendships, good news, happiness, joy, parties, pleasure, reunions,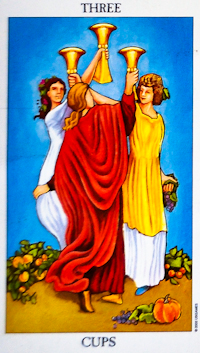 Three of Cups
The 3 of Cups Tarot card meaning usually indicates friendships, celebrations and the strong bond attachment to like-minded people.
The 3 of Cups can be a very positive one in Tarot Readings and can show a pregnancy, celebrating a birth or a wedding. Basically it is a group of people enjoying each other's company. It is not a time for solitude but for partying and celebrating.

Love
When the 3 of Cups appears in Tarot Readings concerned with love and romance it usually indicates a joyful time. It often relates to a wedding or commitment ceremony.

Career

The Tarot card meaning for questions concerning career or business in Tarot Readings often represents growing friendships with work colleagues and co workers. Work can be tedious and often mundane but strong bonds of friendship can lighten the load.
For business this card is often a good omen and can indicate winning a contact or deal and is something to celebrate.

Money

The Three of Cups Tarot card meaning for questions related to money and finance usually relates to having something to celebrate. This could be a competition or lottery win or gift of money.
Health

When the 3 of Cups appears in Tarot Readings concerning health and well being it can show a pregnancy or birth of a baby. It can also refer to receiving good news about health with a reason to celebrate. So if you've been awaiting test results this card can be seen as a good omen.
General

If the 3 of Cups is prominent in a Tarot Spread it can show parties, weddings, anniversaries and family celebrations. This card can also represent an emotion, mood or experience that fills your heart with joy, urging you to celebrate.
The Three of Cups meaning usually refers to good news from friends and relatives. It shows close friendships, working together and enjoying celebrations together. It can indicate family get togethers, parties and social gatherings all connected with joyful events e.g. college reunions, weddings, birthdays, anniversaries, christenings etc.
The 3 of Cups Tarot card can predict a pregnancy or wedding. It is considered a very good omen for luck in love. It can predict a happy reunion with an old flame or a meeting up of a new love interest at a social event.
The other 3 of Cups Tarot card meaning is that of cooperation and working together with others to fulfill a joint venture, creative project or charity endeavour.
The Three of Cups Tarot Card is a Minor Arcana Tarot card and as such is not as powerful and life changing as any of the Major Arcana cards such as the Devil Tarot card, The Lovers Tarot card or the World Tarot card. However the 3 of Cups Tarot card can still have significance and can show an important reunion.
Reversed Three of Cups Meaning
The reversed Tarot card meaning of the Three of Cups Tarot card can show a bitter break up, separation or divorce. When the 3 of Cups is reversed it can often reveal a love triangle. Love triangles seldom end well.
Another meaning of the reversed 3 of Cups Tarot card is that of a recurrence of an illness. This is most likely to have been brought on via emotional turmoil you may have gone through.
The 3 of Cups Tarot card can often show joy and happiness in love relationships.
To allow this to happen as destiny has planned, you need to have a powerful Love Spell cast.

The use of Tarot Cards, their meanings and what they represent are very important in my  Magic Spell Casting to change destiny for the better!!!
Spell Casting

To change your destiny for the better take a look at the Spells I cast. These include Money Spells, Love Spells and Sex Spells.

The Suit of Cups

The Suit of Cups is connected with emotions, feelings and relationships.
It belongs to the element of Water, the colour blue, the season of spring, the direction of west and the timing of dawn. The astrological corresponding sun signs are Cancer, Scorpio and Pisces.
The key words connected with the suit of Cups include affection, calmness; care giving, diplomacy, empathy, gentleness, imagination, intuition, love, peace, romance, sensitivity and spiritual.

I use Tarot cards from the Suit of Cups in my Love Spell casting for love, romance, soul mate attraction, commitment and reuniting manifestation. 
If you want to change your destiny for the better then use the power of Magic Spell Casting to make things happen!!!

---
New Moon Spell September 2022

AFTER YOU HAVE PAID
CLICK HERE to send me your details
Within 24 hours I will email your detailed Spell schedule
When purchasing this service from me you are assumed to have read my Terms and Conditions
I look forward to casting your Spell on your behalf. The moment I cast a Spell for you it immediately begins working on your request. After the Spell has been cast I will send you notification that I completed and cast your Spell.
---
Don't miss out on the coming New Moon September 2022... Your chance to change your destiny:
You may want a New Moon Spell to:
Attract a new love into your life
Begin a fresh start with an ex-lover
Commence a new career or business

Manifest a new period of abundant wealth and prosperity
Bring positive good luck for lottery wins and gambling
Or any positive purpose you may have