The Four of Cups Tarot Card
The Interpretation and Meaning
of the Four of Cups
The Four of Cups meaning keywords are boredom, discontentment, dissatisfaction, lack of motivation, unrealistic dreams.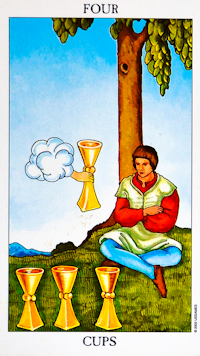 The 4 of Cups Tarot card meaning usually refers to boredom, apathy and wishful thinking. This card can indicate a need for a shakeup, a re-evaluation and reassessment of your life.
The 4 of Cups can be a reminder in Tarot Readings to count your blessings. Focus should be placed on what you do have rather than what you don't. 

Love
When the Four of Cups appears in Tarot Readings concerned with love and romance it usually indicates taking a partner for granted or being bored within a relationship. When this card appears it is time to re-evaluate your relationship and inject some fun, laughter and life back into it.

Career

The Tarot card meaning for questions concerning career or business in Tarot Readings often represents being bored with a current job. You may be thinking of changing your job to find something more rewarding and fulfilling. If you are disheartened or dissatisfied then this card can prompt you to look at pastures new.

Money

The Four of Cups Tarot card meaning for questions related to money and finance usually reminds you to focus on what you do have instead of thinking about what you lack. Make the most of your assets and resources and cherish the things and people that make you happy. Money cannot buy love and happiness.
Health

When the 4 of Cups appears in Tarot Readings concerning health and well being it can show being tempted to overindulge in drink, food, drugs or sex to escape form something.
General

If the 4 of Cups is prominent in a Tarot Spread it can sometimes be a sign of boredom where life seems uninteresting, flat and without excitement.
In general, this card is a warning to stop looking for ways to escape your life, and look, instead, for ways to change it.  Self-motivation is needed to find a focus to connect with and channel your energies and emotions onto a path you want to travel upon. 
The Four of Cups meaning is usually interpreted as the Tarot card of the dreamer. It can show a blurring between fantasy and reality. You may be dreaming, wishing and hoping your life away instead of concentrating on the here and now.
The 4 of Cups Tarot card can be interpreted as a need for re-evaluation and reassessment of priorities. What most matters in your life? What is good, protective, nurturing and inspiring? What is toxic, harmful, negative and tiring? Sort that out and do something about it.
The other Four of Cups Tarot card meaning is that of needing to focus on positive changes you need to make in regard to your health and well being. If you have been overindulgent with food, alcohol or drugs now is the time to address these issues.
The 4 of Cups Tarot Card is a Minor Arcana Tarot card and as such is not as powerful and life changing as any of the Major Arcana cards such as the Fool Tarot card, The Lovers Tarot card or the Magician Tarot card. However the 4 of Cups Tarot card can still have significance and can be a wakeup call to get your head out of the clouds and live in the now.
Reversed Four of Cups Meaning
The reversed Tarot card meaning of the Four of Cups Tarot card can urge you to open your eyes, count all your blessings, appreciate your talents and gifts and find ways to make the most of them.
Another meaning of the reversed Four of Cups Tarot card can show a restlessness and eagerness to make necessary changes. This can be in terms of all aspects of your life – love relationships, career, spirituality and health.
The 4 of Cups Tarot card can often show a need for good luck to enter your life.
To allow this to happen as destiny has planned, you need to have a powerful Prosperity Spell cast.

The use of Tarot Cards, their meanings and what they represent are very important in my  Magic Spell Casting to change destiny for the better!!!
Spell Casting

To change your destiny for the better take a look at the Spells I cast. These include Money Spells, Love Spells and Sex Spells.

The Suit of Cups

The Suit of Cups is connected with emotions, feelings and relationships.
It belongs to the element of Water, the colour blue, the season of spring, the direction of west and the timing of dawn. The astrological corresponding sun signs are Cancer, Scorpio and Pisces.
The key words connected with the suit of Cups include affection, calmness; care giving, diplomacy, empathy, gentleness, imagination, intuition, love, peace, romance, sensitivity and spiritual.

I use Tarot cards from the Suit of Cups in my Love Spell casting for love, romance, soul mate attraction, commitment and reuniting manifestation. 
If you want to change your destiny for the better then use the power of Magic Spell Casting to make things happen!!!

---
New Moon Spell September 2022

AFTER YOU HAVE PAID
CLICK HERE to send me your details
Within 24 hours I will email your detailed Spell schedule
When purchasing this service from me you are assumed to have read my Terms and Conditions
I look forward to casting your Spell on your behalf. The moment I cast a Spell for you it immediately begins working on your request. After the Spell has been cast I will send you notification that I completed and cast your Spell.
---
Don't miss out on the coming New Moon September 2022... Your chance to change your destiny:
You may want a New Moon Spell to:
Attract a new love into your life
Begin a fresh start with an ex-lover
Commence a new career or business

Manifest a new period of abundant wealth and prosperity
Bring positive good luck for lottery wins and gambling
Or any positive purpose you may have