Psychic Development Course
I've created this Psychic Development Course to offer free guidance to those who have a desire to increase their own psychic ability, intuition and clairvoyance.

Psychic development and increasing psychic abilities is becoming increasingly popular as people are turning to non traditional and alternative ways of understanding yourself and your place in the world. Increasing Spiritual growth and psychic ability by embarking on a Psychic Development course is becoming increasingly appealing. 
We are all born with some degree of psychic ability but we constantly fail to read the signs and trust our feelings when making choices or decisions of any kind, thus failing to allow it to develop grow and thrive.
Our intuition allows us to make the right choices and decisions in life, if we choose to acknowledge it. But many people simply ignore their intuition and continually make bad life choices and decisions.
Everyone, whether they choose to acknowledge it or not, have innate Psychic abilities. We are born with six senses but overtime most people lose or choose not use their sixth sense. Psychic ability can be defined as perceiving, receiving, or conveying information without the use of the other five senses (sight, touch, hearing, taste and smell).
If you have an interest in Psychic Development and Spiritual growth and want to improve and develop your own psychic abilities, then browse this Psychic Development section of the site.
You should think urgently about developing your psychic abilities. You have great potential. This will help you understand your situation and help you receive answers to the questions you have. Also, it will benefit your life generally, helping you to receive, accept and identify opportunities when they come to you, opportunities in love, career and wealth.
Although not a formal Psychic Development Course in the true sense of the word, it should provide you with some interesting and useful information and is entirely free.
There are also pages on Psychic Protection and how to protect yourself from Psychic Attack.
When preparing to undertake any form of Spiritual Growth and Psychic Development you must first learn how protect yourself.
Click the link below and learn how to protect yourself NOW from damaging and debilitating Psychic Attacks. 

Free Psychic Development Course
Developing a Sixth Sense
The NEW Moon is approaching!
Get your New Moon Spell for December 2023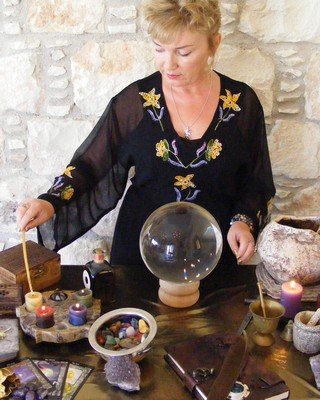 A New Moon Spell That Works


Have a New Moon Spell cast by a real Witch on the upcoming New Moon. A New Moon Spell to manifest whatever you most desire!
Cast on the next New Moon by Alizon, an experienced White Witch and Spell Caster.
---
D
on't miss out on the coming New Moon December 2023... Your chance to change your destiny:
You may want a New Moon Spell to:
Boost your Ancient Magical Chants

Attract a new love into your life
Begin a fresh start with an ex-lover
Success with any new project, enterprise or relationship

Commence a new career or business

Manifest a new period of abundant wealth and prosperity
Bring positive good luck for lottery wins and gambling
Or any positive purpose you may have
---
---