Alizon Casting Spells to Change Your Life!

  SAFE
  EXPERT
  SKILLED
  TRUSTED
  RELIABLE
  EXPERIENCED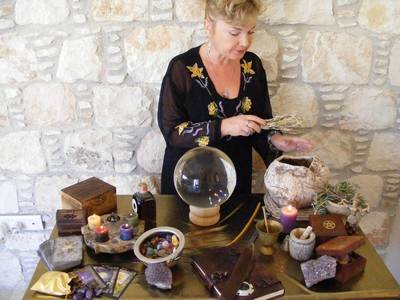 It's true that we all want to improve our lives and make our dreams a reality. And if you align yourself to the vibrational frequency of the Law of Attraction this is exactly what you can do!
And the easiest and most direct way to do this is via the ancient art of Spell casting by a real Witch.

Using A Focus
Using a focus to develop all kinds of psychic abilities is very important.

Having a special Space will not be your whole Focus for developing your psychic ability.  Together with your sacred Space you will need a physical Focus to help you. This could be anything, but preferably an object that is important to you and has a value for you, and preferably Enchanted!
(CLICK/TAP HERE and read the section on Enchanting an Object).

Using a Focus - the best tool for the job

Using a focus that is tangible and physical will help keep you grounded and protected to.

You will use this object to literally focus your mind on what you need to do and what you want. The best Focus in my opinion are crystal Talismans.
Talismans created from crystals are not only beautiful but contain very positive energies. There are many and varied forms of crystals ranging from rose quartz, amethyst, moonstone and aventurine to azurite, Tiger's eye and Silver Leaf Jaspar.
I choose the best crystal for you and your specific purpose
You can carry your crystal Talisman around with you wherever you go.  Even as you walk around, wait for a bus or train, even when out with friends, you can have your Focus with you that you can hold in your hand – and other people needn't even know.  It will be a constant focus for you on what you want in life and that you are committed to achieving it.
If you choose to purchase a crystal Talisman you can be assured of its powerful and protective positive energies.

Your Talisman is Magic Spell infused, ritually blessed and magically 'inscribed' by me, Alizon a real English White Witch.
It can be carried in your pocket, bag, purse or wallet. You can keep it by your bedside. It should be treated as your most precious possession. Do not let others touch it and keep it where you know it is safe. It is priceless.

It is a natural crystal and is different in colour, shape and size to any other. Your crystal is unique. Pictured are examples of some of the crystals I have in my collection. Your lucky charm may vary in size, shape, colour and type to the ones shown here. It will be your Focus for your psychic development. No other will exist like it anywhere on earth.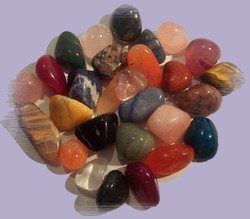 Talisman
ONLY $20.00


After making payment click/tap here to enter and submit your details on my Talisman Details Form.

Activating Your Talisman
When you receive your talisman you need to first take time to bond with it to make it your very own lucky charm. Keep it close by every day and night for at least one month. This assists your energies to blend so that it becomes part of your aura, and creates a connection between you and your personal talisman, allowing you to draw towards you positive energies.
Achieving Your Desires, Dreams or Goals
Whatever positive purpose you use a talisman for whether it's for attracting love or financial abundance, business success etc. your subconscious mind will work toward this purpose and bring opportunities to your attention. This is very empowering and you will become more confident and gain power and control over all aspects of your life that will finally allow you to live the life you deserve. You will be harnessing the powers of the Universe to attract what you want, and to repel what you don't want.
Owning an ancient empowered talisman is like finally having the golden key that opens all kinds of doors for you.
Opportunities will flow to you and allow you to fulfil your deepest wishes, desires and ambitions whilst, at the same time protecting you from dark forces, misfortune and bad luck. All my talismans are created and charmed by using only pure and positive energies in love and light, with harm to none. It is therefore impossible for any talisman you get from me to be anything but positive. This means no ill effects and no negative backfiring. The sole purpose of a talisman is to attract only good and positive benefits and opportunities to its owner.
---
Sharing is Caring! Please share it with your friends!


The law requires me to state that the contents of this website are for entertainment purposes only.
Psychic, tarot and spell casting services cannot be a substitute for professional, legal,
medical, financial or psychiatric advice/care, where appropriate.
You must be at least 18 years old to make any purchase from me.

© Copyright All Original Content 2006 – 2021 Alizons-psychic-secrets.com. All Rights Reserved.
Reproduction in whole or in part without permission is not permitted.