Tarot Card Meanings
---
Alizon - expert, experienced, skillful, knowledgeable...
The Power of Magic
If you have an interest in spirituality, are intrigued by astrology, fascinated by Tarot cards or captivated by Psychic abilities, then the next logical step is to look into the power of Magic.
Having a Spell Cast is Magic you can believe in.
Are you a Taurus?
The Tarot
Tarot cards and their meanings have intrigued and fascinated many people over the centuries.
If you want to learn more about these intriguing cards, their traditional meanings and what they can reveal to you then read through the following pages I've put together.
The Tarot consists of 78 cards divided into two sections, the Major and Minor Arcana. The word Arcana means secret. The cards, therefore, are a collection of the secrets that can be revealed in Tarot Readings. The cards convey many messages because of the richness of their images and connections.
It is the interpretation, guided by psychic intuition of the Psychic Reader that can verbalise these messages to pass onto others in Tarot Readings.
Skeptical about Spells?

Even if you are slightly skeptical, uncertain or wary, powerful positive energies combined with expert Spell casting will soon have you convinced in the power of Magic. I ensure that my Spells are carefully crafted, use only positive energies and are cast expertly and effectively.
Pure White Magic
All my Spells that I cast cause harm to none. My Spells cannot backfire and do not force or bend the will of anyone. I work only in love and light and use only the positive form of White Magic.

Thousands of my clients have already benefited from the powerful Spells I have cast for them. Discover for yourself the secret power of Magic.
History
The origin of the Tarot is clouded in mystery. No one knows exactly where the true origins lie. Some say Egypt, China, or Greece.
What is certain is that the cards were used in Italy in the fifteenth century as a popular card game.
The designs of the 22 cards in the Major Arcana can be traced back as far as 1440, when the first known deck appeared in Italy. The 3 decks called the "Visconti Trumps" are generally regarded as the "forefathers" of the decks that are widely available today.
It is believed that they were originally created as a game for Noblemen. It is not until centuries later that the cards re-emerged, this time as a tool of divination.

The Major Arcana
Click on the links and look through the 22 Major Arcana Tarot cards, numbered from 0 – 21 of the Tarot. More importance and significance should be placed on interpreting a Major Arcana card as these represent major events, emotions and deciding factors in any Tarot Reading.
The Minor Arcana cards represent the more mundane, everyday aspects in Tarot Readings.
There are hundreds of different Tarot designs and themes of Tarot decks but I've featured the most traditional – the Rider Waite Deck.
Most packs follow the same specific order in the Major Arcana, but some packs switch the Justice card and the Strength card numbering 8 or 11.

The Fool's Journey
Each of the Major Arcana cards symbolises an aspect of our being. In our lives, we are continually influenced and driven by the underlying forces that the Tarot depicts. Collectively, the Major Arcana depicts the 'Fools Journey', the journey we all make, 'our lives' in other words. More on the Fools Journey.
To learn more about each of the Tarot card meanings simply click on the pictures below.

The Cards of the Major Arcana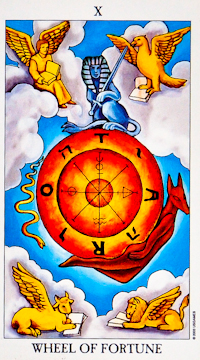 Wheel of Fortune Card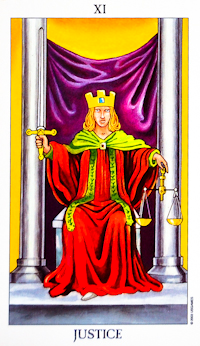 Justice Card
The Minor Arcana
Similar to traditional playing cards, the 56 Minor Arcana cards are divided into four suits. These are Wands, Cups, Swords and Pentacles.
Find out more about the Number Minor Arcana Cards

Court Cards
There are 4 Court Cards for each suit - Kings, Queens, Knights, and Pages (sometimes the names differ in different Tarot decks)
The challenge exists for Tarot Readers in interpreting the Court Cards because the Kings, Queens, Knights, and Pages can represent actual people, events, or aspects of a person's personality.
Learn more about each Court Card and it's meaning.

Minor Arcana Number Cards
Reversed Tarot Cards
Some Tarot Readers use reversed (upside down) cards in their interpretation of Reading the cards.
It can be quite overwhelming to use both upright and reversed meanings though when you are beginning to use the Tarot, so it is usually best to learn the upright cards first until you have a firm understanding
Significators
Some Tarot spreads have a built in significator (a card drawn to represent the Querant), and some do not. Some Tarot Readers do not Read with a significator, and simply ignore that position when it is built into a spread.
As with many aspects of Tarot Reading there is no hard and fast rule about this.
Tarot Spreads
Tarot spreads are simply the ways that Tarot Readers lay out the cards to give a tarot Reading. Normally, each position in the spread is assigned an area of life such as love, health, career, family etc. or past, present, future etc.
Positive energy is very important if you are to live an abundant and prosperous life and build up good karma. A great way to do this is by undertaking some charity work.   

---
REVIEWS


FAQ
Did you love this page? Please share it with your friends!

The law requires me to state that the contents of this website are for entertainment purposes only.
Psychic, tarot and spell casting services cannot be a substitute for professional, legal,
medical, financial or psychiatric advice/care, where appropriate.
You must be at least 18 years old to make any purchase from me.

© Copyright All Original Content 2006 – 2018 Alizons-psychic-secrets.com. All Rights Reserved.
Reproduction in whole or in part without permission is not permitted.