The Judgement Tarot Card
The Interpretation and Meaning of the Judgement Tarot Card
The Judgement Tarot Card is part of my Tarot Card Meanings series...
The Judgement card is numbered 20 in the Tarot. This card is one of the Major Arcana cards.
The Judgement meaning usually is one of awakening, acceptance and release.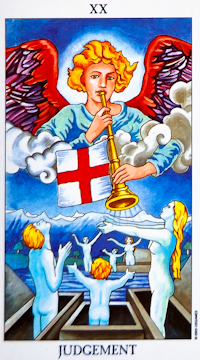 It can act as a wakeup call to remind you that any decisions and actions you make have consequences.
It can also indicate an important decision that has to be made with regard to leaving the past behind and moving on with your life. It advises to finally face your past, accept it and be free to begin a new, exciting and promising future.
The Judgement card can be a warning card in Tarot Readings and warns against jumping to conclusions and making snap judgements before all the facts are clear.  
Personality
The Judgement card, as with all the Major Arcana can be a representative of an individual or aspect of a personality. The Tarot card meaning for this card can indicate someone who is decisive and not afraid to get off the fence, take a stand and make hard choices.
It can also indicate someone born under the sun sign of Scorpio.

Love
In questions concerning love and romance in Tarot Readings the appearance of the Judgement Tarot card can indicate doubts about a current relationship or fears about a new one. Assess what you really want from a relationship and if you are not getting it, then let go.

Career

For career or business questions asked in Tarot Readings the Judgement Tarot card often represents being recognised and rewarded. You may be in line for promotion or pay raise and your hard work hasn't gone unnoticed.
The Tarot card meaning for business is also positive as it shows the potential for great business deals being struck.

Money

When the Judgement card has prominence in Tarot Readings it can be a positive omen to show an increase in income is on its way.
The Tarot card meaning of the Judgement card in questions of financial deals is also a good one and shows favourable terms.

Health

The Tarot card meaning for questions concerning health usually indicates a time of healing perhaps from an illness or recovery from an accident. If there has been ill health this card signals a new lease of life.

General

If the Judgement card is prominent in a Tarot Spread it can show a clear need to make a final decision and let go of the past. You can make changes to allow you to be free from the restrictions you feel. Judging the precise moment to make the right choices, changes in direction, and decisions in your life is the key to success.
Reversed Tarot Judgement Card Meaning
The reversed Tarot card meaning of the Judgement Tarot card can show self doubt and indecision.
Another meaning of the reversed Judgement Tarot card is that of fear of the future and an unwillingness to confront past issues to help you move forwards.
The Tarot Judgement card can often show a need for protection. And there is no better way that to have a Protection Spell cast.
Having a Spell cast can bring miraculous results very swiftly and can literally change your destiny for the better.
If you have an interest in spirituality, are intrigued by astrology, fascinated by Tarot cards or captivated by Psychic abilities, then the next logical step is to look into the power of Magic.

Having a Spell cast is Magic you can believe in.

And even if you are slightly skeptical, uncertain or wary, powerful positive energies combined with expert Spell casting will soon have you convinced in the power of Magic.
I use Tarot cards in my Magic Spell Casting to change destiny for the better!!!

---
The NEW Moon is approaching!
Get your New Moon Spell for December 2023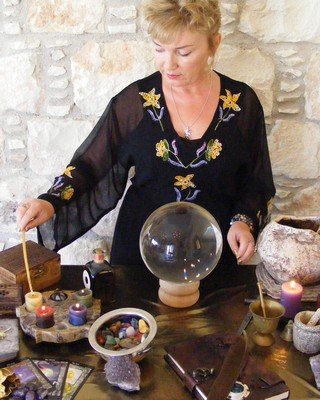 A New Moon Spell That Works


Have a New Moon Spell cast by a real Witch on the upcoming New Moon. A New Moon Spell to manifest whatever you most desire!
Cast on the next New Moon by Alizon, an experienced White Witch and Spell Caster.
---
D
on't miss out on the coming New Moon December 2023... Your chance to change your destiny:
You may want a New Moon Spell to:
Boost your Ancient Magical Chants

Attract a new love into your life
Begin a fresh start with an ex-lover
Success with any new project, enterprise or relationship

Commence a new career or business

Manifest a new period of abundant wealth and prosperity
Bring positive good luck for lottery wins and gambling
Or any positive purpose you may have
---