The Wheel of Fortune Tarot Card
The Interpretation and Meaning of the Wheel of Fortune Tarot Card
The Wheel of Fortune Tarot Card is part of my Tarot Card Meanings series...
The Wheel of Fortune card is numbered 10 in the Tarot. This card is one of the Major Arcana cards.
The Wheel of Fortune meaning usually refers to a turn in luck.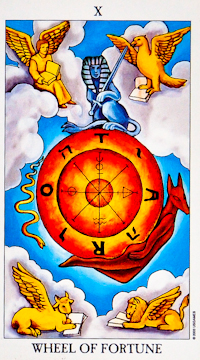 This luck good either for good or bad but depends very much on surrounding Tarot cards. It can indicate a need for change and getting out of a rut.
The Wheel of Fortune can be a very positive one in Tarot Readings and shows that wheels are forever turning with nothing standing still and becoming stagnant. Take a gamble as your luck is in. 
Personality
The Wheel of Fortune, as with all the Major Arcana can be a representative of an individual or aspect of a personality. The Tarot card meaning for this card can indicate someone with a happy go lucky character. They are comfortable in their own skin and confident and self assured. It is connected with the fixed signs in Astrology and can indicate someone born under the sun signs of Aquarius, Scorpio, Leo and Taurus.

Love
In questions concerning love and romance in Tarot Readings the appearance of the Wheel of Fortune Tarot card can be seen as very fortunate and indicates positive changes. If you are single you are likely to meet someone. If you want more commitment from a current relationship – you are likely to get this. If you want out of a toxic relationship – you'll find the way.

Career

For career or business questions asked in Tarot Readings the Wheel of Fortune Tarot card often represents a turn or change in career path. It can show dissatisfaction with the present circumstances and a desire for something better and more fulfilling.
The Tarot card meaning can mean aspirations and ambitions may be increased.

Money

The Tarot card meaning for questions concerning money is usually a positive one.
When the Wheel of Fortune has prominence in Tarot Readings it can mean fortunate times are on the way. It can mean a turn in your luck perhaps with gambling or games of chance.

Health

The Tarot card meaning of the Wheel of Fortune in questions related to health show that small changes to nutrition, fitness and weight control can mean great overall improvements.

General

If the Wheel of Fortune is prominent in a Tarot Spread it can show that an opportunity will present itself, but only for a limited time. You must grasp the opportunity during that time or it will be lost. It is generally considered to be the card of good fortune.
Reversed Tarot Wheel of Fortune Card Meaning
The reversed Tarot card meaning of the Wheel of Fortune Tarot card can show a period of bad luck upon you.
Another meaning of the reversed Wheel of Fortune Tarot card is that of any wrongdoings, slips in moral standards and deceptions coming to light.
The Tarot Wheel of Fortune card can often show a need for good luck and prosperity.
The most potent and powerful way to do this is by having a Spell cast.
Having a Spell cast can bring miraculous results very swiftly and can literally change your destiny for the better.
If you have an interest in spirituality, are intrigued by astrology, fascinated by Tarot cards or captivated by Psychic abilities, then the next logical step is to look into the power of Magic.

Having a Spell cast is Magic you can believe in.

And even if you are slightly sceptical, uncertain or wary, powerful positive energies combined with expert Spell casting will soon have you convinced in the power of Magic.
I use Tarot cards in my Magic Spell Casting to change destiny for the better!!!

---
New Moon Spell September 2022

AFTER YOU HAVE PAID
CLICK HERE to send me your details
Within 24 hours I will email your detailed Spell schedule
When purchasing this service from me you are assumed to have read my Terms and Conditions
I look forward to casting your Spell on your behalf. The moment I cast a Spell for you it immediately begins working on your request. After the Spell has been cast I will send you notification that I completed and cast your Spell.
---
Don't miss out on the coming New Moon September 2022... Your chance to change your destiny:
You may want a New Moon Spell to:
Attract a new love into your life
Begin a fresh start with an ex-lover
Commence a new career or business

Manifest a new period of abundant wealth and prosperity
Bring positive good luck for lottery wins and gambling
Or any positive purpose you may have