Dream Analysis
What is a Dream?
Before looking at dream analysis, let us consider what exactly a dream is.
Everyone dreams every night, despite what people believe. Many people cannot recollect their dreams on waking, and this leads people to believe that they don't experience dreaming. Even animals dream, and pet owners often see their pets twitching and vocalising as they lie prone and asleep in front of the fire!
Most people dream during the sleeping phase of REM (rapid eye movement) sleep. This is when your brain is most active and when you have the most vivid dreams. People can dream up to six times a night, and this could be even more for some people. A lucid dream is one in which you know you're dreaming.
In the dream state our conscious mind switches off and we enter a realm where imagination is allowed to run freely without restraint. We usually have no control over where our imagination takes us. When we awake we can sometimes recollect our imaginings, but not always.
This is a dream.
---
What is Dream Analysis?
In ancient times in many cultures dreams were seen as direct messages from the gods. Dreams provided guidance, wisdom and even healing. Great emphasis was placed on dreams and the ancient Egyptians and Greeks paid particular attention to dream meanings.
Over time the recognised religions cast doubts on the relevance of dreams with some sections of the Christian church believing that dreams were delivered by the devil!
In more recent times two eminent psychologists, Sigmund Freud and Carl Jung studied and theorized about the meaning of dreams. Dream analysis was back in vogue and was once again an important source of insight and healing. Freud believed the dream revealed what the dreamer wanted to suppress or keep hidden. By dream analysis the dreamer was compelled to face his demons.
Jung's theory on dream analysis related to the mirroring of the ego within dreams. Dreams revealed what was absent from the consciousness of the dreamer. Jung believed dreams played a role of guide or teacher to assist the dreamer to be whole.
The famed psychic Edgar Cayce believed that through dreams people could access their spirit and be enabled to have all possible questions answered from their inner consciousness.
---
Dream Interpretation
Dream interpretation can be a way to understand the helpful and healing messages coming from your subconscious mind and how it relates to your own life and experiences. For example, people often dream about similar things such as free flying, falling, drowning, being lost in a strange place, or being confined in small spaces, and dream interpretation is the process where you apply these common feelings and imaginings in dreams to your own life and aspirations.
Dream interpretation can help you a lot in your everyday life. Many people believe that your dreams offer you clues as to your future, offer guidance in what to do, and also provide warnings and premonitions. Dreams can help with small as well as bigger problems, worries or concerns.
An effective method to promote and stimulate relevant guidance from dreams is to literally verbally ask for guidance before you go to sleep.
On waking, immediately write down details of any dreams you can remember and keep a permanent record of them in your Dream Journal, or your Magical Journal (if you have one).
---
Dream Meanings
Our dreams are simply messages from our subconscious mind (or sometimes from our psychic connections or Spirit – (see Psychic Dreams for more about this).
To discover the meaning of dreams is both fascinating and enlightening. Throughout my Dream Dictionary I have given my interpretation of dream meanings that I hope will prove useful to you.
Follow the link to visit my comprehensive Dream Dictionary:
---
Positive energy is very important if you are to live an abundant and prosperous life and build up good karma. A great way to do this is by undertaking some charity work.

The NEW Moon is approaching!
Get your New Moon Spell for September 2023

D
on't miss out on the coming New Moon September 2023... Your chance to change your destiny:
You may want a New Moon Spell to:
Boost your Ancient Magical Chants

Attract a new love into your life
Begin a fresh start with an ex-lover
Success with any new project, enterprise or relationship

Commence a new career or business

Manifest a new period of abundant wealth and prosperity
Bring positive good luck for lottery wins and gambling
Or any positive purpose you may have
---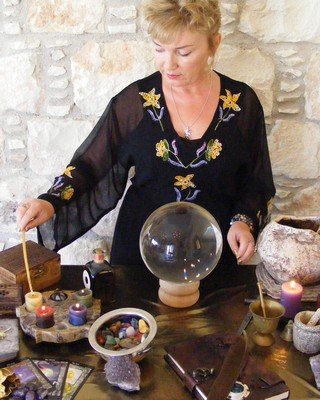 A New Moon Spell That Works


Have a New Moon Spell cast by a real Witch on the upcoming New Moon. A New Moon Spell to manifest whatever you most desire!
Cast on the next New Moon by Alizon, an experienced White Witch and Spell Caster.
---