Green Witches Coven News: Special Edition May 24, 2021
Merry Meet!
This Time…
The Coven Portal
RARE SUPER MOON 26 MAY
Spell to Relieve Anxiety
What to look for in a genuine Spell Caster
Top 5 signs you might be Cursed!
The Hare Moon
GATHERING
The Green Witches Coven Portal
Please visit the Coven Portal for all your Coven Resources. New members should pay particular attention to the Steps, as this represents the foundation of the Coven Course.
Also, especially for new members, please take some time in visiting past Newsletter, links to which can be found through the Portal.
Your Password is COVEN77
Rare Super Full Moon 26th May
Look out for the rare Super Full Moon this Wednesday. The power of this coming event is being felt all around the world. The Full Moon on the 26th May will be bigger, brighter and more powerfully loaded with lunar energy than any other Full Moon this year. If you were considering a Full Moon Spell, then this is the time to have one cast to help you achieve all your wishes.
for more details.
Ritual to Relieve Anxiety
For many people these are anxious times. Conflicts around the world seem to occur constantly, and together with worries about the Coronavirus, money, and concerns about family and friends, I present a Spell to help alleviate your own anxiety. People who are stressed suffer physical and mental health problems, and this makes them less capable of dealing with their own life, less able to look after people in their care, and unable to recognise and act on opportunities that come their way that would help to improve their Life Path.
In the last Newsletter, I offered some advice on Reducing Stress. This simple Spell will re-enforce this Power within you.
This Spell calls upon the Power of the Element Air. It fuses Magical influences with physical elements, focussing on, and calming the Vagus Nerve. This nerve controls your inner nervous system and is of great importance in controlling stress.
Environment
Choose a time and place where you will not be disturbed by other people, any noise or clutter. Light a white scented candle if you can, or scented stick, or any aromatherapy you can muster. If this is not possible, don't worry.
Incantation
Stand with your hands clasped over your tummy, close your eyes and repeat the Incantation 3 times:
With aid from air
Dispel despair
All fear depart
And lift my heart
Breathing
Still standing with your eyes closed, hands clasped over your tummy, take a deep breath for the count of 5. As you breathe in feel the air fill your lungs and sense the air becoming part of you. Allow the air within you to connect to the air around you. Think of how the Element of Air is expressed in your life through communication, ideas and thoughts. Hold for 3. Breath out for the count of 7, and whilst doing so, imagine all your worries and concerns leave your body through the top of your head in streams of white light. Repeat 3 times.
Grounding
To ground yourself, just spend a few moments sat quietly in a comfortable chair.
Infusing the Element Air into your body will produce a feeling of calm and sometimes euphoria. If you have the opportunity, repeat the Ritual as often as you can.
What to look for in a genuine Spell Caster
As a member of the Green Witches Coven, you will no doubt have a keen interest in Magic and Spell Casting. With hard work and dedication to your Craft, you might one day hope to Cast your own Spells, for yourself and for others.
It's not easy to reach this stage. It can take many years of study and practice. It's important for you, as a person who is keen on Magic and Spellcasting, to be able to recognise a genuine Spell Caster.
for an article with guidance and tips on how to do this. It will also help you appreciate your own journey if your goal is to Cast Spells.
Top 6 signs you may be cursed
Many people believe that they are cursed. Those experiencing lots of bad luck, always seeming to make the wrong decisions, never getting the opportunities others seem to get, feel that they are hexed or under some kind of evil spell.
If you have the majority of these signs of being cursed, then you would probably benefit from Curse Removal:
Constant feelings of anxiety, fatigue and unexplained health issues including unexplained aches and pains that come and go
Sleep deprivation and/or sexual problems
Continual and persistent bad luck with money and relationships
Fear, dread or despair for your future
Vivid nightmares
Things that go missing or break more than is normal
If you suffer from many or all of these feelings and problems, please take advantage of my FREE Curse Removal Ritual. I offer this free on my website. No genuine Spell Caster would ever charge to release curses or hexes. As a White Witch, it is my duty to help people remove perceived Curses. Any decent, genuine, professional Spell Caster will remove so-called curses for free. It's the Witches' Creed.
to apply for my FREE Curse Removal.
The Hare Moon!
The Hare Moon of May is also known as the Bright Moon in Celtic traditions or Milk Moon in Thomas's Old Farmer's Almanac. This Moon highlight equal weight given to teaching and to Learning.
The Full Moon during this Phase is on the 26th May. Visit my Hare Moon page which you can access via the Coven Portal. There you will find a special Spell to cast on the Full Moon called the Enlightenment Spell.
Gathering
The Full Moon is on the 26th May. There will be no Gathering on this Full Moon.
Always remember: Members of the Green Witches Coven are supported and protected by Powerful Energy. The Energy of the Coven!
Look out for my next Newsletter coming soon
Blessings to All!
Alizon
High Priestess
Green Witches Coven
---
The NEW Moon is approaching!
Get your New Moon Spell for September 2023

D
on't miss out on the coming New Moon September 2023... Your chance to change your destiny:
You may want a New Moon Spell to:
Boost your Ancient Magical Chants

Attract a new love into your life
Begin a fresh start with an ex-lover
Success with any new project, enterprise or relationship

Commence a new career or business

Manifest a new period of abundant wealth and prosperity
Bring positive good luck for lottery wins and gambling
Or any positive purpose you may have
---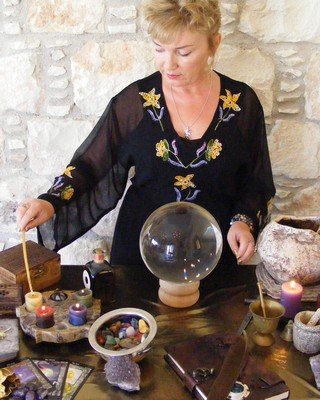 A New Moon Spell That Works


Have a New Moon Spell cast by a real Witch on the upcoming New Moon. A New Moon Spell to manifest whatever you most desire!
Cast on the next New Moon by Alizon, an experienced White Witch and Spell Caster.
---