Green Witches Coven News: Special Edition July 22, 2021
The Mead Moon!
The Full Moon is a time of increased lunar energy. It's the perfect time to Cast a Spell knowing that the Moon is at its fullest and most potent. Check out my Youtube video on the Magic of the Full Moon. The next Full Moon is the Mead Moon, also known as the Calming Moon in Celtic traditions or Buck Moon in Thomas's Old Farmer's Almanac.

The Full Moon during this Phase is on the 26th July. Visit my Mead Moon page which you can access via the Coven Portal. There you will find a special Spell to cast on the Full Moon designed to increase confidence enabling you to meet any personal or career challenges head on!
Amazing Discount Offer! Full Moon Triple Cast Spell
Don't forget that as a Green Witches Coven Member, you can access my special Full Moon Triple Cast Spell page. Here I offer a substantial discount on my powerful Triple Cast Full Moon Spell, one of the most powerful Spells. Special Offer to all Coven Members. Get access to my Discount Full Moon Spell page. The Password: COVEN77
Coven Members' Full Moon Discount Page
The Green Witches Coven Portal
Please visit the Coven Portal for all your Coven Resources. New members should pay particular attention to the Steps, as this represents the foundation of the Coven Course.

Also, especially for new members, please take some time in visiting past Newsletter, links to which can be found through the Portal.

Your Password is COVEN77

What's your favourite colour?
The colour you are drawn to, your wardrobe, your furnishings, reflects strongly the type of person you are. Your favourite colour represents your personality, your likes and dislikes, your outlook on life and why you make the choices you do. Very often the colour that people are most drawn to is the predominant colour of their own Aura. Visit my Colours Personality Page to find out more.
Getting Back with your Ex
My next video project coming soon will concern Reuniting with an Ex. Breaking up can involve so much heartache. If you, or someone close to you, have recently broken up with your partner, and you are upset about it and really want to reunite, take a look at my advice for reuniting. It might really help you to mend and heal fractured relationships: How to get back with your Ex.
Past Lives - Are you Suffering because of them?
People who have suffered in a past life, or suffered in many past lives, will often find that this affects their current life. It can often explain all the difficulties and obstacles they perceive in their current life. Such a burden could explain, for example, a person's inability to experience a loving lasting relationship. It could also explain why they are unable to ever achieve financial security, spending their time and energy always trying to make ends meet and never making positive headway in their finances. Depression, constant fatigue, restlessness, poor sleep, irrational sadness, all these things can be a product of past life pain and trauma. I have a great deal of experience in helping people overcome the effects of past life trauma. Follow this link if you are drawn to it, and learn if you are suffering from the effect of previous life trauma, and how you can be free to reach your real potential in this life.
for more details. Always remember: Members of the Green Witches Coven are supported and protected by Powerful Energy. The Energy of the Coven!
Look out for my next Newsletter coming soon

Blessings to All!
Alizon
High Priestess
Green Witches Coven
---
The NEW Moon is approaching!
Get your New Moon Spell for September 2023

D
on't miss out on the coming New Moon September 2023... Your chance to change your destiny:
You may want a New Moon Spell to:
Boost your Ancient Magical Chants

Attract a new love into your life
Begin a fresh start with an ex-lover
Success with any new project, enterprise or relationship

Commence a new career or business

Manifest a new period of abundant wealth and prosperity
Bring positive good luck for lottery wins and gambling
Or any positive purpose you may have
---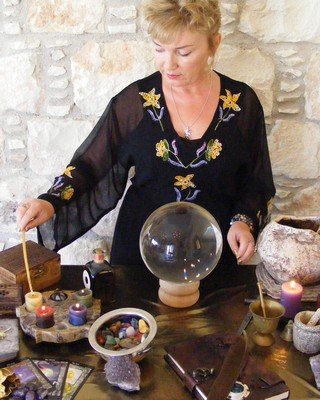 A New Moon Spell That Works


Have a New Moon Spell cast by a real Witch on the upcoming New Moon. A New Moon Spell to manifest whatever you most desire!
Cast on the next New Moon by Alizon, an experienced White Witch and Spell Caster.
---