Alizon's Green Witches Coven News: September 17, 2021
Merry Meet!
IN THIS ISSUE: Attract Your Virgo Man, An Invitation,
How to Activate the Law of Attraction, Autumn Equinox,
The Barley Moon, Important Links, The Green Witches Coven Portal
Attract Your Virgo Man!
Those born under the Star Sign of Virgo are often the most difficult to get close to. I have devised a Spell you can cast yourself, with simple ingredients, to attract this elusive potential lover. The ingredients used are specific in purpose to attract the Virgo man, including a process and ritual designed to draw him to you. Follow the link to learn all about this Spell.
---
An Invitation!
If you know (or think you know) the Star Sign of the man you want to attract, drop me a line and I'll send you details of all the relevant ingredients and rituals you need to perform your own Attraction Spell.
---
How to Activate the Law of Attraction
The law of Attraction is one of the Universal Laws and states that whatever you devote your thoughts and wishes to, will come into your life. If you desire something, you can manifest it into your life, simply by using your imagination and your will, with positive anticipation of its arrival into your life. I have crafted a video with detailed information on how you can Activate the Law of Attraction using Guided Meditation, to attract in your life all you want.
Guided Meditation to Activate the Law of Attraction
---
Autumn Equinox
An Equinox is a particular point in the year when the sun is directly over the equator, meaning that the hours of day and night are the same in almost all parts of the world. This happens twice a year, in Spring and in Autumn. The Autumn Equinox marks the time when the hours of darkness begin to grow and the hours of light start to diminish as the year progresses. For generations, particularly in ancient times, this marks a significant time in the Wheel of the Year, and is called Mabon. This ancient Pagan Festival this year is celebrated in the Northern Hemisphere at 20:20 on Wednesday on the 22nd September. I have developed a powerful Mabon Spell to be cast at this time. Spells cast on and around the Autumn Equinox are believed to be more potent with positive outcomes than at other times.
---
The Barley Moon
It's the Full Moon on the 21st September, often known as the Barley Moon. During the Barley Moon period it is a good idea to conduct Magic for ridding yourself of negative elements and balancing the elements within you. I have a Spell you can cast yourself using simple ingredients. Follow the link for more details, together with details of a positive exercise you can perform this Autumn Equinox honouring the Gifts of Nature.
---
Important Links
Exclusive Coven Spell for Coven members – only $30!
Take advantage of my Powerful Full Moon Spell at a special price to Coven Members:
Coven Member's Full Moon Discount Page
Password: COVEN77
---
The Green Witches Coven Portal
Please visit the Coven Portal for all your Coven Resources. New members should pay particular attention to the Steps, as this represents the foundation of the Coven Course. Also, especially for new members, please take some time in visiting past Newsletter, links to which can be found through the Portal.
COVEN PORTAL
Your Password is COVEN77
Blessings to All!
Alizon
High Priestess
Green Witches Coven
---
The NEW Moon is approaching!
Get your New Moon Spell for September 2023

D
on't miss out on the coming New Moon September 2023... Your chance to change your destiny:
You may want a New Moon Spell to:
Boost your Ancient Magical Chants

Attract a new love into your life
Begin a fresh start with an ex-lover
Success with any new project, enterprise or relationship

Commence a new career or business

Manifest a new period of abundant wealth and prosperity
Bring positive good luck for lottery wins and gambling
Or any positive purpose you may have
---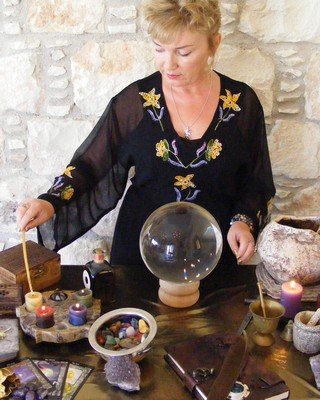 A New Moon Spell That Works


Have a New Moon Spell cast by a real Witch on the upcoming New Moon. A New Moon Spell to manifest whatever you most desire!
Cast on the next New Moon by Alizon, an experienced White Witch and Spell Caster.
---