The Five of Cups Tarot Card
---
Alizon - expert, experienced, skillful, knowledgeable...
The Power of Magic
If you have an interest in spirituality, are intrigued by astrology, fascinated by Tarot cards or captivated by Psychic abilities, then the next logical step is to look into the power of Magic.
Having a Spell Cast is Magic you can believe in.
Are you a Taurus?
The Interpretation and Meaning
of the Five of Cups

The Five of Cups meaning keywords are abandonment. disappointment, disillusionment, loss. pain, remorse, sorrow.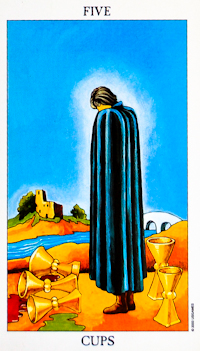 Five of Cups
The 5 of Cups Tarot card meaning usually refers to loss, sorrow, regret or guilt.
The 5 of Cups can be a warning card in Tarot Readings and can forewarn you about the possibility of a loss.
This loss could be physical e.g. money, possessions, relationship, job, or intangible, e.g. a dream, opportunity, prospect or reputation. You may feel downcast by this card, but it does have a positive side. Every loss opens new opportunities and 'One door closes another one opens'.
Skeptical about Spells?

Even if you are slightly skeptical, uncertain or wary, powerful positive energies combined with expert Spell casting will soon have you convinced in the power of Magic. I ensure that my Spells are carefully crafted, use only positive energies and are cast expertly and effectively.
Pure White Magic
All my Spells that I cast cause harm to none. My Spells cannot backfire and do not force or bend the will of anyone. I work only in love and light and use only the positive form of White Magic.

Thousands of my clients have already benefited from the powerful Spells I have cast for them. Discover for yourself the secret power of Magic.
Love
When the Five of Cups appears in Tarot Readings concerned with love and romance it usually indicates losing a lover. Or it can show disappointment with a partner. You may have been let down or betrayed. 

Career

The Tarot card meaning for questions concerning career or business in Tarot Readings often represents being let down and disillusioned. Perhaps the promise of a job didn't materialise or a new job doesn't live up to its expectations. Alternatively a co worker or colleague may disappoint you.

Money

The 5 of Cups Tarot card meaning for questions related to money and finance usually relates to a financial loss. You may have loaned money to someone and they have failed to repay you or a sure fire investment has proved not be so.
Health

When the 5 of Cups appears in Tarot Readings concerning health and well being it can show holding onto disappointment, grief or guilt which if not moved past can impact on both your physical and mental health.
General

If the 5 of Cups is prominent in a Tarot Spread it can show disappointed in someone for not living up to your expectations. It can also indicate that you may have regrets about your past actions and are finding it difficult to get past it.
The 5 of Cups meaning usually refers to disappointment in close personal relationships. You may have suffered loss of a loved one or been abandoned by a lover. The pain and anguish of such traumatic and emotional events are reflected in the Five of Cups. The pictorial depiction on the Tarot card shows five cups, three are upset with two remaining upright. This shows that you should acknowledge that although you have suffered pain, symbolised by the three upset cups, you still have hope represented by the two remaining cups.
The 5 of Cups Tarot card shows a need to focus on what you have got rather than what you have lost. The Five of Cups meaning can indicate a need to concentrate on the present and future rather than thinking constantly about the past.
The other Five of Cups Tarot card meaning is that of acknowledging a natural end of a love relationship. It can show that the particular relationship was a life lesson to enable you to recognise what you do want from a loving relationship and more importantly what you do not want.
The 5 of Cups Tarot Card is a Minor Arcana Tarot card and as such is not as powerful and life changing as any of the Major Arcana cards such as the Death Tarot card, The Lovers Tarot card or the Fool Tarot card. However the 5 of Cups Tarot card can still have significance and can show loss and sorrow.
Reversed Five of Cups Meaning
The reversed Tarot card meaning of the 5 of Cups Tarot card can show you reuniting with an ex. It can show that this time things should be different as you will lay down some ground rules and not get hurt again.
Another meaning of the reversed Five of Cups Tarot card is that of having a more positive outlook upon your life will have positive effects on your health and sense of well being.
The 5 of Cups Tarot card can often show you are need of some luck in the area of love.
To allow this to happen as destiny has planned, you need to have a powerful Love Spell cast.

The use of Tarot Cards, their meanings and what they represent are very important in my  Magic Spell Casting to change destiny for the better!!!
Spell Casting

To change your destiny for the better take a look at the Spells I cast. These include Money Spells, Love Spells and Sex Spells.

The Suit of Cups

The Suit of Cups is connected with emotions, feelings and relationships.
It belongs to the element of Water, the colour blue, the season of spring, the direction of west and the timing of dawn. The astrological corresponding sun signs are Cancer, Scorpio and Pisces.
The key words connected with the suit of Cups include affection, calmness; care giving, diplomacy, empathy, gentleness, imagination, intuition, love, peace, romance, sensitivity and spiritual.

I use Tarot cards from the Suit of Cups in my Love Spell casting for love, romance, soul mate attraction, commitment and reuniting manifestation. 
If you want to change your destiny for the better then use the power of Magic Spell Casting to make things happen!!!

---
REVIEWS


FAQ
Did you love this page? Please share it with your friends!

The law requires me to state that the contents of this website are for entertainment purposes only.
Psychic, tarot and spell casting services cannot be a substitute for professional, legal,
medical, financial or psychiatric advice/care, where appropriate.
You must be at least 18 years old to make any purchase from me.

© Copyright All Original Content 2006 – 2018 Alizons-psychic-secrets.com. All Rights Reserved.
Reproduction in whole or in part without permission is not permitted.