Which Spell?
Get advice here on what Spell to have cast

...and get a link direct to the Spell you need.

Many people often turn to magic to help them with problems issues and difficulties they have in their life.

This is nothing new. For those who believe in a Deity, praying for an outcome or achievement is exactly the same as a person asking the Universe for the same - through Magic.

Some people believe that the concept of prayer evolved from the practice of Magic practised since ancient times by mystics, druids, and witches!

In all cases, whatever your belief, when you want to achieve something special, or get a solution to a problem, or fulfil a dream - it's just someone asking for help from a Higher Power.

---
Types of Wishes and Dreams
People's wishes and dreams come in all shapes and sizes. As an experienced Spell Caster, I have cast Spells for people for a wide range of subjects, some very complex, some simple.

Whatever area of your life you want improving I have a specific Spell for you.

However, it can be daunting when confronted with a comprehensive website on all manner of topics and interests for people who are spiritual, and who are interested in mystical and psychic with an interest in spiritual things, and looking for information on how to improve their life

I can Cast a Spell for any positive purpose, unless impossible!

Impossible wishes, by definition, will never manifest. However, some people believe that there may be powers on this Earth that can manifest miracles.

Spells must be possible within the realms of physics and science, no matter what some people will say.

Changing physical characteristics (other than weight loss), manifesting mythical creatures such as unicorns for example, summoning spirits and demons, might be beyond most of us!

There are some people who believe that nothing is impossible!

There's such a vast range of Spells that can be Cast, that have been devised and crafted, sometimes over centuries.

Take Spells Cast for Love, for example. People may want Spells cast to Reunite with a lover, to attract a lover that they have yet to meet, to attract a person they have met, but appears to have no feelings for them.

---
Spell Casting Advice
I offer specific and personal advice on the type of Spell you need for your personal and particular situation. This may be Spells, or variations of Spells, for love, commitment, money, career, business success, revenge, happiness, emotional and spiritual health, sex, gambling success, protection, or any other purpose.

In addition, there are different Spell intensities. Your wish might need the power of the Full Moon or different frequencies and multiple castings depending on complexity and resistance.

You can use this advice to have me Cast a Spell for you, or another experienced Spell Caster.

Check out my article on choosing a Spellcaster

Fill out and submit the Contact Form below and I'll get in touch with you within 12-24 hours, and we can exchange details to find the most suitable Spell.

---
Also, why not take this opportunity to subscribe to my Coven Newsletter?

Subscribers will get first hand news about offers, free stuff, tips on improving your Magical Life, including attracting good luck and good fortune into your life! PLUS - you'll get a code to download my immensely popular eBook FREE.
"Rid Bad Luck for Good" !!
Just tick the "Newsletter" box on the Form to subscribe.

View my Privacy Policy to learn how I use your data (I don't sell it on).
---
The NEW Moon is approaching!
Get your New Moon Spell for September 2023

D
on't miss out on the coming New Moon September 2023... Your chance to change your destiny:
You may want a New Moon Spell to:
Boost your Ancient Magical Chants

Attract a new love into your life
Begin a fresh start with an ex-lover
Success with any new project, enterprise or relationship

Commence a new career or business

Manifest a new period of abundant wealth and prosperity
Bring positive good luck for lottery wins and gambling
Or any positive purpose you may have
---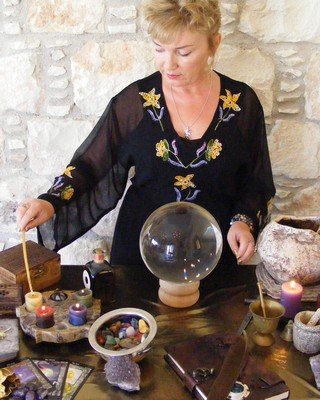 A New Moon Spell That Works


Have a New Moon Spell cast by a real Witch on the upcoming New Moon. A New Moon Spell to manifest whatever you most desire!
Cast on the next New Moon by Alizon, an experienced White Witch and Spell Caster.
---