Pisces and Virgo Compatibility
 Compatibility of the Zodiac for Pisces and Virgo
Take a look at the Pisces and Virgo compatibility love match in astrology.
Do Pisces and Virgo make a good match?
In astrology as a Mutable sign, Pisces is said to indicate flexibility, adaptability and have good communication. Pisces have the ability to reinvent themselves, are able to accept change and are very resourceful. Add to this a nurturing and protective character, a developed intuition, intense sensitivity and understanding which come from the Element of Water and you have an adaptable and thoughtful personality.
Virgo is also a Mutable sign.  Add to this a practical nature, dependability and a grounded approach to life which comes from the Element of Earth and you have an accommodating and sensible personality.  
Pisces is a Water sign. In astrology Water signs are known for their sensitivity and deeply felt emotions. They are generally very perceptive and use their strong intuition to guide them. They tend to have vivid imaginations and intense feelings. Although they like their alone time, they need the company of others to really thrive.
Virgo is from the Element of Earth. In astrology Earth signs are often focused, driven and ambitious. Reaching goals, gaining respect and achieving are all very important to people from the Earth sign. Material wealth and possessions are also important to them, so they are often hard workers so they can earn enough money to live comfortably. But they are not entirely materialistic as they prefer natural environments to city life.
Pisces is ruled by the planet Neptune and relates to imagination, fantasy and freedom. Those born under the influence of Neptune tend to want to escape from reality and are dreamers. Pisces also has strong connections to the planet Jupiter as its classical ruler. Jupiter's influence adds optimism and openness to opportunity.
Virgo is ruled by the planet Mercury which represents information, communication and commerce. Those born under the rulership of Mercury tend to be expressive in both written and verbal communication.   

Pisces and Virgo Love Match
In astrology when a Mutable sign comes together with another Mutable sign as with Pisces and Virgo their scattered energies may not come together as easily as one would expect. Both are busy doing their own thing and may not recognise and identify the needs of a partner.
When a Water sign comes together with an Earth sign as with Pisces with Virgo it can be a very compatible relationship. Pisces can bring emotional fulfilment to Virgo. This will help provide a satisfying emotional relationship, with physical pleasures combined with mutual respect. Virgo can guide Pisces through the twists and turns of life.
When Pisces and Virgo get together they can make a very good love match. This is because you are both very caring, thoughtful and considerate. You both like to give time and energy into making a relationship work. The only possible problems with this relationship could be the tendency of both of you to be pessimistic and dwell on the negative side of life.

However to iron out any problems in this relationship I strongly recommend a COMPLEX LOVE SPELL, either as a completely new Spell or to enhance and boost a previous Love Spell.
Click this link below to find out more:
The NEW Moon is approaching!
Get your New Moon Spell for December 2023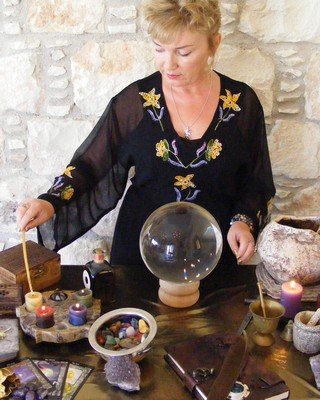 A New Moon Spell That Works


Have a New Moon Spell cast by a real Witch on the upcoming New Moon. A New Moon Spell to manifest whatever you most desire!
Cast on the next New Moon by Alizon, an experienced White Witch and Spell Caster.
---
D
on't miss out on the coming New Moon December 2023... Your chance to change your destiny:
You may want a New Moon Spell to:
Boost your Ancient Magical Chants

Attract a new love into your life
Begin a fresh start with an ex-lover
Success with any new project, enterprise or relationship

Commence a new career or business

Manifest a new period of abundant wealth and prosperity
Bring positive good luck for lottery wins and gambling
Or any positive purpose you may have
---
---