Is Halloween Just a Fun Holiday, A Time For Dark and Spooky Rituals, Or a True Pagan Festival?
Think of Halloween and you'll no doubt conjure up images of a fun holiday filled with pumpkins, black cats, candy, spooky costumes and Witches with warty hooked noses, green faces and a spine chilling cackle.
But as a real Witch I see the date of October 31 differently. And I certainly do not have a warty hooked nose or a flying broomstick!
To many Pagans and Wiccans, Halloween October 31 , (known to them as Samhain) is a great festival marking the end of the old year and the beginning of a new one.
Most witches join in with all the fun of the Halloween holiday too. I love to carve out a pumpkin to act as a lantern and when my children were small, I'd dress them up and take them trick or treating.
Samhain is the most important festival of the eight Sabbats that make up the Wheel of the Year. Each Sabbat marks a point in the Wheel of the Year and are seasonal festivals celebrating and acknowledging the cycles of nature as it turns through its seasons. Each Sabbat is celebrated by Wiccans and Witches.
The eight Sabbats are the Summer and Winter Solstices, the Spring and Autumn Equinoxes and four fire festivals, of which Samhain is one.
Historically, the feast we celebrate on October 31 comes from the Celtic tradition and is known as Samhain. Literally meaning "summers end". Samhain signified the end of summer and thus the end of the old year. It marked the time of darkness, the time when crops lie dormant, and the time when grazing animals were brought in from the fields to winter shelter.
There was also a spiritual significance given to this important time of the year. Falling between the important religious feast days of the Autumn Equinox and the Winter Solstice, Samhain was also seen as a sacred day. It was a time to remember past loved ones, and a time to look to the future. It was believed that communication between the living and the dead was most effective at this time, and that acts of magic and divination were very potent.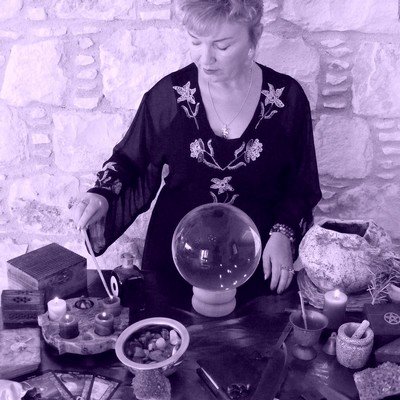 Pagans, Wiccans and modern Witches today celebrate Samhain in many diverse ways. Many enjoy the non-Pagan Halloween festivities in their local neighbourhood, wearing costumes, eating candy, and trick or treating.
Others choose to celebrate by taking part in religious rituals with other Pagans or Wiccans and honour the dead. Many Witches join with their coven members to hold religious rites and celebrate with feasting.
Others take advantage of the special time to practice some form of divination such as Tarot Reading or Rune Reading and looking into the future. Others use the special time for meditation, visualisation and contemplation on their desires for the coming New Year.
Personally I use the special evening of October 31 to honour the gifts of the night, to conduct my Spell Casting for myself and for others who need my help.
Here's a great way for anyone to celebrate and honour the gifts of the night on October 31.

Halloween Honouring the Gifts of the Night
Plan a night walk to honour the gifts of the night. Ensure your safety by having a companion with you and a torch or lantern. Go to a forest, lakeside, the ocean, a hillside, or quiet garden or park. Somewhere where you can see the stars and the moon, weather permitting.
Breathe deeply as you take in all the sights, sounds, smells and feelings of nature as it surrounds you. Pay attention to all the Elements of Air, Earth, Fire and Water that surround you and how they relate to all your senses. Let the joys of nature seep into your soul as you stroll along.
Look into the dark sky and connect with the energy of the moon and stars. Silently ask the element of Spirit to connect with you. At this time be open to any messages that come to you.
Whatever you plan for October 31, remember to have a great time!
Halloween Spell Casting

Here's your chance to have me, a real Witch, cast a Halloween Spell for whatever you most desire. This can be a desire for an abundant and wealthy life, a new, strengthened or renewed love or for whatever positive purpose you want to manifest.

Halloween Spell
Missed out on Halloween?

If you are too late or too early for a Halloween Spell to change your destiny for the better then take a look at the other Spells I cast throughout the year. These include Money Spells, Love Spells and Sex Spells.

Positive energy is very important if you are to live an abundant and prosperous life and build up good karma. A great way to do this is by undertaking some charity work.  

Don't miss out on the coming Full Moon October 2022... Your chance to change your destiny:
You may want a Full Moon Spell to:
Allow money to flow to you
Enhance your sexual attraction
Allow a business or career to prosper and grow
Gain committed love & total faithfulness from a lover
Reunite with an ex lover
Become prosperous and successful
Change your bad luck to good
Or any positive purpose you may have
---
REVIEWS
---