Gemini and Scorpio Compatibility
 Compatibility of the Zodiac for Gemini and Scorpio
Take a look at the Gemini and Scorpio compatibility love match in astrology.
Do Gemini and Scorpio make a good love match?
In astrology as a Mutable sign, Gemini is said to indicate flexibility, adaptability and have good communication. Gemini have the ability to reinvent themselves, are able to accept change and are very resourceful. Add to this strong communication skills, a clever mind, vision and imagination which comes from the Element of Air and you have vivacious, spirited and creative personality.  
In astrology as a Fixed sign, Scorpio is said to indicate stability, reliability and patience. Scorpio can be stable, dependable, patient and loyal.  Add to this a nurturing and protective character, a developed intuition, intense sensitivity and understanding which come from the Element of Water and you have a faithful and intuitive personality.  
Gemini is from the Element of Air. In astrology Air signs tend to have a unique and often unusual perspective on the world. They use their head rather than their heart when making decisions and can be seen as logical and clear thinking. They often have brilliant ideas and an easy way of communicating them to others.
Gemini is ruled by the planet Mercury which represents information, communication and commerce. Those born under the rulership of Mercury tend to be expressive in both written and verbal communication. 
Scorpio is from the Element of Water. In astrology Water signs are known for their sensitivity and deeply felt emotions. They are generally very perceptive and use their strong intuition to guide them. They tend to have vivid imaginations and intense feelings. Although they like their alone time, they need the company of others to really thrive.
Scorpio is ruled by the planet Pluto which is transformative and regenerative. It is associated with death and rebirth, sex and mystery. Those born under the rulership of Pluto are said to have great strength and powerful intensity. Scorpio also has strong connections to the planet Mars as its classical ruler which governs action and movement with tendencies to be assertive and intense with simmering tempers.

Gemini and Scorpio Love Match
In astrology when a Mutable sign comes together with a Fixed sign as with Gemini with Scorpio the problem areas usually revolve around flexibly, openness and adaptability. Mutable signs can with ease adapt and change to the needs of a partner, whereas Fixed signs don't see the need to change or adapt for anyone or anything.
When an Air sign comes together with a Water sign as with Gemini and Scorpio it can be challenging. Gemini can be a little unfeeling and can look at things without taking into consideration emotions. Scorpio is good for this pair, because they can help Gemini be more emotionally aware, and be able to express themselves better, leading to better understanding between them. Gemini reciprocates by encouraging Scorpio to think more carefully about themselves, and each other.
When Gemini and Scorpio partner together they will need to understand each other's motivations and work together to minimize their differences. 

However to iron out any problems in this relationship I strongly recommend a COMPLEX LOVE SPELL, either as a completely new Spell or to enhance and boost a previous Love Spell.
Click this link below to find out more:
The NEW Moon is approaching!
Get your New Moon Spell for December 2023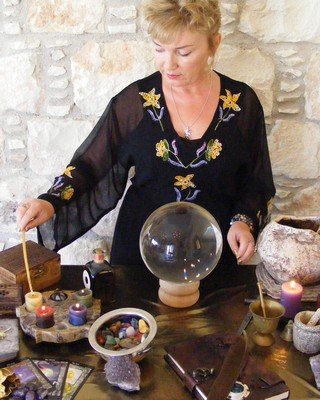 A New Moon Spell That Works


Have a New Moon Spell cast by a real Witch on the upcoming New Moon. A New Moon Spell to manifest whatever you most desire!
Cast on the next New Moon by Alizon, an experienced White Witch and Spell Caster.
---
D
on't miss out on the coming New Moon December 2023... Your chance to change your destiny:
You may want a New Moon Spell to:
Boost your Ancient Magical Chants

Attract a new love into your life
Begin a fresh start with an ex-lover
Success with any new project, enterprise or relationship

Commence a new career or business

Manifest a new period of abundant wealth and prosperity
Bring positive good luck for lottery wins and gambling
Or any positive purpose you may have
---
---