Daily Tarot Spreads for Insight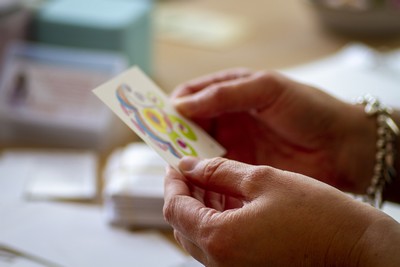 Daily Tarot Spreads for Insight:
Introduction to Daily Tarot Practice
Alighting here, you've embarked on a journey where each Card is a window to wisdom, and every spread unfolds a map to your innermost truths. Here, in the sacred space of Daily Tarot Spreads for Insight, I invite the mysteries of the Universe to whisper to you, guiding your steps through the power and knowledge of the Tarot.

---
Embrace the Ritual with Daily Tarot Spreads
Begin your daily Tarot spreads by creating a ritual that resonates with your spirit. Whether it's the gentle flicker of a candle or the soothing aroma of incense, set the stage for a meeting between your consciousness and the cosmic energies. As you carefully and solemnly shuffle your deck, let your thoughts flow like a serene river, unburdened by the rush of life's relentless currents.

---
Ask, and You Shall Receive Insight
Pose your question with intention, but release the grip of expectation. The Tarot does not simply answer; it converses, offering insight with each card drawn. It might reveal a path you hadn't considered or confirm the inklings of your intuition. Trust in the cards, and in turn, trust in the wisdom that resides within you.
---
A Card a Day Keeps Confusion at Bay
Incorporate quick tarot techniques into your routine by drawing a single card each day. Let it be your guide, your muse, or your challenge. Reflect on its imagery, its symbolism, and the feelings it evokes. This card is not just a piece of art; it's a mirror reflecting aspects of your life that require your attention.
---
Journey Through the Arcana for Daily Insight
As days pass, you'll journey through the Major and Minor Arcana, discovering the lessons of the Fool's Journey that we all walk in one form or another. Some days will bring revelations, others will offer comfort, and some will challenge your convictions. Embrace them all, for they are steps on your path to understanding.
---
Record, Reflect, and Grow with Daily Tarot Spreads
Keep a Tarot Journal as your personal chronicle, a testament to your growth and a reflection of your inner landscape. Note not just the card and its conventional meaning, but also your personal interpretation and how it applies to the context of your day. Over time, this journal will become a treasure trove of personal insights and a map of your spiritual evolution.
In this practice, remember, "Daily Tarot Spreads for Insight" is a tool for guidance, not a dictator of fate. It empowers you to make choices with greater clarity and to walk your path with more confidence. Let the cards be your companions, your wise counsel, and let your intuition be the voice that interprets their counsel.
May your daily tarot practice illuminate your path with the light of understanding and the warmth of wisdom.
---
Questions You Can Ask the Tarot
On a Daily Basis for Inspiration, Insight and Guidance.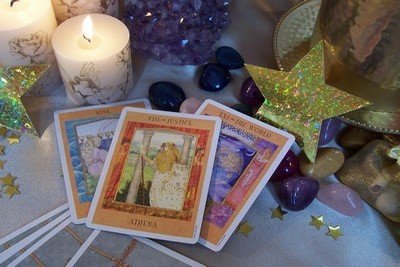 For Personal Insight
What energy should I embrace today?
How can I align more closely with my purpose today?
What lesson is the universe trying to teach me at this moment?


For Guidance in Decision-Making
What should I consider when making [specific decision]?
What is the potential outcome if I choose [specific option]?
How can I approach my current challenge with wisdom?


For Relationship and Love
What can I do today to improve my relationships?
How can I be a better partner/friend today?
What should I understand about my current relationship dynamics?


For Career and Work
What can I focus on today for professional growth?
How can I enhance my productivity at work today?
What should I be aware of in my professional relationships today?


For Spiritual Growth
What can I do today to advance my spiritual journey?
How can I deepen my connection to my higher self today?
What spiritual lesson is awaiting me today?


For Emotional Well-being
What can I do to cultivate inner peace today?
How can I best manage my emotions today?
What is the source of my current emotional state?


For Creativity and Projects
What creative energies are available to me today?
How can I overcome creative blocks currently in my way?
What should be my next step on my current project?


For Health and Wellness
What can I do today to support my physical well-being?
How can I promote balance in my life today?
What is my body communicating to me right now?


For Financial Insight
What should I know about my financial situation today?
How can I improve my financial health today?
What steps can I take today to ensure financial stability?


For Daily Challenges
How can I best approach the challenges I face today?What can I learn from the obstacles I encounter today?How can I turn today's challenges into opportunities?
These questions are designed to be open-ended, allowing the Tarot to provide a broader spectrum of insight and to encourage reflection. They can be adapted or expanded upon to fit the specific context or needs of anyone seeking guidance.
---
How to Interpret the Imagery of a Tarot Card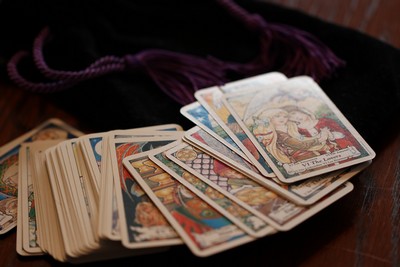 In the mystical realm of tarot, each card is a tapestry woven with symbols and signs, waiting for you to unlock its secrets. The art of interpreting the imagery of a tarot card is akin to learning a sacred language, one that speaks directly to the soul. Here at "Daily Tarot Spreads for Insight," we delve into the heart of each card, revealing the profound narratives told through their intricate imagery.
1. Seeing Beyond the Surface
As you hold a Tarot card in your hands, allow your gaze to travel across the image. Notice the colors, the figures, the landscape. Each element is a character in a story, and you are the reader. The vibrant reds may speak of passion or warning; tranquil blues may whisper of calm or clarity. The figures could be dancing in joy or standing in contemplation. What do they reveal to you about your own life's dance?
2. Symbols and Their Secrets
Symbols are the language of the subconscious. In the rich tapestry of a tarot card, you might find animals, celestial bodies, or natural elements. Each of these carries universal meanings that transcend cultures and time. A lion might represent strength or courage; a moon, intuition or the shadow self. By understanding these symbols, you begin to piece together the message meant just for you.
3. The Narrative Arc of the Arcana
Every tarot card tells a part of a greater story. The Major Arcana cards chart the soul's journey through life's grand themes and lessons, while the Minor Arcana offers insight into the day-to-day trials and triumphs. As you explore "Daily Tarot Spreads for Insight," you'll learn to see not just the isolated meanings of the cards but how they interact to create a narrative arc in your readings.
4. Intuition: Your Inner Guide
While books and guides can offer you the traditional meanings of the cards, your intuition is your most powerful tool. It's the inner voice that knows which symbols resonate with your situation. Trust this inner guide. Let it lead you through the imagery, and you'll find that your personal interpretations are just as valid as those written in any tome.
5. Practice, Patience, and Presence
Interpreting tarot imagery is a skill honed over time. With each card you draw, with every spread you lay out, you'll find your understanding deepening. Be patient with yourself, and stay present with the cards. Over time, the imagery will begin to speak to you more clearly, as if the cards themselves are conversing with you in a language you've always known deep down.
In the sacred practice of tarot, the imagery of the cards is a gateway to insight, offering a reflection of your past, a beacon for your present, and a vision for your future. Embrace the journey, for each card is a step along the path to self-discovery.
---
Further Resources
Follow the links below for further information and resources:

Expert Tarot Reading
How to Read Tarot Cards
Tarot Reading Course

---
Mental health is so important to wellbeing and can be difficult to identify and treat. NAMI is the National Alliance on Mental Illness, the nation's largest grassroots mental health organization dedicated to building better lives for the millions of Americans affected by mental illness.
MIND is the UK equivalent.

The NEW Moon is approaching!
Get your New Moon Spell for December 2023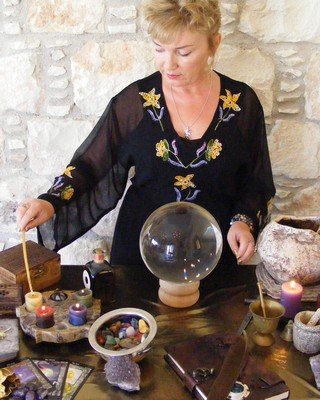 A New Moon Spell That Works


Have a New Moon Spell cast by a real Witch on the upcoming New Moon. A New Moon Spell to manifest whatever you most desire!
Cast on the next New Moon by Alizon, an experienced White Witch and Spell Caster.
---
D
on't miss out on the coming New Moon December 2023... Your chance to change your destiny:
You may want a New Moon Spell to:
Boost your Ancient Magical Chants

Attract a new love into your life
Begin a fresh start with an ex-lover
Success with any new project, enterprise or relationship

Commence a new career or business

Manifest a new period of abundant wealth and prosperity
Bring positive good luck for lottery wins and gambling
Or any positive purpose you may have
---