Creating an Altar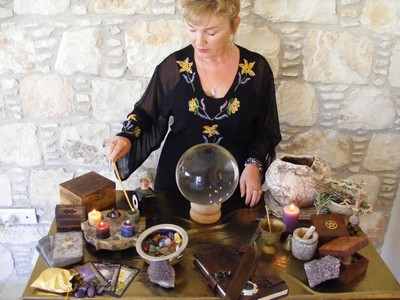 Here I will present to you a step by step guide to help you in creating an Altar.
As an aspiring or experienced Witch, you will appreciate the importance of the Altar. You will also understand that an Altar can be simple - or grand, or anything in-between. I will hope to make suggestions about which essential items you can use to help you create an Altar for your needs, often items you can find in the home.
For more experienced Witches, or for those who want the opportunity to acquire more authentic items, I'll suggest things for you, or you can source and research your own.
I'll continue to develop and research more recommendations, so keep coming back!

---
Creating an Altar
Altar Cloth
Creating an Altar can be as simple as a sturdy upturned box. A beautiful Altar Cloth can transform and enhance the simplest of structures into an Altar worthy of the special place it holds in the deeds and undertakings of the Green Witch.

Look in your house for some suitable material. Purple satin is a good choice. Any suitable cloth embroidered with symbols of its purpose will be ideal. I recommend this cloth with the Pentagram symbol. It's reasonably priced and has perfect symbolism for its purpose, imbuing it with Power and Mysticism.

---
Tarot Deck

The Tarot is probably the most important means of Divination for the Witch. It's a deck of complex meanings, but because of its inherent symbolism, it is a powerful tool to enhance, improve and develop psychic ability.

Even just holding the deck, and dealing out the cards slowly and rhythmically, can connect you with your inner intuition, expanding your awareness and developing your psychic connection with the world.

You should strive to certainly include a worthy Tarot Deck for your Altar, and also for practical Divination (foretelling the future). I recommend the Powerful and popular Rider Waite Deck.

---
Cauldron

Cauldrons are familiar items associated with Witches and Witchcraft. In popular culture - plays, TV and literature, Cauldrons are usually used by Witches to brew potions, medicines and various concoctions for Spell Casting and Curse Laying. Balanced on burning logs in a woodland clearing, Witches are depicted dancing around the bubbling vessel and depositing items into it such as "tail of newt" and "ear of bat" to produce a toxic infusion for their Dark Arts! In reality though, Cauldrons have very real usefulness to both aspiring and fully experienced witches. A fireproof Cauldron is useful for burning incense and herbs (smudging), mixing oils for potions, as a candle holder, for Rituals and the Casting of Spells.

I recommend this Cauldron for the Beginner. It's reasonably priced and not too bulky (4" across). Alternatively, you could use any ornate fireproof container.

---
Journal
Your Journal is a Magical Reference Book. You will use it to record your Goals, Aims, Spell Recipes, records of Castings and records of success. It will contain lists of Correspondences (ingredients) for specific Spells, including herbs, details of your research, and a record of your resources.
It's a valuable and important item and should have a prominent place on any Altar.
You can start off using a simple journal, a student's notebook for example, but you might want to progress to something more sophisticated, like the one I recommend here. Crafted from natural materials, it is more responsive to Enchantments.

---
The NEW Moon is approaching!
Get your New Moon Spell for September 2023

D
on't miss out on the coming New Moon September 2023... Your chance to change your destiny:
You may want a New Moon Spell to:
Boost your Ancient Magical Chants

Attract a new love into your life
Begin a fresh start with an ex-lover
Success with any new project, enterprise or relationship

Commence a new career or business

Manifest a new period of abundant wealth and prosperity
Bring positive good luck for lottery wins and gambling
Or any positive purpose you may have
---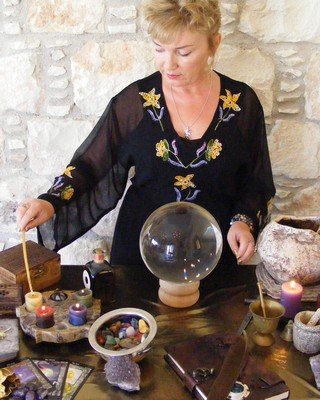 A New Moon Spell That Works


Have a New Moon Spell cast by a real Witch on the upcoming New Moon. A New Moon Spell to manifest whatever you most desire!
Cast on the next New Moon by Alizon, an experienced White Witch and Spell Caster.
---