Alizon's Green Witches Coven News: September 3, 2021
Merry Meet!
IN THIS ISSUE: How to be Sexy,
Positive Affirmations Video, New Moon 7th Sept,
The Ultimate Spell!, Exclusive Spell Cast for Coven Members – only $30!,
How to be Sexy!
Sometimes you just don't feel sexy, and many people feel that they never will. But don't you believe it! There's lots of things you can do. Looking after your appearance, building your confidence, cleansing your Aura and enhancing the influence of natural pheromones will all contribute to you increasing your sexual attraction. Sexual attraction has little to do with looks. You don't need to be handsome or beautiful to be sexually attractive (Mick Jagger anyone? - who we all love!) It's all to do with the subtle ways we can manipulate how people perceive us. Check out my new Blog Post:
The Secrets of Sexual Attraction!
---
Positive Affirmations Video
I've recently uploaded a brand-new video to my channel on YouTube. In this video I explain, in detail, how you can create and execute your very own Positive Affirmations. Positive Affirmations are very powerful and can literally change your life if applied in the right way. Done correctly, you will easily see changes in your life - within days! Positive Affirmations can change you as a person, making you more confident, less anxious, more hopeful of the future. They can also make you more competent at whatever you choose to do. Positive Affirmation can help you achieve too. These positive statements will attract ideas and opportunities to help you get all those things you want in your life. Click the link to watch the video:
---
New Moon 7th September
The New Moon Phase is a powerful lunar energy for new beginnings and achieving wishes. To have a Spell Cast on this special night is an opportunity to exploit this special lunar energy. This Spell is Cast on the night of the New Moon. Casting Spells on the New Moon can have amazing results and allow fresh starts, new beginnings and new opportunities. Discover how a New Moon Spell can change your bad luck to good luck and bring you health, wealth & happiness. Do want inspiration for a new direction in your life? Is your love life stalled – or non-existent? Are you stuck in a rut? The New Moon brings new starts and new energies. Follow the link if you are drawn…
---
Ultimate Spell
If you haven't already, have a look at the details of my unique Ultimate Spell. This is a Spell using special ingredients and cast and reinforced 7 times over consecutive evenings. With each evening and each casting of the Spell, intensified positive energy and Magical power combines and is gathered and directed towards the Universe with your specific desire or wish. I've been able to reduce the price of this special Spell for the time being.
---
Exclusive Spell Cast for Coven Members – only $30!
I've created a very special Coven Spell offered at my lowest price ever, so that even those who have limited budgets right now can take advantage of the awesome power of a Magic Spell cast exclusively by me, Alizon.
I use an ancient formula in this Coven Spell to truly enhance the positive energies of Mother Nature and the Universe.
To learn more and to see if you want to take advantage of this special priced Spell click the link:
Exclusive Coven Spell for Coven members
PASSWORD: COVEN77
---
Always remember: Members of the Green Witches Coven are supported and protected by Powerful Energy. The Energy of the Coven!
Look out for my next Newsletter coming soon
Blessings to All!
Alizon
High Priestess
Green Witches Coven
---
The NEW Moon is approaching!
Get your New Moon Spell for September 2023

D
on't miss out on the coming New Moon September 2023... Your chance to change your destiny:
You may want a New Moon Spell to:
Boost your Ancient Magical Chants

Attract a new love into your life
Begin a fresh start with an ex-lover
Success with any new project, enterprise or relationship

Commence a new career or business

Manifest a new period of abundant wealth and prosperity
Bring positive good luck for lottery wins and gambling
Or any positive purpose you may have
---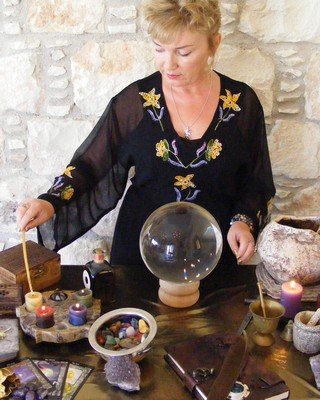 A New Moon Spell That Works


Have a New Moon Spell cast by a real Witch on the upcoming New Moon. A New Moon Spell to manifest whatever you most desire!
Cast on the next New Moon by Alizon, an experienced White Witch and Spell Caster.
---