Merry Meet!

February and the Storm Moon

February brings us the Storm Moon on the 9th February!

Does this mean a storm is coming? How can you use this Moon to increase your wealth? For this Moon, novice Witch, there's a Spell for you to cast…

Click/Tap HERE to learn more.

Coven Gathering 9th February

For the Coven Gathering – The Cause.

Using the Collective Power of our Collective Thought – we can make a difference.

(Learn More about the Power of Collective Thought)

During the days and hours leading up to this February's Full Moon, please find time to explore this very good cause.

www.girlsnotbrides.org

Think about the plight of these girls, but do not dwell on the negative aspects. Instead visualise and imagine a different life for these girls. Think about a happier, brighter future for them and how the power of the collective thought of all sisters of the Green Witches Coven can contribute to make positive things happen.

During every Virtual Gathering, we will include in the Full Moon Spell Casting Ritual all spiritual intentions, healing wishes and Spell requests from our Coven sisters.

These are private and personal requests from individual Coven Members and made in the strictest confidence. As such, they are not revealed to anyone.

Make your Request HERE.

Your password is COVEN77

Valentine's Day Love Potion

Check out my Video on crafting a Love Potion to attract to you that special someone. It's simple, but crafted from ancient recipes and rituals I've studied in the 40 years I have been a practicing White Witch

Love Potion Video (YouTube)

Psychic Ability

Every would-be Witch should strive to increase their Psychic Ability. Not only will this help you to achieve your goal as an aspiring Witch, but this will also improve your life overall, and help increase the Power of the Green Witches Coven Gathering in their aim to improve life for those who are suffering in the World.

It's the goal of the Green Witches Coven to help members to do just that. There are a lot of resources you can use available to Coven members, most of them free.

Start with this FREE PSYCHIC ABILITY GUIDE.

Take a look at my NEW Psychic Ability Video be which will have some magical results.

What happens next?

The Full Moon is on the 9th February.

On the 7/8 February, you'll receive all the details about the Virtual Gathering scheduled for the Full Moon on the 9th February.

(Remember, you can unsubscribe anytime!)

Blessings to All!
Alizon
High Priestess
Green Witches Coven



 



The NEW Moon is approaching!
Get your New Moon Spell for December 2023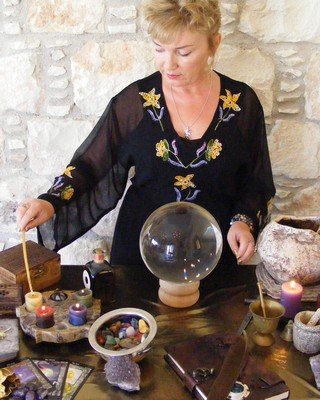 A New Moon Spell That Works


Have a New Moon Spell cast by a real Witch on the upcoming New Moon. A New Moon Spell to manifest whatever you most desire!
Cast on the next New Moon by Alizon, an experienced White Witch and Spell Caster.
---
D
on't miss out on the coming New Moon December 2023... Your chance to change your destiny:
You may want a New Moon Spell to:
Boost your Ancient Magical Chants

Attract a new love into your life
Begin a fresh start with an ex-lover
Success with any new project, enterprise or relationship

Commence a new career or business

Manifest a new period of abundant wealth and prosperity
Bring positive good luck for lottery wins and gambling
Or any positive purpose you may have
---