Cancer and Aquarius Compatibility
 Compatibility of the Zodiac for Cancer and Aquarius
Take a look at the Cancer and Aquarius compatibility love match in astrology.
Do Cancer and Aquarius make a good love match?
In astrology as a Cardinal sign, Cancer is said to indicate action, initiation and assertiveness. Cancer likes to initiate and control their lives and their surroundings. They like to take the lead, are ambitious, creative and spontaneous. Add to this a nurturing and protective character, a developed intuition, intense sensitivity and understanding which comes from the Element of Water and you have you have a patient and caring personality. 
In astrology as a Fixed sign, Aquarius is said to indicate stability, reliability and patience. Aquarius can be stable, dependable, patient and loyal. Aquarius is from the element of Air. Air signs tend to have a unique and often unusual perspective on the world. They use their head rather than their heart when making decisions and can be seen as logical and clear thinking. They often have brilliant ideas and an easy way of communicating them to others.
Cancer is a Water sign. In astrology Water signs are known for their sensitivity and deeply felt emotions. They are generally very perceptive and use their strong intuition to guide them. They tend to have vivid imaginations and intense feelings. Although they like their alone time, they need the company of others to really thrive.
Cancer is ruled by the Moon which is related to moods, emotions and instincts. Those born under the Moon's influence are said to be both consistent but also ever changing. Connections to home and family are said to be very strong for those ruled by the Moon.
Aquarius is ruled by the planet Uranus which relates to change and progress. Those born under the rulership of Uranus tend to be carefree, unconventional and original in their thinking. Aquarius also has strong connections to the planet Saturn as its classical ruler. Saturn relates to tradition, authority and control with tendencies to be serious and crave influence and authority.

Cancer and Aquarius Love Match
When a Cardinal sign comes together with a Fixed sign as with Cancer with Aquarius there could be friction. This is because Cardinals and Fixed signs both believe they are always right and find it hard to concede.
When a Water sign comes together with an Air sign as with Cancer with Aquarius there are many mutual benefits to this coupling. Aquarius can be a little fanciful and dreamy, but Cancer will inspire Aquarius to be more meaningful and careful. Cancer is emotional and has feelings and emotions it often finds hard to articulate.
Aquarius helps with this articulation and a grounding of ideas, emotions and dreams. Together, they can be creative and focussed.
When Cancer and Aquarius partner together they will need to accept each other's differences and learn to love them.

However to iron out any problems in this relationship I strongly recommend a COMPLEX LOVE SPELL, either as a completely new Spell or to enhance and boost a previous Love Spell.
Click this link below to find out more:
The NEW Moon is approaching!
Get your New Moon Spell for September 2023

D
on't miss out on the coming New Moon September 2023... Your chance to change your destiny:
You may want a New Moon Spell to:
Boost your Ancient Magical Chants

Attract a new love into your life
Begin a fresh start with an ex-lover
Success with any new project, enterprise or relationship

Commence a new career or business

Manifest a new period of abundant wealth and prosperity
Bring positive good luck for lottery wins and gambling
Or any positive purpose you may have
---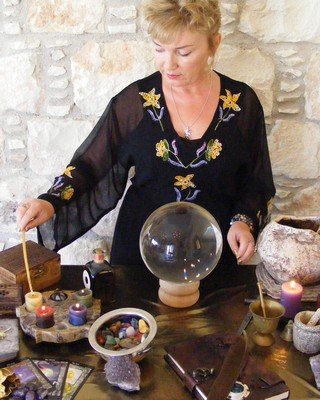 A New Moon Spell That Works


Have a New Moon Spell cast by a real Witch on the upcoming New Moon. A New Moon Spell to manifest whatever you most desire!
Cast on the next New Moon by Alizon, an experienced White Witch and Spell Caster.
---
---