Ace of Swords Meaning
---
Alizon - expert, experienced, skillful, knowledgeable...

The History of Spell Casting
Through the ages and within every culture older wise women have passed down their knowledge and skills of healing herbs, medicinal plants, phases of the moon and sun, the alignment of the stars and other natural phenomenon to younger generations.  

The crafting of ingredients, coupled with prayers, rhymes or chants (Spells) were sent out to the Universe to increase abundance, to bring love, to aid fertility and for protection.

I possess the knowledge, skill, expertise and experience to successfully cast Spells that work with the Universe to help you with your desires.

I am an experienced Spell caster of 40 years and have a wide knowledge of herbs, oils, crystals and other ingredients, their qualities, their energies and how to use them successfully.

I have a deep understanding of the power of colour, moon phases, solar phases, astrological matters and other natural phenomenon. I am also very skilled in the use of altar tools and am attuned to the elements of air, earth, fire and water.

REVIEWS


FAQ

---
Ace of Swords Meaning
The Ace of Swords Meaning is part of my Tarot Card Meanings series...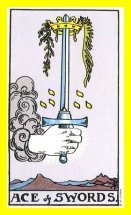 Today's feature is the Ace of Swords Tarot card. Here I'll be looking at the Ace of Swords meaning and what significance it has for you today.
The Ace of Swords meaning keywords are power, breakthrough, triumph, force, courage, new ideas and inspiration.
The Ace of Swords meaning usually refers to a breakthrough moment with new ideas and inspiration fuelling the intellect.
The Ace of Swords Tarot card can be interpreted as being given the opportunity to clear the air, find the truth and cut out any deception, lies or untruths.
The other Ace of Swords Tarot card meaning is that of medical surgery, injections or medical interventions and procedures.
The Ace of Swords Tarot Card is a Minor Arcana Tarot card and as such is not as powerful and life changing as any of the Major Arcana cards such as the Magician Tarot card, the Fool Tarot card or the Hermit Tarot card. However the Ace of Swords Tarot card still has significance and can show new forms of education and learning coming your way. This is inspired learning that will lead to a breakthrough in how your view things.

Upright Ace of Swords Meaning
The upright Tarot card meaning of the Ace of Swords Tarot card for you today shows opportunities coming your way to learn something to your benefit. This can be out of the blue and unexpected ideas that will inspire you to take action and create success for yourself.

Reversed Ace of Swords Meaning

The reversed Tarot card meaning of the Ace of Swords Tarot card can show rejection and humiliation. It can mean the ideas you had will come to nothing. It is a very bad omen when taking exams.
Another meaning of the reversed Ace of Swords Tarot card is that of overly exaggerated concentration on an issue that you won't let go.
The Ace of Swords Tarot card can often show that your ideas, dreams and goals can be achieved.
To allow this to happen as destiny has planned, you need to have a powerful Wish Come True Spell cast.

The use of Tarot Cards, their meanings and what they represent are very important in my  Magic Spell Casting to change destiny for the better!!!

---
Did you love this page? Please share it with your friends!

The law requires me to state that the contents of this website are for entertainment purposes only.
Psychic, tarot and spell casting services cannot be a substitute for professional, legal,
medical, financial or psychiatric advice/care, where appropriate.
You must be at least 18 years old to make any purchase from me.

© Copyright All Original Content 2006 – 2017 Alizons-psychic-secrets.com. All Rights Reserved.
Reproduction in whole or in part without permission is not permitted.