Why has my Spell not worked?
---
Alizon - expert, experienced, skillful, knowledgeable...
The Power of Magic
If you have an interest in spirituality, are intrigued by astrology, fascinated by Tarot cards or captivated by Psychic abilities, then the next logical step is to look into the power of Magic.
Having a Spell Cast is Magic you can believe in.
Are you a Cancer?
Why has my Spell not worked?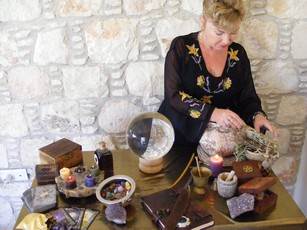 Sometimes I get people asking me this, mostly just a few days after it being Cast!
Obviously, Spells can take longer to manifest than some people expect. I can understand people's impatience though - I'd want immediate results too!
It is true that it is a common problem for all Spell Casters when people expect the Spell to work immediately.
However, anyone who states that results are guaranteed within a certain time are not being truthful, correct or genuine. A mere Spell Caster cannot guarantee such things. When a Spell actually manifests, is in the hands of a Higher Power.
Rarely though, something does go wrong and people are entitled to know why.
I have had considerable success with Spell Casting. I am a gifted and experienced Spell Caster, and this is reflected in the number of satisfied clients, friends and family members who have benefited from my positive and successful Spell Work.
For this reason I have no doubt that my Spells work for the vast majority of those I cast for.
Rarely though, a Spell might not manifest for some people as they would wish.
As well as many people contacting me about Spells cast by other Spell Casters that haven't worked, I do get the occasional message from someone who believes that the Spell I cast for them is not working. Most often than not it is because it hasn't been given enough time. For some, there might be another reason.
Firstly No one can guarantee a Spell will work 100% of the time.
Anyone who states this is not being truthful, correct, genuine or honest, and should be avoided. This is not for them to guarantee. Such claims suggest that they feel they are more powerful than the Higher Power who bestows such things on the world!
There are many reason why a Spell might not manifest as a person would want it to or expect it to. Many of these reasons cannot be foreseen by the Spell Caster nor the person for whose benefit the Spell is Cast.
Here are some of the reasons a Spell might not work:
The Universe Has Other Plans For You
Despite what you feel is in your best interests, the Universe might have other plans for you that no one could have foreseen, or what you want and wish for, is not in your future best interests.
At the moment, you possibly can't accept this, but be aware that my Spell Work will never cause you harm, or force you accept something that will bring you less happiness.
Imagine that just around the corner is someone or something that you can't see, someone or something that will bring you the happiness you crave and deserve. Wanting only what you can see will not always bring you what you want.
You Are Being Protected From Harm
There might be something about what you wish for that is unhealthy, or will lead to unhappiness for you. For example, the man who you wish to reunite with you might want to cause you harm, or is a bad person in ways you are unaware of.
Lack of Faith and Positive Belief
If you are mistrustful of your Spell Caster, or are wracked with doubts about the Spell or whether it is really what you want, then this negative emotion will have a negative effect on the Spell. All emotion is energy and doubts, fears and mistrust are negative forms of this energy. Spell work is positive energy, energy you must be able to receive freely. If you are shrouded in negativity, this positive energy can't get through.
Obsessing About The Spell Work And When It Will Manifest
When a Spell is Cast, the work is done, and any obsessing about when, how or if it will manifest will obstruct the Spell from manifesting. The best advice is to let go, and let things unfold in their own time and in their own way, even if things gets worse, or you can't see how things will progress.
Can I get a refund if I think my Spell isn't working?
It is not possible to give a refund for Spell work for several reasons.
Firstly, I use a lot of time, energy and expensive ingredients in spell casting, which cannot be recovered. It is similar to where a lawyer still claims a fee even if you lose your case. The lawyer still needs to be paid for his time.
Secondly, it is always difficult to predict when a Spell will manifest, so offering a refund would be premature and defeatist, as the spell could have a chance to manifest after the time a refund is requested. Such a refund would also count as negative energy, inhibiting it's manifestation, or eroding any chance of it manifesting in the future.
Thirdly, I cannot offer refunds in order to protect myself from unscrupulous people, who demand a refund even when the Spell has manifest. Rather like someone who buys something over the internet, receives the item, but claims it has been lost in the mail to claim a refund.

REVIEWS


FAQ
Did you love this page? Please share it with your friends!

The law requires me to state that the contents of this website are for entertainment purposes only.
Psychic, tarot and spell casting services cannot be a substitute for professional, legal,
medical, financial or psychiatric advice/care, where appropriate.
You must be at least 18 years old to make any purchase from me.

© Copyright All Original Content 2006 – 2018 Alizons-psychic-secrets.com. All Rights Reserved.
Reproduction in whole or in part without permission is not permitted.