Tarot Spreads…
Most Popular Spells
---
Tarot Spreads and Laying the Tarot Cards
Tarot spreads are simply the ways that Tarot Readers lay out the cards to give a Tarot Reading. Normally, each position in the spread is assigned an area of life such as love, health, work, etc. or past, present, future etc.
The Three Card Spread is perhaps the simplest. Once mastered you can then move onto to giving an impressive nine-card Tarot Reading. This will give you more information from the cards.

Three Card Spread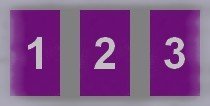 Card 1. Represents the current situation.
Card 2. Represents the advice the card is giving you.
Card 3. Represents the predicted outcome the card is giving you.

Nine Card Spread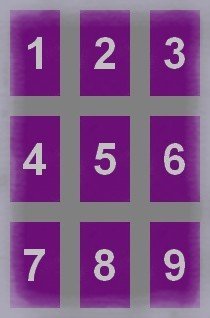 Cards 1,2, and 3 Represents the current situation.
Cards 4,5, and 6 Represents the advice the card is giving you.
Cards 7,8, and 9 Represents the predicted outcome the card is giving you.

The Tree of Life Spread



A Significator card is usually used in the traditional Tree of Life Spread.
1. Aims. This card represents what the Querant would like to achieve.
2. Influences. What is influencing the situation.
3. General Nature. This is the general nature of the question.
4. The Key. This may be something that the Querant isn't aware of.
5. Influences of the Present. Influences on the situation or question from present circumstances that the Querant needs to take into account.
6. Influences of the Future. Things the Querant will want to look out for.
7. Effect of the Significator. This is the effect that the significator (the Querant) has on the situation.
8. Effect of those around. The effect that the people around the Querant have on the situation, as well as other things surrounding the Querant.
9. Hopes and Fears. These are things that the Querant maybe fears will happen or hopes will happen with the situation.
10. The Final Outcome. The ultimate answer to the Querant's question.
There are many different Tarot spreads with the Celtic Cross perhaps the most famous. However a great number of Tarot readers develop their own Spreads and use these rather than the traditional ones. The more Tarot Readings you do and the more Tarot Spreads you try, the more comfortable you'll feel and you will naturally develop your own way to Read the Tarot cards.

If you haven't already check out my other pages on the personal Spells Cast For You by me, Alizon, on your behalf.

Sharing is Caring! Please share it with your friends!

REVIEWS


FAQ
The law requires me to state that the contents of this website are for entertainment purposes only.
Psychic, tarot and spell casting services cannot be a substitute for professional, legal,
medical, financial or psychiatric advice/care, where appropriate.
You must be at least 18 years old to make any purchase from me.

© Copyright All Original Content 2006 – 2020 Alizons-psychic-secrets.com. All Rights Reserved.
Reproduction in whole or in part without permission is not permitted.