Successful Tarot Reading for Cash
Essential Requirements for Tarot Reading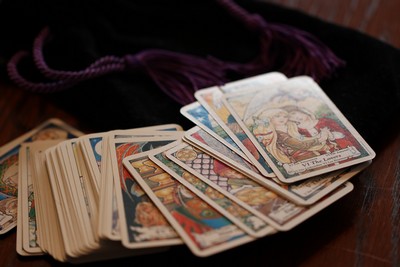 There are some essential requirements you need to possess before you can confidently perform Tarot Readings for paying clients.
Firstly, and most important, is becoming familiar with the Tarot Cards.
At the very least you'll need to study the actual cards themselves: feeling them, shuffling them, studying the images on the face of them. Immersing yourself in the imagery and making a spiritual connection with them

Secondly, You'll need a finely tuned and accessible Psychic Intuition.
This is easier to acquire than you think.
---
Knowledge of the Tarot
There are plenty of excellent courses available online, or you can choose to opt for my own course to get you started:
Developing Psychic Ability
Developing psychic ability is a question of exercising the muscle that is your own innate Intuition.
An excellent start is my 5 Easy Techniques to Develop Your Psychic Ability for rapid Psychic Development.
It's important to realise that the very act of performing Tarot Readings is a stimulating and profound roadmap to increasing and developing your intuition and psychic ability.
For every Reading you conduct, your psychic powers will increase.
After thoroughly familiarising yourself with the Tarot Deck, and if taken, completing all the assignments outlined in the Tarot Course, you will need to practice Readings.
---
Practical Tarot Reading
Your First Reading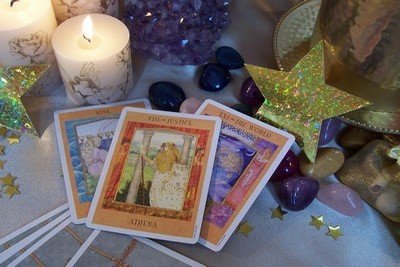 Your first Reading should be an informal one, and you should choose someone you know such as a close friend or relative.
Ask the person you are Reading for, or Querant, to shuffle the Tarot cards and get their energies into them, after all it is their energies that will decide if it will be a good reading. Practice the two recommended Spreads in the course with family members and friends. If you haven't gone through the course, you can learn about simple spreads by following this link:
You don't have to give real Readings to them; they can pretend to be someone else. For example your 30-year-old divorcee friend could act out the part of a 60-year-old happily married woman.
If you can't get many real-life "guinea pigs" either being themselves or playing a role, you will need to practice Readings to imaginary people. Do these Readings out loud. This will give you good practice in verbalising the interpretations of the cards. Imagine, for example celebrities or Soap Opera characters as your clients. 

---
Tap into your Feelings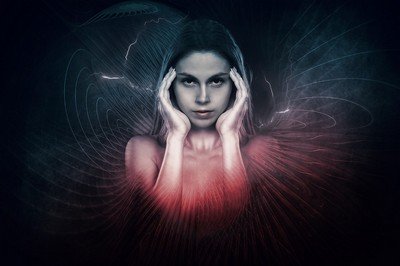 Psychic ability or intuition is a feeling, a hunch, a guess that invariably proves to be correct. Some Psychics see images as snap shots, others hear inner voices as whispers, and others can simply sense feelings and emotions. These snap shots, feelings or whispers can be very vague, foggy and fleeting glimpses. Psychic intuition can never be as direct, full on, and real in images and sounds as the factual world.

When giving readings you need to get across to your client all the emotions, feelings, pictures and sounds however vague they seem to you in a way that they can understand. Your communication skills will need to be extremely good. You will need to verbalise any of the feelings, hunches or guesses that you sense from your client. Remember, that you haven't always got the luxury of time when you are giving professional Readings. You will need to use all your senses, not just your sixth sense to quickly connect with a client. With time being an issue you will need to be as direct as you can.
If a client strikes you as a down to earth, roll your sleeves up, practical individual – say so. If on the other hand, they strike you as a timid, shy and sensitive person – say so. Their clothing, jewellery, grooming, body language and the way they communicate will have given you clues to their character. If by using this basic information you get them to confirm, that yes they are very sensitive and sometimes their shyness holds them back, and yes, they can be emotional at times and take on board other peoples problems too easily, then they can begin to trust you.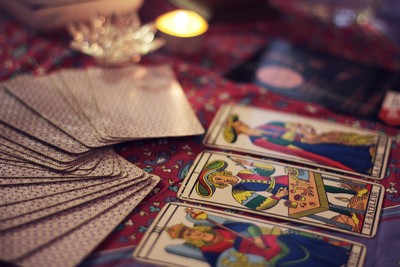 You will need time to prove your psychic talent by demonstrating your knowledge of someone's past and present, before going on to predict their future. By gaining confirmation of their character, it would be reasonable for you to build up a picture of their past. If they are timid and shy now it is likely that they were in the past and are likely to be in the future. The way they handle the joys and sorrows that life presents will be dependent on their character. A redundancy to a person with low self-esteem will hit them harder than to confident, outgoing type. The former will believe they will never get another job and will feel very down, whereas the latter will treat the redundancy as an opportunity to move onto something new and exciting.

With their basic character in mind, it is easier for you to give a Reading to a client using the Tarot. If, for example the Nine of Cups (the Wish Card) appears to a down to earth, hard-working 50 year old Farmers Wife, it will have a different meaning for the bubbly, enthusiastic 20-year-old wannabe Actress.
---
Difficult Clients
Very occasionally you may have difficulties with an odd client, this maybe because their expectations of your 'powers' are too high. They may expect names, dates and times of exactly when Mr Wonderful will enter their lives. They may expect you to know that five years ago they lost their job, that they always holiday in France and that their middle son is named Malcolm. Other clients can put up barriers between you and them –this is usually unintentional as they maybe unreceptive due to their personality type –introvert, quiet and shy or under prescribed medication for depressive type illnesses.
---
Giving Readings to Paying Clients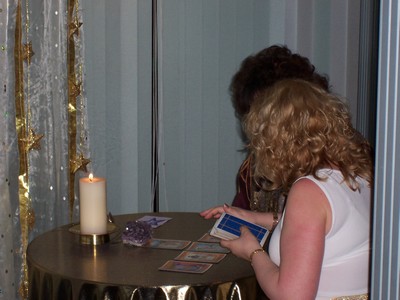 When you feel a little more confident in giving face-to-face Readings to friends or family, you can consider offering your Readings to paying clients. How you establish a successful Professional Tarot Reading business will be down to your business and marketing skills and also building up your reputation. Here are some pointers to start you off.

Let, as many people as possible know you are available to give Tarot Readings either in your home or at the client's home.
Advertise in local newspapers small ads or personal columns
Place a card in newsagents shop windows offering your services
Print some leaflets and distribute in shopping centres
There is a large market out there all wanting to pay for the services of a good Tarot Reader. Word of mouth is probably the key marketing and publicity strategy you will need to really propel you to becoming a professional Tarot Reader.
---
New Moon Spell September 2022

AFTER YOU HAVE PAID
CLICK HERE to send me your details
Within 24 hours I will email your detailed Spell schedule
When purchasing this service from me you are assumed to have read my Terms and Conditions
I look forward to casting your Spell on your behalf. The moment I cast a Spell for you it immediately begins working on your request. After the Spell has been cast I will send you notification that I completed and cast your Spell.
---
Don't miss out on the coming New Moon September 2022... Your chance to change your destiny:
You may want a New Moon Spell to:
Attract a new love into your life
Begin a fresh start with an ex-lover
Commence a new career or business

Manifest a new period of abundant wealth and prosperity
Bring positive good luck for lottery wins and gambling
Or any positive purpose you may have