Sacred Space

Sacred Space for Casting Spells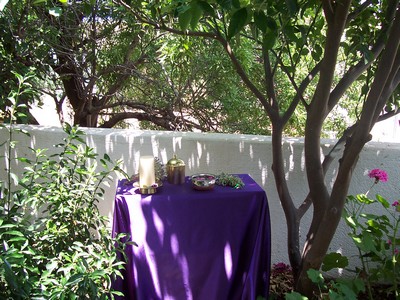 When performing any Spell work, it is customary to create a Sacred Space away from the trappings of everyday life. Any place can be transformed into Space that is Sacred, either indoors or by selecting an empty spot outdoors in the woods, private garden or on a beach.
Casting a circle can be done in any number of ways but by far the simplest and the most practical is to visualise a sphere of gold light forming around yourself and expanding outwards in every direction. Breathe slowly and deeply and empty your mind of everyday worries.
With every breath you take visualise the gold light getting stronger and radiating further around you. By using this technique you will achieve a calm, grounded and open and receptive state of mind.
The Elements of Air, Fire, Earth and Water are called into your circle to assist you with casting Spells.
The same technique will be needed at the end of any Spell casting session which allows the grounding of the extra energy that you hold both within yourself and your circle, to ensure that you are able to continue with your activities and that your Sacred Space is left in an appropriate energy state.
Other ways Witches cast their circles and create their Space include walking round in a circle beating a drum, bells or clapping rhythmically. All the time visualising their circle being created as they walk round.
---
Casting a Circle
The traditional Wiccan way of casting a circle is by use of an athame (small sword) to draw the circle, walking deosil (clockwise) whilst doing the visualisation and saying:
" I cast this circle, my circle of power,
that thou be a meeting place of love and joy and truth;
a shield against all wickedness and evil; a boundary between men and the realms of the Mighty Ones.
I bless thee and consecrate thee, in the names of the Lord and Lady.
The Circle is Cast. So mote it be! " 


Representations of the Elements may be carried around the circle, such as an incense stick representing the Element of Air, a lit candle representing the Element of Fire, a bowl of water representing the Element of Water and salt representing the Element of Earth to consecrate the space. 
Also sweeping the circle with a broom is customary. This is done by walking deosil (clockwise) and sweeping the boundaries of the circle.
At the end of a ritual, the circle is opened by reversing the casting, so if you visualised a blue sphere you take the light back into yourself; if you walked around playing a drum or ringing a bell you walk round anti-clockwise, playing the instrument again, etc.
Traditionally the Wiccan way to walk anti-clockwise or widdershins closing the circle with the athame and saying:

"By the Earth that is her body, by the living Water of her womb,
by the Fire of her bright spirit and by the Air that is her breath,
the circle is open yet unbroken!"
---
Expert Spell Casting of Spells That Work

If you want or need professional and expert help then I can help you.
This is your opportunity to have me Alizon, White Witch and Spell caster, personally cast your own powerful Spell.

My Spells are cast in love and light, with harm to none and do not bend the will of anyone. In this way you can be assured that all positive ways to allow you your heart's desire are sought out.
Spells that work with the Law of Attraction are known to be very powerful and enable your wish or desire to be sent to the Universe swiftly and effectively.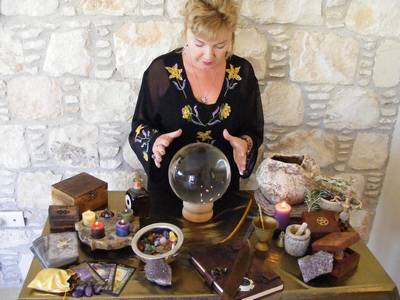 Having a Spell cast can bring miraculous results very swiftly and can literally change your destiny for the better.
If you have an interest in spirituality, are intrigued by astrology, fascinated by Tarot cards or captivated by Psychic abilities, then the next logical step is to look into the power of Magic.

Having a Spell cast is Magic you can believe in.

And even if you are slightly sceptical, uncertain or wary, powerful positive energies combined with expert Spell casting will soon have you convinced in the power of Magic.
---
The Full Moon is Approaching
Here's your chance to Order your own Powerful Full Moon Spell
Powerful Full Moon Spell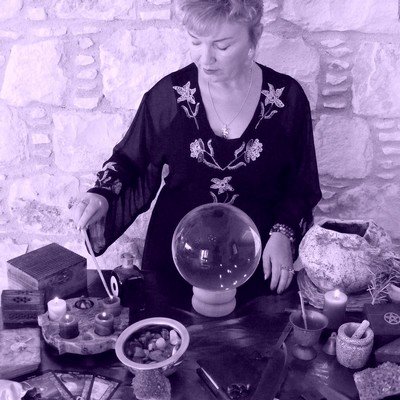 Cast within 24 hours of the Full Moon by Alizon, an experienced White Witch and Spell Caster.
A powerful Full Moon Spell Ritual to manifest change and success for you.
PRICE
From $80

AFTER YOU HAVE PAID
Click Here
to send me your details
I will need your full name and date of birth
Within 24 hours I will email you with confirmation and more details
When purchasing this service from me you are assumed to have read my Terms and Conditions
---
Don't miss out on the coming Full Moon December 2022...
Your chance to change your destiny
You may want a Full Moon Spell to:
Allow money to flow to you
Enhance your sexual attraction
Allow a business or career to prosper and grow
Gain committed love & total faithfulness from a lover
Reunite with an ex lover
Become prosperous and successful
Change your bad luck to good
Or any positive purpose you may have
Tap/Click here to learn more

---