Purifying Cleansing Spell Cast by Alizon for you…
This Purifying Cleansing Spell page is part of the Casting Spells and Craft pages.
The Crystals, wild herbs and other ingredients I use for casting your Purifying Cleansing Spell are chosen for their potent magical properties and positive energies. All the wild herbs, wild flowers and tree barks are ethically gathered at peak potency and all Crystals are selected for their powerful energies.
I use a minimum of 21 ingredients for this Spell.
All the ingredients I use to formulate your personal Purifying Cleansing Spell are carefully gathered, ritually blessed, charged and prepared personally by me during the appropriate Magical Lunar Phases.
The Crystals I use are selected by me for the appropriate energies to correspond with your desire. Before placing upon my Altar I cleansed the Crystals outdoors under the light of a Full Moon to gather full potency. The other ingredients including herbs, wild flowers, barks etc are put together with your specific desire in mind.
For your individual and personal Purifying Cleansing Spell I use the following ingredients:
Crystals
Crystals and Gemstones have been used for healing and magical purposes for thousands of years. They have the ability to soak up and hold onto energies. This makes them the perfect tools for healing and magic workings. I use the following Crystals in a Purifying Cleansing Spell;
Amber
Amber is known for its magical properties and when placed on an Altar it increases the effectiveness of Magic.
Jet
Jet is an excellent absorber of negative energy. It also strengthens a Spell.
Red Jaspar
Red Jasper is a great protective and healing stone. It sends negativity back to the place of origin.
Clear Quartz
Clear Quartz is used in manifestation Spells. It increases the power of anything that it is placed near to, enhances all Spell work. It amplifies all other magic workings.
Herbs
In the use of Magic certain herbs and plants are prized for the special range of Magical and potent properties. I use the following Herbs in a Purifying Cleansing Spell;
Rosemary
Rosemary was burnt at shrines in Ancient Greece to drive away evil spirits and illnesses. It is used today to purify and cleanse.
Sage
Sage is used to purify and cleanse, ridding negative energies and promoting positive ones.
Thyme
The Ancients believed Thyme could restore physical vigour and relieve melancholy. Today it is used in Spells to encourage strength.
Lavender
Lavender is very cleansing, protective and strengthening. It is used in all positive magic.
Bay Laurel
Bay Laurel is one of the very best protection and purification herbs. The Oracle of Delphi, is said to have chewed bay leaves as part of the ritual to foresee the future. It gives strength to other ingredients and to subject of the Spell.
Oil
From the most ancient times fragrant oils have been prized for their power for love, health, peace and prosperity. I use fragrant oils for dressing candles and anointing Altar tools to banish negative energies and attract only positive energies.
I use a blend of Sage and Lavender Oil in a Purifying Cleansing Spell. Both oils are very gentle and purifying.
Candles
I use candles of the colour White in a Purifying Cleansing Spell;
White is the purest of colours and is cleansing colour and has clean purification vibrations and can be used to clear blocked energies.
Blessed Water
I use spring water from the White Mountains, here on the Greek Island of Crete, which I use to infuse tree bark, plants, wild flowers or herbs. Depending on the season and ethical harvesting, I use Jasmine flowers, Rose petals, Orange blossom, Almond blossom, Lavender, Honeysuckle, Anemones and Iris. I also use Eucalyptus leaves, Olive leave and Vines leave. The fragrant blend is then used to bless my Altar and the other ingredients I use in your Spell.
Tarot Card
I use the Tarot card of the Fool in a Purifying Cleansing Spell.
The fool tarot card represents new beginnings, fresh starts and pure innocence.
Sigil
On the evening before I cast your Spell I pre prepare your personal Sigil (your magical signature, derived from the numerological correspondences to your name). I will trace a copy of your Sigil onto a single piece of biodegradable, recycled paper.
I will fold the paper three times, place it outdoors on my outdoor shrine in my garden after dusk. I then call upon the elements of Air, Fire, Earth and Water, represented by an incense stick, a lit candle, a small container of salt and one of water.
I then place an Amethyst Crystal cluster onto the folded paper to act not only as a paperweight but also more importantly as a receptor for the Moon's energy. I leave the paper with the Amethyst upon it overnight. It is a combination of the Amethyst's cleansing and healing vibrations, your personal Sigil representing your energies, the power of the Elements and the Moon's potent power that will allow elemental balance within you.
I retrieve your Sigil upon the paper the following morning and in the case of a Purifying Cleansing Spell shred it and throw to the wind.
The following morning, you may feel a little different. This usually manifests itself in feelings of elation, peacefulness or enthusiasm for your day ahead. You will be inspired with intuitive ideas via the element of Air, you will be motivated to take positive action on these ideas via the element of Fire, you will take the practical steps to achieve these actions via the element of Earth and be emotionally satisfied with the results you achieve via the element of Water.
That same day I will gather all the ingredients I need, prepare my Altar accordingly and cast your Purifying Cleansing Spell.
Spell Casting
Once you have made payment and I have all the details I need I will prepare to cast your Purifying Cleansing Spell and let you know the time and date of casting.
I will send via email a full account of the Spell I will cast on your behalf.
The actual casting could be as soon as three days hence, depending on the availability of some ingredients. It could however take up to a week, as I prefer to use fresh wild herbs, which means I have to make a special journey to the hillsides or mountainside to collect them.
I look forward to casting this Spell on your behalf.
The moment I cast a Spell for you it immediately begins working on your request.
After the Spell has been cast I will send you notification that I completed and cast your Spell.
You just need to expect the Magic to begin…
The Full Moon is Approaching
Here's your chance to Order your own Powerful Full Moon Spell
Powerful Full Moon Spell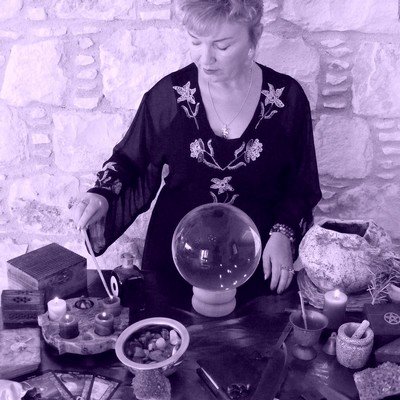 Cast within 24 hours of the Full Moon by Alizon, an experienced White Witch and Spell Caster.
A powerful Full Moon Spell Ritual to manifest change and success for you.
PRICE
From $80

AFTER YOU HAVE PAID
Click Here
to send me your details
I will need your full name and date of birth
Within 24 hours I will email you with confirmation and more details

When purchasing this service from me you are assumed to have read my Terms and Conditions
---
Don't miss out on the coming Full Moon April 2023...
Your chance to change your destiny
You may want a Full Moon Spell to:
Allow money to flow to you
Enhance your sexual attraction
Allow a business or career to prosper and grow
Gain committed love & total faithfulness from a lover
Reunite with an ex lover
Become prosperous and successful
Change your bad luck to good
Or any positive purpose you may have