Page of Cups Meaning
Page of Cups Meaning
The Page of Cups Meaning is part of my Tarot Card Meanings series...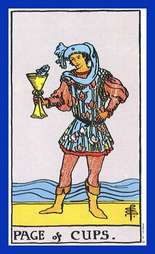 Today's feature is the Page of Cups Tarot card. Here I'll be looking at the Page of Cups meaning and what significance it has for you today.
The Page of Cups meaning keywords are calm, caring, creative, dreamy, emotional, gentle, sensitive, youthful.
The Page of Cups meaning can represent an actual person, usually a child or someone who perhaps behaves like a child. The colouring of the child would be fair or brown hair with brown or blue eyes. The Page of Cups represents someone who is a bit of a daydreamer who has their head in the clouds. They rarely pay attention. are imaginative, kind and sweet but can be over sensitive.
Other than as an actual person the Page of Cups Tarot card can be interpreted as the start of a new project or beginning of a creative venture. It may also represent the beginning of a new relationship or a new perspective on an existing relationship.
The other Page of Cups meaning can indicate dreams coming true particularly in relation to love and relationships. It promises hope and opening of your heart to receive true love.
When this Tarot card appears relating to spiritual issues it can signify the start of an interesting and inspiring journey of a spiritual kind.
The Page of Cups Tarot Card is a Court card and a Minor Arcana Tarot card and as such is not as powerful and life changing as any of the Major Arcana cards such as the Death Tarot card, The Magician Tarot card or the Chariot Tarot card. However the Page of Cups Tarot card can still have significance and can predict news of a birth; a wonderful idea or plan or a message involving new or renewed love.

Upright Page of Cups Meaning
The upright Tarot card meaning of the Page of Cups Tarot card for you today shows that you will receive a message that will be most welcome.

Reversed Page of Cups Meaning

The reversed Tarot card meaning of the Page of Cups Tarot card can indicate emotional confusion. This usually refers to unrequited love. There may be a tendency to confuse fantasy with reality and have overly romantic emotions for someone who is out of reach. You may have set your mind and your heart on someone who is unavailable to reciprocate your love
Another meaning of the reversed Page of Cups Tarot card is that of escapism and turning to substances like drugs and alcohol to escape from reality. If you recognize that you have a problem then you need to get help. If someone you care about has the problem then you'll need to stage an intervention.
The Page of Cups Tarot card can often show love is in the air.
To allow this to happen as destiny has planned, you need to have a powerful Love Spell cast.

The use of Tarot Cards, their meanings and what they represent are very important in my  Magic Spell Casting to change destiny for the better!!!

---
The NEW Moon is approaching!
Get your New Moon Spell for December 2023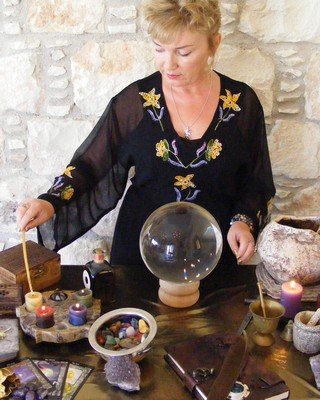 A New Moon Spell That Works


Have a New Moon Spell cast by a real Witch on the upcoming New Moon. A New Moon Spell to manifest whatever you most desire!
Cast on the next New Moon by Alizon, an experienced White Witch and Spell Caster.
---
D
on't miss out on the coming New Moon December 2023... Your chance to change your destiny:
You may want a New Moon Spell to:
Boost your Ancient Magical Chants

Attract a new love into your life
Begin a fresh start with an ex-lover
Success with any new project, enterprise or relationship

Commence a new career or business

Manifest a new period of abundant wealth and prosperity
Bring positive good luck for lottery wins and gambling
Or any positive purpose you may have
---