The Lovers Tarot Card

The Interpretation and Meaning of the Lovers Tarot Card
The Lovers Tarot card is numbered 6 in the Tarot. This card is one of the Major Arcana cards.
The Lovers Tarot card meaning usually refers to choices to be made. It can mean a crossroads in life where a decision must be made. The Lovers card often symbolises a choice between duty and responsibility and going with your heart's desire.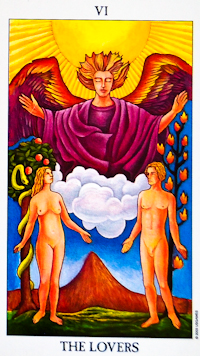 The Lovers can be seen as a very positive card in Tarot Readings and shows options are always available, no matter how stuck you think you are within a given situations.  
Of equal importance the message that the Lovers card brings to you is one of self-love.
If you yourself are not whole and complete with feelings of insecurity, low self-esteem and concentrating on your perceived faults, you cannot expect a partner to complete your incomplete half perfectly.
Find ways, then to boost your self-confidence.
The Lovers is part of my Tarot Card Meanings series...

Personality
The Lovers, as with all the Major Arcana can be a representative of an individual or aspect of a personality. The Tarot card meaning for this card can indicate someone with a balanced character who enjoys both giving and receiving love. They love life and would be considered a people person. It can also represent someone who is born under the sun sign of Gemini.

Love
In questions concerning love and romance in Tarot Readings the appearance of the Lovers Tarot card can symbolise that a new love is going to enter into your life or that a current relationship is going through a big change.  

Career

For career or business questions asked in Tarot Readings the Lovers Tarot card often represents getting to a stage where you know exactly which way to proceed. It can mean an added confidence and more self assurance in your skills and abilities.
The Tarot card meaning can also indicate a choice in job offers, business deals or decisions to be made to which career path to pursue.

Money

When the Lovers has prominence in Tarot Readings it can mean hard choices to be made to balance the books.
The Tarot card meaning of the Lovers in questions of finance can also indicate being faced with a choice of where to invest money.

Health

The Tarot card meaning for questions concerning health often indicates conflicts and imbalances. This can mean clashes between conventional and alternative medicine and which is better suited to you. It can also indicate hormonal imbalances or struggles with sexuality.
Another possible meaning this card can indicate is heart problems.

General

If the Lovers is prominent in a Tarot Spread it can show that your heart is ruling your head. A sense of balance between the heart and the mind is what you need to apply to the decisions that need to be made. You may need to have a dramatic change in attitude to gain real happiness.

The Tarot Lovers card has the general meaning of two entities coming together. The Tarot meaning of the Lovers card can be interpreted as two lovers coming together but can also refer to any partnership such as a friendship, business partnership or even two aspects of oneself.
The other main meaning of the Lovers Tarot card is that of choices being presented to you. Because the Lovers Tarot Card is a Major Arcana Tarot card and as such has powerful and life changing importance it shows that these choices to be made are of great significance to your future happiness. There will be choices of two paths to follow.
Sometimes, although not always, the choices can refer to your relationships. Will you take up an offer or not? Should you stay or go? Should you choose lover A over lover B? Should you speak out or remain silent?
Reversed Tarot Lovers Card Meaning
The reversed Tarot card meaning of the Lovers Tarot card can show conflicts, whether with yourself or with others. It can show heartbreaking relationship break ups and a longing to reunite.
Another meaning of the reversed Lovers Tarot card is that of bad choices that have been made. It can show obstacles and blockages that are preventing you from living the life you want.
The Tarot Lovers card can often show an urgent need to look carefully at your relationships and make positive changes now. The most potent and powerful way to do this is by having a Love Spell cast.
Having a Spell cast can bring miraculous results very swiftly and can literally change your destiny for the better.
If you have an interest in spirituality, are intrigued by astrology, fascinated by Tarot cards or captivated by Psychic abilities, then the next logical step is to look into the power of Magic.

Having a Spell cast is Magic you can believe in.

And even if you are slightly sceptical, uncertain or wary, powerful positive energies combined with expert Spell casting will soon have you convinced in the power of Magic.
I use Tarot cards from the Major Arcana in my Magic Spell Casting to change destiny for the better!!!

New Moon Spell September 2022

AFTER YOU HAVE PAID
CLICK HERE to send me your details
Within 24 hours I will email your detailed Spell schedule
When purchasing this service from me you are assumed to have read my Terms and Conditions
I look forward to casting your Spell on your behalf. The moment I cast a Spell for you it immediately begins working on your request. After the Spell has been cast I will send you notification that I completed and cast your Spell.
---
Don't miss out on the coming New Moon September 2022... Your chance to change your destiny:
You may want a New Moon Spell to:
Attract a new love into your life
Begin a fresh start with an ex-lover
Commence a new career or business

Manifest a new period of abundant wealth and prosperity
Bring positive good luck for lottery wins and gambling
Or any positive purpose you may have