Knight of Cups Tarot Card 
The Interpretation and Meaning of the Knight of Cups
The Knight of Cups is part of my Tarot Card Meanings series...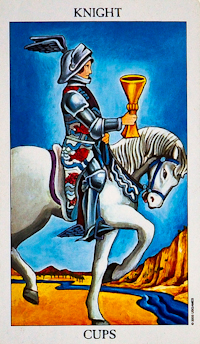 The Knight of Cups is one of the Court cards in the suit of Cups in the Minor Arcana of the Tarot.
All the Knights of each of the four suits in the Tarot often characterise the quality of the adolescent. As with the majority of teenagers or adults who behave like teenagers they tend to lurch from one thing to another while learning to interact appropriately with the world around them. They have their mood swings and can be perfectly charming, sweet and affectionate one moment and then turn into sulky, unfriendly and ill-mannered, selfish people the next moment. Their approach to events is dependent very much on the mood they are in at the time. Knights are all about changes, movement or travel.
The Knight of Cups Tarot card meaning usually refers to movements in emotions. This can mean mood swings or extremes of emotion. It can also mean falling head over heels in love.
The Knight of Cups can be a very good card in Tarot Readings referring to relationships. Physically this card describes a young person or young at heart person with fair or brown hair with brown or blue eyes.

Personality
The Knight of Cups, as with all the Court cards can be a representative of an individual or aspect of a personality. The meaning for this card can symbolise an adolescent or person who behaves like a teenager who is dreamy, sensitive and moody. They like to be alone with their thoughts but genuinely love to be with those closest to them.

Love
When this card appears in Tarot Readings concerned with love and romance it usually indicates a wonderful romance. You may find yourself being instantly attracted to someone. This is of course a good thing if you are free and available.
Career

The Tarot card meaning for questions concerning career or business in Tarot Readings often represents thinking imaginatively and creatively to achieve some of your career goals. This card means movement, but not necessarily in a physical sense, it is more likely to indicate a shift in your mood and they way you feel about the work you are doing.  You may feel compelled to make some changes.
Money

The Knight of Cups Tarot card meaning for questions related to money and finance usually relates to perhaps finding an imaginative or creative project that you can turn into a money spinner. Find your passion and make it lucrative.

Health

When this card appears in Tarot Readings concerning health and well being it can show the possibility of mood swings. This of course could be due to hormone fluctuations, so when this card turns up it urges you to get your hormone balance checked. This card can also show low moods which can lead to depression if left untreated.

General

If the Knight of Cups is prominent in a Tarot Spread it can show that travel involving water is likely. This is generally a card bringing good news that can relate to any aspect of life.

The Suit of Cups

The Suit of Cups is connected with emotions, feelings and relationships.
It belongs to the element of Water, the colour blue, the season of spring, the direction of west and the timing of dawn. The astrological corresponding sun signs are Cancer, Scorpio and Pisces.
The key words connected with the suit of Cups include affection, calmness; care giving, diplomacy, empathy, gentleness, imagination, intuition, love, peace, romance, sensitivity and spiritual.

I use Tarot cards from the Suit of Cups in my Love Spell casting for love, romance, soul mate attraction, commitment and reuniting manifestation. 
If you want to change your destiny for the better then use the power of Magic Spell Casting to make things happen!!!

The NEW Moon is approaching!
Get your New Moon Spell for May 2023

Don't miss out on the coming New Moon May 2023... Your chance to change your destiny:
You may want a New Moon Spell to:
Boost your Ancient Magical Chants

Attract a new love into your life
Begin a fresh start with an ex-lover
Commence a new career or business

Manifest a new period of abundant wealth and prosperity
Bring positive good luck for lottery wins and gambling
Or any positive purpose you may have
---
Powerful New Moon Spell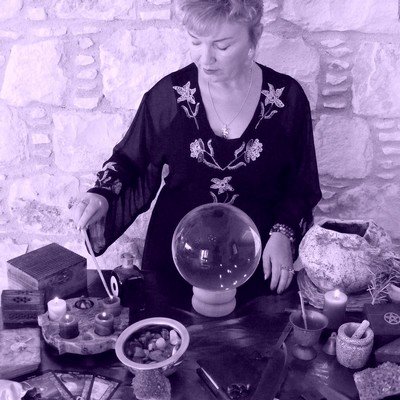 Cast within 24 hours of the New Moon by Alizon, an experienced White Witch and Spell Caster.
A powerful New Moon Spell Ritual to manifest change and success for you.
PRICE
From $80

AFTER YOU HAVE PAID
Click Here
to send me your details
I will need your full name and date of birth
Within 24 hours I will email you with confirmation and more details

When purchasing this service from me you are assumed to have read my Terms and Conditions
---