Isis

The Goddess Isis

The goddess Isis is perhaps the most well known of ancient Egyptian deities as her cult spread from Egypt to Rome and than further throughout the Roman Empire. She was embraced by both the Greeks and the Romans and blended into their belief systems. Her popularity was put down to the fact that she was the goddess of healing, magic and wisdom.
She is revered by many as a healer with magical powers and was said to be able to cure the sick and resurrect the dead. She was known as an Egyptian goddess of fertility, protection and nature.

Isis is often depicted crowned with a throne as the meaning of her names translates to throne. In later depictions she wears a crown consisting of a solar disc and cow horns. She is sometimes dipicted with wings, with some believing that this was a representative of the the winds.
She was known to the ancient Egyptians as Aset (sometimes Ast, Iset, Uset), which is usually translated as "Queen of the throne".

She was the faithful wife of Osiris who became the first King of Earth. She was also the devoted mother of Horus, the hawk-headed god of war and protection. She is often depicted suckling Horus and this mother and child bonding is said to be the forerunner of the depiction of the Virgin Mary with baby Jesus.
It was believed that she resurrected her husband Osiris after he was murdered by his brother Set.  With her powers of Magic, she restored his body to life after having gathered the body parts that had been strewn about the earth by Set.

The Isis cult in Rome was the beginnings of the Christian Madonna cult.
The Cult of Isis is even today a part of some modern day Pagan beliefs.
She was the daughter of Nut, Egyptiangoddess of the Sky and Geb, Egyptian god of the Earth. She was sister and wife of Osiris and sister of Nephthys and Seth and mother of Horus.

Goddess Tarot Magician Card

The ancient Egyptian goddess holds a special place in the hearts of many Psychics as she is the goddess of magic and divination. In the Goddess Tarot Isis represents the Magician.
She was the mother of Horus and the wife of Osiris and symbolised devoted motherhood and faithfulness. 
The beautifully presented Goddess Tarot deck is designed, illustrated, and written by the very talented author and artist Kris Waldherr.
She depicts the Magician Tarot card as the personification of the goddess Isis. Her talented design shows a strong and powerful woman who is confident in her abilities.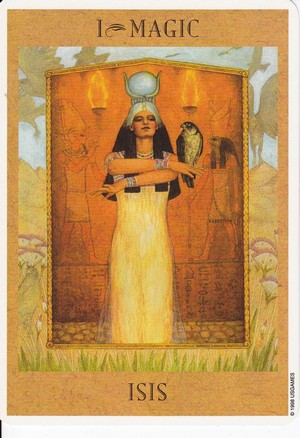 The Magician Tarot card meaning is a representative of good and full use of one's talents and skills. It also indicates unseen powers and psychic ability. It shows a connection to the divine and is a sign that some magical influences could be coming into your life or that your intuition will become stronger.
The Tarot card is one of inspirational and motivational power. It's about using all ones resources to gain success.  It can show that you possess hidden power and are more able than you may think. It also urges action. Any plans, dreams or wishes need to have action applied to them if they are to be made a reality.
Magic is the manipulation of energies to make things a reality.

So it is no surprise to know that it is her role as the goddess of Magic that appeals to many Psychics, Witches and practitioners of Magic.
Expert Spell Casting of Spells That Work

If you want or need professional and expert help then I can help you.
This is your opportunity to have me Alizon, White Witch and Spell caster, personally cast your own powerful Spell.

My Spells are cast in love and light, with harm to none and do not bend the will of anyone. In this way you can be assured that all positive ways to allow you your heart's desire are sought out.
Spells that work with the Law of Attraction are known to be very powerful and enable your wish or desire to be sent to the Universe swiftly and effectively.
Having a Spell cast can bring miraculous results very swiftly and can literally change your destiny for the better.
If you have an interest in spirituality, are intrigued by astrology, fascinated by Tarot cards or captivated by Psychic abilities, then the next logical step is to look into the power of Magic.

Having a Spell cast is Magic you can believe in.

And even if you are slightly skeptical, uncertain or wary, powerful positive energies combined with expert Spell casting will soon have you convinced in the power of Magic.
---
The NEW Moon is approaching!
Get your New Moon Spell for December 2023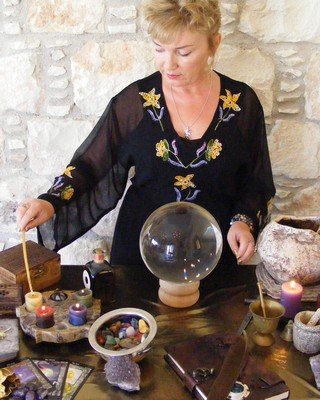 A New Moon Spell That Works


Have a New Moon Spell cast by a real Witch on the upcoming New Moon. A New Moon Spell to manifest whatever you most desire!
Cast on the next New Moon by Alizon, an experienced White Witch and Spell Caster.
---
D
on't miss out on the coming New Moon December 2023... Your chance to change your destiny:
You may want a New Moon Spell to:
Boost your Ancient Magical Chants

Attract a new love into your life
Begin a fresh start with an ex-lover
Success with any new project, enterprise or relationship

Commence a new career or business

Manifest a new period of abundant wealth and prosperity
Bring positive good luck for lottery wins and gambling
Or any positive purpose you may have
---