Intuition
Intuition can be classed as one of a range of psychic abilities. It is sometimes known as the sixth sense because, along with the other five senses, it is inherent in everyone.
Psychic intuition is innate in all of us and can be fine tuned and developed. We all experience a 'knowing' , hunches or gut feeling if things feel right or wrong. Listening to and heeding your intuition is key to always making good choices and decisions. We can all be fooled by manipulative, controlling and calculating characters but deep down we just 'know' what they say and do is just not right for us. Psychics become intuitive to such a degree that they can use it to help other people with their choices and decisions.
Psychic intuition is often derived from subconscious perception. We use all our six senses to 'suss out' people, situations and environments. This is a safety mechanism in the human psyche and can keep us from danger. If things just don't feel right, they invariably aren't.
Psychic intuition is the inner voice we hear and should always be listened to. The Universe wants only what is best for us at all times and our inner voice lets us know this by nudging us in the right direction. Don't ignore these nudges.
Becoming intuitive can help you get the very best from life and always guide you in the right direction.
Tapping into your Intuition
To tap into your Psychic intuition use the following tips.
Take time to meditate. Quiet time and clearing the mind of everyday problems and stress can help you connect to your intuition.
Be creative. Painting, cooking, gardening or creative writing etc. all tap into your soul and helps you express the real you which in turn opens up your connection to your Psychic intuition.
Question yourself. If you take time to ask yourself what your next step should be you will always come up with the right answer.
Be informed. When making life changing decisions ensure you are fully informed. Gather all the relevant information and allow it time to seep into your soul. After giving it enough time, then and only then should you ask your intuition for guidance.
Everyone, whether they choose to acknowledge it or not, have innate Psychic abilities. We are born with six senses but overtime most people lose or choose not use their sixth sense. Psychic ability can be defined as perceiving, receiving, or conveying information without the use of the other five senses (sight, touch, hearing, taste and smell).
---
Psychic Spell
You should think urgently about developing your psychic abilities. You have great potential. This will help you understand your situation and help you receive answers to the questions you have. Also, it will benefit your life generally, helping you to receive, accept and identify opportunities when they come to you, opportunities in love, career and wealth.
For example Mario from Nottingham, UK wanted to increase his psychic sense of Clairvoyance and also be able to read Aura colours.
Shortly after casting a Spell for him, Mario messaged me to say he felt a huge difference immediately and had seen, for the first time, Aura colours around himself and his animals.
I strongly suggest you have a Psychic Ability Spell cast for you to enable this power to develop unfettered for you. There is no better way than casting a Psychic Spell to increase Psychic ability. Having a Psychic Spell expertly crafted and cast by me, Alizon is simply the best method of getting your request to increase Psychic abilities, out to the Universe. I am an accomplished and very experienced White Witch and Spell caster and have cast thousands of Psychic Spells successfully with outstanding results, for people worldwide.
Choose Your Spell Casting Option

Cast over 3 evenings of the powerful & potent Full Moon phase. Perfect for complex, stubborn & difficult cases.
FULL MOON TRIPLE CAST
PSYCHIC SPELL
JUST $79.99
Ideal for complex situations and when you feel that there is resistance blocking your specific wish or desire.
TRIPLE CAST
PSYCHIC SPELL
JUST $49.99
The Single Cast Spell is a very powerful energy and is appropriate and sufficient for almost all situations.
SINGLE CAST
PSYCHIC SPELL
JUST $29.99
---
When purchasing this service from me you are assumed to have read my Terms and Conditions

After making payment Click Here to enter and submit your details on my Spell Details Form. You will be asked to provide:
Your name
Date of birth
Brief outline of desired outcome from the Spell
Once you have decided to have a Spell cast by me and I have all the details I need I will prepare to cast for you as soon as possible. I will send via email a full account of the Spell I will cast on your behalf.
I look forward to casting your Spell on your behalf. The moment I cast a Spell for you it immediately begins working on your request. After the Spell has been cast I will send you notification that I completed and cast your Spell.
Now you just need to expect the Magic to begin…
Having a Spell cast can bring miraculous results very swiftly and can literally change your destiny for the better.
If you have an interest in spirituality, are intrigued by astrology, fascinated by Tarot cards or captivated by Psychic abilities, then the next logical step is to look into the power of Magic.

Having a Spell cast is Magic you can believe in.

And even if you are slightly sceptical, uncertain or wary, powerful positive energies combined with expert Spell casting will soon have you convinced in the power of Magic.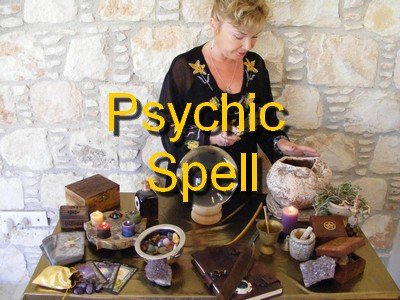 The Psychic Ability Spell helps with:
· Clairvoyance, the ability to psychically see clearly
· Clairsentience, the ability to psychically feel or sense clearly
· Clairaudience, the ability to psychically hear clearly
· Claircognisance, the ability to psychically know clearly
By having me cast a Spell to increase psychic ability for you, your instincts and intuition should become stronger and more accurate. And this should have a positive impact on your life. You will be able to trust your intuition more and go with your instincts in decision making. And making the right decisions and choices in life is a valuable gift.
Psychic Spells that work best are those that are formulated, personalised and expertly cast using the relevant and appropriate ingredients to aid speedy manifestation. My psychic ability Spells are safe, positive and are cast with love and light harming nothing and no one.

Free Spell

With every Spell, I also cast one of my free spells in the form of a Purifying Cleansing Spell, more commonly known as a Curse Removal Spell. This will help remove any negativity that might prevent the Spell working. I cast these free spells in conjunction with a Psychic Ability Spell as it can clear negative energies swiftly. These free spells allow the supportive influences and positive elements to act very quickly. It allows you to be open and ready to receive your desired outcome of increased psychic ability.
If you want me to cast your very own Psychic Ability Spell then go ahead and order now. As soon as I have all the information I need from you I will begin preparations so that the positive energies can commence immediately.
---
The Full Moon is Approaching
Here's your chance to Order your own Powerful Full Moon Spell
Powerful Full Moon Spell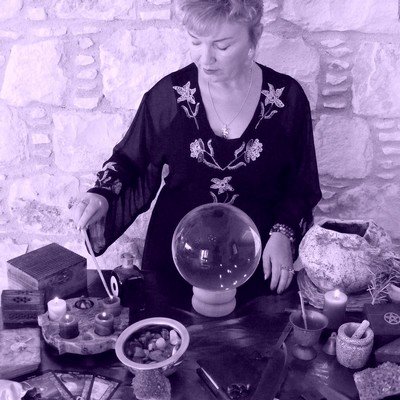 Cast within 24 hours of the Full Moon by Alizon, an experienced White Witch and Spell Caster.
A powerful Full Moon Spell Ritual to manifest change and success for you.
PRICE
From $80

AFTER YOU HAVE PAID
Click Here
to send me your details
I will need your full name and date of birth
Within 24 hours I will email you with confirmation and more details
When purchasing this service from me you are assumed to have read my Terms and Conditions
---
Don't miss out on the coming Full Moon February 2022...
Your chance to change your destiny
You may want a Full Moon Spell to:
Allow money to flow to you
Enhance your sexual attraction
Allow a business or career to prosper and grow
Gain committed love & total faithfulness from a lover
Reunite with an ex lover
Become prosperous and successful
Change your bad luck to good
Or any positive purpose you may have
Tap/Click here to learn more