Infusing Talismans with a Spell
Learn how I enchant and infuse Crystal Talismans, Power Bracelets, my own Amulets and Foci.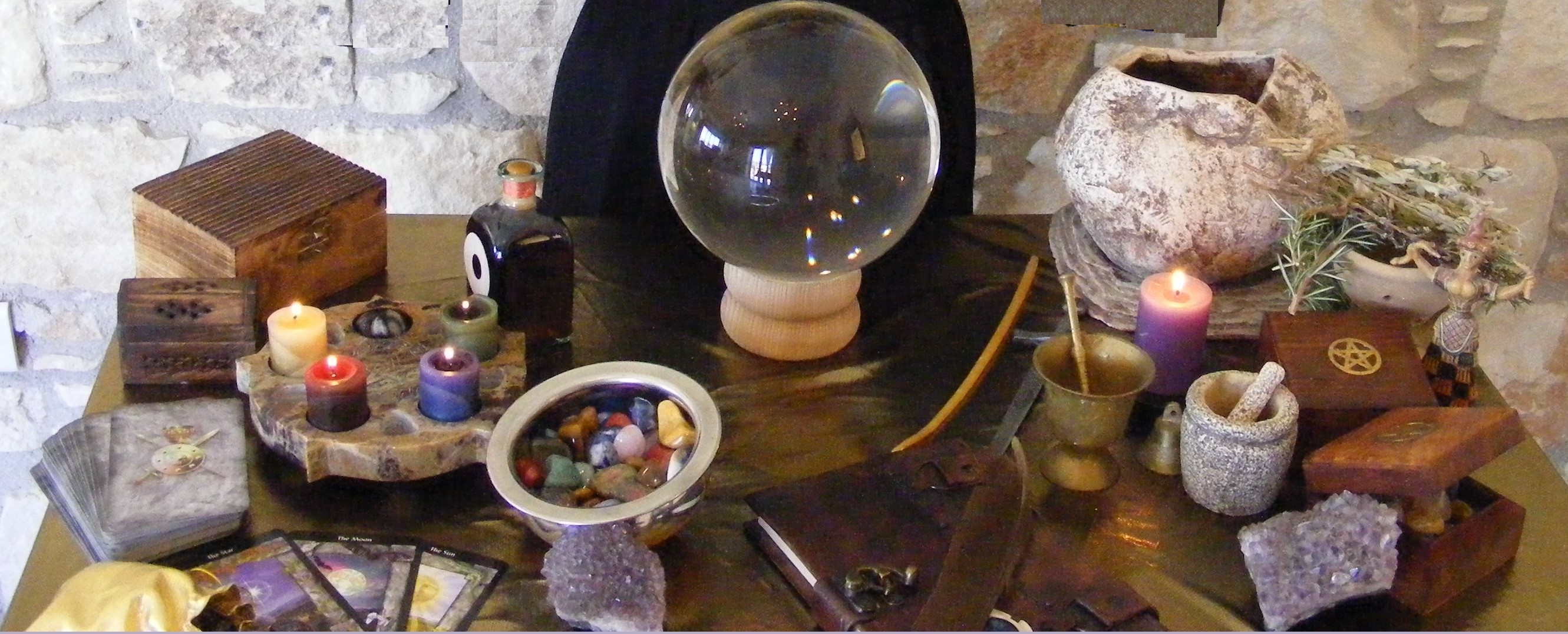 My Altar and Sacred Space
Infusing an Item with a Spell

When Infusing an item with a Spell, such as a Talisman, the Talisman Crystal must reside within my Magical Circle, often referred to a Sacred Space, as the Spell is Cast.

This Sacred Space has my Altar as its centre. My Altar itself is blessed and Sanctified. On the Altar, and so within the Circle, is the Amethyst Crystal Cluster. Every Full Moon this large Crystal is placed within its light, absorbing its Power, luminosity and insight. This precious Crystal illuminates the Circle reflected in White Candlelight.

A spell takes initial form as a chant, rhyme or verse. Such verse is chanted rhythmically and are rooted in ancient Words of Guard. For a Talisman Infusion, the Verse is inscribed into Parchment. The power of any Spell is enhanced by using items, such as parchment, ink, and pens, that are themselves Enchanted. I use an Enchanted recipe of organic natural ink, each ingredient is Enchanted, as is my Golden Eagle feather.

After Inscribing, the Talisman Crystal is wrapped in the Parchment and placed in my Chalice (Enchanted of course!) where it is set alight. After the flames have completely burnt the inscribed Parchment, the Talisman is Infused.
---
Enchanting an Item
When Casting a Spell I can use many ingredients such as some or all of the following: Crystals of Amber, Jet, Citrine, and Moonstone; various Herbs such as Dittany, Thyme, Lavender; Oils, Candles, Blessed Water, and appropriate cards of the Tarot.

The success of a Spell depends on Enchantment. Only by using materials that are Enchanted can a Spell have any chance of success.
Every item, component and object, on my Altar and used in Spell Casting is Enchanted.

To Enchant an item, it must be placed in the light of the Full Moon, and as such can only take place once per month. Once per month, on the night of the Full Moon, I stay up all night, performing important Enchantments, and casting Spells for clients.

The basis of any Enchantment, Infusion, or Blessing is the Spell. I only use pure natural items for Spell Casting, Spell Infusion and Enchantments and Blessings.

During the Full Moon, an item is placed in Her Light, and an ancient incantation spoken. The item draws and soaks up the Power and Energy of the Light. This can be repeated many times over subsequent Full Moons. I prefer to Enchant items 13 times, performing the Enchantment on 13 consecutive Full Moons. It can take over a year to fully enchant an item.

---
Enhanced Enchantment
Every natural element, every organic element, and every compound made from natural elements has a Star Sign. Enhanced Enchantment occurs when regular enchantment is enacted under the Star Sign of the item being Enchanted – with elements that in their turn too, have been enchanted under their own Star Sign. This is how the famed Magical Devices of Power!

Determining the Star Sign of objects is a difficult task and requires an Astrologer of considerable skill and experience.

It goes without saying that such Magical Devices of Power are extremely rare, and the subject of mythology, legends and fables the world over since time immemorial. 

---
The Full Moon is Tonight!
June 4th 2023
Here's your chance to Order your own Powerful Full Moon Spell
Powerful Full Moon Spell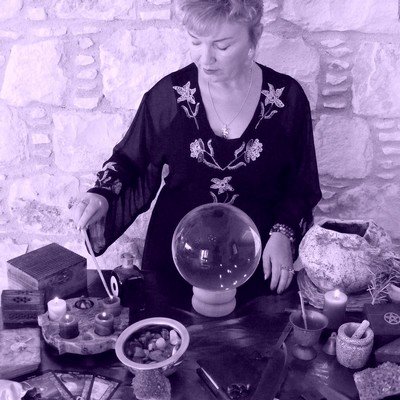 Cast within 24 hours of the Full Moon by Alizon, an experienced White Witch and Spell Caster.
A powerful Full Moon Spell Ritual to manifest change and success for you.
PRICE
From $80

AFTER YOU HAVE PAID
Click Here
to send me your details
I will need your full name and date of birth
Within 24 hours I will email you with confirmation and more details

When purchasing this service from me you are assumed to have read my Terms and Conditions
---
Don't miss out on the coming Full Moon June 2023...
Your chance to change your destiny
You may want a Full Moon Spell to:
Allow money to flow to you
Enhance your sexual attraction
Allow a business or career to prosper and grow
Gain committed love & total faithfulness from a lover
Reunite with an ex lover
Become prosperous and successful
Change your bad luck to good
Or any positive purpose you may have
REVIEWS
---