How To Be a Psychic

This How to be a Psychic page is from Alizon's Psychic Secrets website full of fascinating information on subjects such as the Tarot, Psychic Abilities, the Seven Secrets, Chakras, Color meanings, Crystals, Herbal Lore, Wicca, Magic Spells and much much more…
Everybody has psychic ability to some degree or other, and the potential to develop it further. Psychic Development can turn you into a Psychic, and will be easier if you accept this fact, and accept that you have the ability to develop immense psychic powers.
---
Want to Know How to Be a Psychic?
You May be one Already!
What are the sign of Psychic Ability?

The telephone rings and you know who it is.
You know what someone is about to say to you before they say the words.
You get a hunch or knowing about something and it turns out to be correct.
You can understand someone's true inner feelings even though on the outside they are hiding them.
You have a feeling that there is a presence or that someone or something unseen is helping you.
When something happens in your life, either good or not so good, and you suddenly understand a higher purpose behind it.
You sometimes hear a soft inner voice tipping you off about things happening in your life or in the life of someone else.
By taking this step of wanting Psychic development you have not only prepared yourself mentally for the challenges that lie ahead, but also you will have made the statement to Spirit and the universe that you are ready and open to learn. Once you've got that message across, Spirit will work hard to help you along your path of developing your psychic gifts.
---
Types of Psychic Ability
Before delving into how to be a psychic by the development of these gifts, it is important to understand that there are many types of psychic ability and they come under different headings
Clairvoyance, the ability to psychically see clearly
Clairsentience, the ability to psychically feel or sense clearly
Clairaudience, the ability to psychically hear clearly
Claircognisance, the ability to psychically know clearly
Each of these categories covers a range of gifts and abilities, which can and do vary from person to person. Clairvoyance, for example, can include vivid dreams, visions or seeing auras around people. Added to this everyone has all of these gifts, but to varying degrees. So an individual may have fully developed Clairvoyance, very attuned Clairaudience, but underdeveloped Clairsentience. Another person may just be the opposite and have skills and talents in, for example, Claircognisance.
As you develop your psychic abilities you will discover your own strengths and weaknesses. It is important to develop all of the psychic gifts as all of them have the potential to expand and grow. Also, you may find with a little work, what was once considered your weakest gift can become an extraordinarily strong talent.
---
How to Be a Psychic:
Tips and Exercises for Psychic Development
1. Research
When learning how to be a psychic, research is important.
You should try to read around the subject of all things "Psychic" as this will help you, as you will need some understanding of how things work.
There are resources here on this website on subjects that will assist with your psychic development. The Tarot is a very important element for example. Even just having a deck of tarot cards, handling them, familiarising yourself with the images and the feeling of them will imbue the "psychic-ness" that you need. Follow the links for more tarot Reading resources

Tarot Reading Course

FREE introduction to the Tarot

Other resources available on my website, providing further "tools" that will help you are Crystals and Colors, both which provide pathways and roadmaps to Psychic Development.
Things like Tarot Cards, Crystals, and objects of colour are used as focus tools.  They represent something physical and tangible with which to work and can be a great help. You can use these objects to help you focus your thoughts. Working with psychic intuition or talking to Spirit means working with energy and thought, not matter, so these objects act as a bridge or stepping stone to that realm.
Your mind will have become used to receiving information with your usual senses of touch, taste, smell, hearing and sight and it will take time for it to accept this sixth sense so try to make use of these tools.
2. Psychometry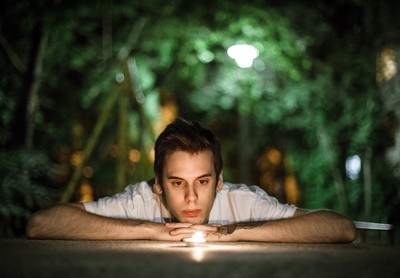 Psychometry is a form of extrasensory perception and is the ability to make relevant associations from an object of unknown history by making physical contact with that object.
You may begin by choosing Psychometry, for example, as an easy way to use a focus tool and apply your psychic intuition. While holding an object belonging to someone, start to relax, slow down, close your eyes and let the object 'connect' with you. Feel it's texture and shape, let the object become imprinted in your mind. 'Communicate' with the object and remember it is linked to the owner. They have touched, worn, looked at, loved or hated this object. Feel their emotions.
Imagine information entering through your fingertips, travelling up your arm and finally entering your mind. It's a constant stream of energy of which you will see just parts, flashes of scenes, fleeting memories or feelings. Mention them all, say exactly what you see, hear, feel, smell or taste. To begin with, all you want is to be able to recognise information that can be validated by the person who owns the object. It's perfectly acceptable to be incorrect. It will help you to understand the difference. Be as relaxed as you can and try to slow down by taking deeper breaths than is normal. In this relaxed state the energy will be far easier to recognise. Remember you are stepping from the physical worldly plain into something that communicates in a completely different way. Use your whole body and all your senses to 'feel' the information. Allow it to become part of you, with your physical mind just being the interpreter.
Once you have become adept at this you can try without the aid of tools. You may surprise yourself. As with anything in life, practice makes perfect. Psychic development and tuning into your psychic connection is just the same. It really is just a case of getting used to information coming to you from a different source, the more you practice the easier it becomes.
3. Exercises in ESP (Extra Sensory Perception)

An effective way to assist in psychic development and to develop your Psychic Ability is to practice and develop your Extra Sensory Perception.
Extra Sensory Perception, or ESP, is the ability to receive information about people, things and surroundings, but not through the regular 5 senses of sight, hearing, smell, touch or sound. A Sixth Sense if you will.

One method is to pause before you do something.
For example, when the phone rings, pause a few seconds before answering without looking at the screen. Can you tell who is calling? Do the same thing if someone knocks at your front door.
Another method involves trying to pick up when someone is happy, sad or pre-occupied with other things on their mind.
Try to find a willing guinea pig who can be patient and understanding and who will allow you to practice on. Take your time, its no use in trying to force the information to come through. Don't expect to be 100% correct all the time as this is setting yourself to fail. The human mind has a habit of filling in the blanks when psychic ability is not forthcoming. Also, perhaps a little confusingly, some of the information that comes through may appear to have no bearing at the time, only to come to light at a later stage.
Trust all your senses, feelings, thoughts, sounds and images that just appear to pop up in your mind. Do this and you'll be well on your way to developing your psychic ability.
---
If you feel a connection with anything on this page...
You should think urgently about developing your psychic abilities. You have great potential. This will help you understand your situation and help you receive answers to the questions you have. Also, it will benefit your life generally, helping you to receive, accept and identify opportunities when they come to you, opportunities in love, career and wealth.
I strongly suggest you have a Psychic Ability Spell cast for you to enable this power to develop unfettered for you.
Follow this link for more details:
Psychic Ability Spell
Good Luck with your Psychic Development!

---
For positive Karma, always consider helping others, in a non-financial way is OK. Remember the children.

---
The NEW Moon is approaching!
Get your New Moon Spell for December 2023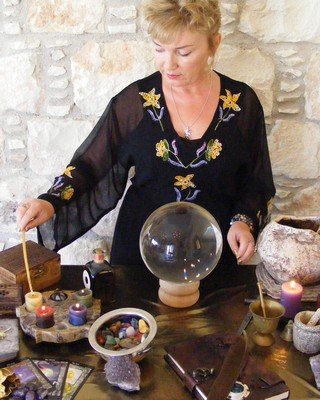 A New Moon Spell That Works


Have a New Moon Spell cast by a real Witch on the upcoming New Moon. A New Moon Spell to manifest whatever you most desire!
Cast on the next New Moon by Alizon, an experienced White Witch and Spell Caster.
---
D
on't miss out on the coming New Moon December 2023... Your chance to change your destiny:
You may want a New Moon Spell to:
Boost your Ancient Magical Chants

Attract a new love into your life
Begin a fresh start with an ex-lover
Success with any new project, enterprise or relationship

Commence a new career or business

Manifest a new period of abundant wealth and prosperity
Bring positive good luck for lottery wins and gambling
Or any positive purpose you may have
---