Alizon Casting Spells to Change Your Life!

  SAFE
  EXPERT
  SKILLED
  TRUSTED
  RELIABLE
  EXPERIENCED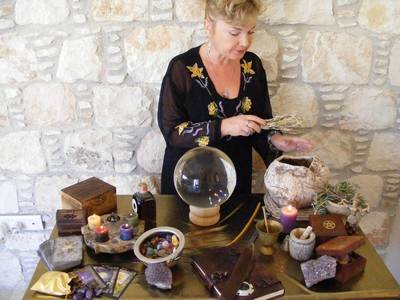 It's true that we all want to improve our lives and make our dreams a reality. And if you align yourself to the vibrational frequency of the Law of Attraction this is exactly what you can do!
And the easiest and most direct way to do this is via the ancient art of Spell casting by a real Witch.

The High Priestess Tarot Card
The Interpretation and Meaning of the High Priestess Tarot Card
The High Priestess Tarot Card is part of my Tarot Card Meanings series...
The High Priestess card is numbered 3 in the Tarot. This card is one of the Major Arcana cards.
The High Priestess card meaning usually indicates a time when you need to really trust your intuition.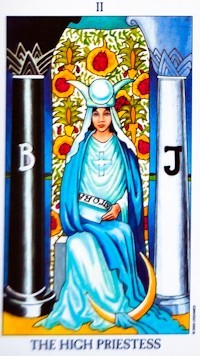 It is a card showing a need to cherish your imagination and creativity to achieve all that you want. 
You should be urged to be guided by your intuition and receptive to your dreams and psychic connection.
The High Priestess can also be an indicator that secrets are likely to be shared. It is a good omen in Tarot Readings and shows the revealing of knowledge can empower.
Personality
The High Priestess, as with all the Major Arcana can be a representative of an individual or aspect of a personality.
The Tarot card meaning for this card can indicate someone with psychic abilities and a strong intuition. They are most likely imaginative, creative and can be manipulative. 

Love
In questions concerning love and romance in Tarot Readngs the appearance of the High Priestess Tarot card can show you are willing to welcome and accept true love. It can mean an acceptance of a marriage proposal or commitment promise to a lover.
The Tarot card meaning of the High Priestess in questions of love can also show your sexual attraction is powerful – whether you know this or not.

Career

For career or business questions asked in Tarot Readings the High Priestess Tarot card often represents the need to trust your intuition in decision making,. If you know things just feel right then go with the flow.
The Tarot card meaning can also show the influence of a powerful woman in your career.

Money

When the High Priestess has prominence in Tarot Readings it can show that you may need to use your instincts and not just blindly trust 'experts'. Check out all credentials and sign paperwork only when you're 100% certain.

Health

The Tarot card meaning for questions concerning health indicates a need to seek alternative medicines and different and holistic forms of wisdoms. It shows that you can let nature take its course. Calm, patient non-action will see improvements in health.

General

If the High Priestess is prominent in a Tarot Spread it can indicate that you must take time to consider things. Rely more on your intuition and use your connection with your psychic sense to see more than the obvious. This card also encourages balancing your mind, body and soul. Achieving a sense of balance within your mind, body and soul is the key to loving life, loving yourself and welcoming and appreciating the love from others.
Reversed Tarot High Priestess Card Meaning
The reversed Tarot card meaning of the High Priestess Tarot card can show that you are ignoring what your intuition is telling you. You may be choosing to ignore the truth.
Another meaning of the reversed High Priestess Tarot card is that of a selfish and ruthless woman in your life having great influence in negative ways.
The Tarot High Priestess card can often show a need for spiritual guidance and an increase in psychic ability. The most potent and powerful way to do this is by having a Psychic Ability Spell cast.
Having a Spell cast can bring miraculous results very swiftly and can literally change your destiny for the better.
If you have an interest in spirituality, are intrigued by astrology, fascinated by Tarot cards or captivated by Psychic abilities, then the next logical step is to look into the power of Magic.

Having a Spell cast is Magic you can believe in.

And even if you are slightly skeptical, uncertain or wary, powerful positive energies combined with expert Spell casting will soon have you convinced in the power of Magic.
I use Tarot cards in my Magic Spell Casting to change destiny for the better!!!

---
Sharing is Caring! Please share it with your friends!


The law requires me to state that the contents of this website are for entertainment purposes only.
Psychic, tarot and spell casting services cannot be a substitute for professional, legal,
medical, financial or psychiatric advice/care, where appropriate.
You must be at least 18 years old to make any purchase from me.

© Copyright All Original Content 2006 – 2021 Alizons-psychic-secrets.com. All Rights Reserved.
Reproduction in whole or in part without permission is not permitted.