Guide to Developing Your Intuition

For your Guide to Developing your Intuition, Intuition can be classed as one of a range of psychic abilities. It is sometimes known as the sixth sense because, along with the other five senses, it is inherent in everyone.
Psychic intuition is innate in all of us and can be fine tuned and developed. We all experience a 'knowing' , hunches or gut feeling if things feel right or wrong. Listening to and heeding your intuition is key to always making good choices and decisions. We can all be fooled by manipulative, controlling and calculating characters but deep down we just 'know' what they say and do is just not right for us. Psychics become intuitive to such a degree that they can use it to help other people with their choices and decisions.
Psychic intuition is often derived from subconscious perception. We use all our six senses to 'suss out' people, situations and environments. This is a safety mechanism in the human psyche and can keep us from danger. If things just don't feel right, they invariably aren't.
Psychic intuition is the inner voice we hear and should always be listened to. The Universe wants only what is best for us at all times and our inner voice lets us know this by nudging us in the right direction. Don't ignore these nudges.
Becoming intuitive can help you get the very best from life and always guide you in the right direction.
---
Your Guide to Developing Your Intuition:
Tapping into your Intuition
As part of your essential guide to developing your Intuition, tap into your Psychic intuition using the following tips.
Take time to meditate. Quiet time and clearing the mind of everyday problems and stress can help you connect to your intuition.
Be creative. Painting, cooking, gardening or creative writing etc. all tap into your soul and helps you express the real you which in turn opens up your connection to your Psychic intuition.
Question yourself. If you take time to ask yourself what your next step should be you will always come up with the right answer.
Be informed. When making life changing decisions ensure you are fully informed. Gather all the relevant information and allow it time to seep into your soul. After giving it enough time, then and only then should you ask your intuition for guidance.
Everyone, whether they choose to acknowledge it or not, have innate Psychic abilities. We are born with six senses but overtime most people lose or choose not use their sixth sense. Psychic ability can be defined as perceiving, receiving, or conveying information without the use of the other five senses (sight, touch, hearing, taste and smell).
---
How to Develop your Intuition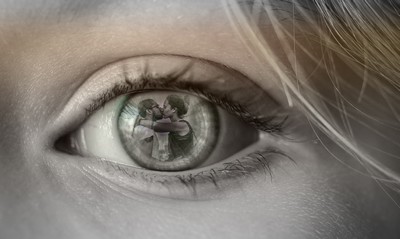 In any guide to developing your Intuition it is essential for all of us to understand that we all possess the power within us to develop our own intuitive sense. It is not a special ability reserved for a chosen few, but rather, it is the same equipment that enables us to interpret the same stimuli. By listening to your intuition, you become more receptive to its messages. Intuition development involves three simple things: listening, acting, and believing.
---
Listening To Your Inner Voice

In order to hear your Inner Voice, or your Intuitive Self, you need to be in a quiet relaxed state, because your Inner Voice is timid and softly spoken.
If you are able, go to your Sacred Space at a time when you won't be disturbed and get into a comfortable position. Relax, close your eyes, and start to breathe deeply. Every time you exhale let all your stress be released in that breath, and see it drift away in your mind's eye. Imagine a place of peace and that you are there. Perhaps sitting on the banks of a small stream in a sun bathed wood. It could be a garden where you once visited and which filled you with a feeling of peace and tranquillity. Try to get to that place in your mind where you felt relaxed and at peace with the world. If you can't think of a place, create that place in your mind, and revisit it in this Scared Space of yours.
Spend some time in this Sacred, tranquil place, and listen. Don't ask of it questions, simply let answers come to you. Some answers will be to questions you had not thought of. Some answers will end a long-standing uncertainty. Answers may come to you immediately, or they may come later, when you least expect them.
---
Acting On Hunches

You must act on what you feel or believe to be right. Don't be afraid. Take all the best advice you can from people around you then take your own advice. Be courageous and take on the uncertainty with the strength of your own convictions
---
Believing your Decisions are for Your Long Term Good

Believe that what you decide is for your overall good and for the overall good of everyone. Sometimes things appear to turn out badly. Accept responsibility for what you decide to do and accept the consequences. If you act and have faith in your own intuition the outcome will always be the same. Actions taken with the best of wishes for all will always be good.
---
Psychic Spell
As part of an essential guide to developing your Intuition, you should think urgently about developing your psychic abilities. You have great potential. This will help you understand your situation and help you receive answers to the questions you have. Also, it will benefit your life generally, helping you to receive, accept and identify opportunities when they come to you, opportunities in love, career and wealth.
For example Mario from Nottingham, UK wanted to increase his psychic sense of Clairvoyance and also be able to read Aura colours.
Shortly after casting a Spell for him, Mario messaged me to say he felt a huge difference immediately and had seen, for the first time, Aura colours around himself and his animals.
I strongly suggest you have a Psychic Ability Spell cast for you to enable this power to develop unfettered for you. There is no better way than casting a Psychic Spell to increase Psychic ability. Having a Psychic Spell expertly crafted and cast by me, Alizon is simply the best method of getting your request to increase Psychic abilities, out to the Universe. I am an accomplished and very experienced White Witch and Spell caster and have cast thousands of Psychic Spells successfully with outstanding results, for people worldwide.
---
Powerful Psychic Ability Spell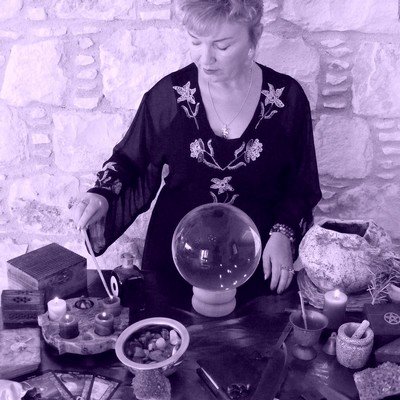 Cast within 24 hours by Alizon, an experienced White Witch and Spell Caster.
A powerful Psychic Spell Ritual to hasten and magnify your Psychic Power and Ability for you.
PRICE
From $50

AFTER YOU HAVE PAID
Click Here
to send me your details
I will need your full name and date of birth
Within 24 hours I will email you with confirmation and more details

When purchasing this service from me you are assumed to have read my Terms and Conditions
---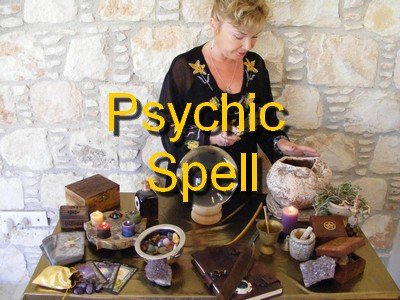 The Psychic Ability Spell helps with:
Clairvoyance, the ability to psychically see clearly
Clairsentience, the ability to psychically feel or sense clearly
Clairaudience, the ability to psychically hear clearly
Claircognisance, the ability to psychically know clearly
Telepathy, the ability to read minds and thoughts
Precongnition, the ability to predict the future
Psychokinesis, the ability to move objects with the mind
---
By having me cast a Spell to increase psychic ability for you, your instincts and intuition should become stronger and more accurate. And this should have a positive impact on your life. You will be able to trust your intuition more and go with your instincts in decision making. And making the right decisions and choices in life is a valuable gift.
Psychic Spells that work best are those that are formulated, personalized and expertly cast using the relevant and appropriate ingredients to aid speedy manifestation. My psychic ability Spells are safe, positive and are cast with love and light harming nothing and no one.

Positive energy is very important if you are to live an abundant and prosperous life and build up good karma. A great way to do this is by undertaking some voluntary charity work.   

---
The NEW Moon is approaching!
Get your New Moon Spell for December 2023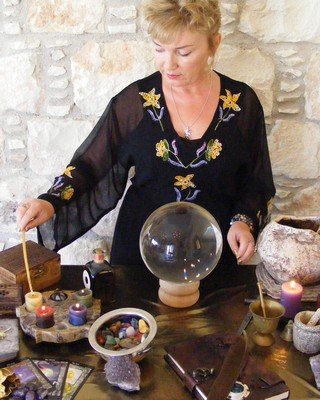 A New Moon Spell That Works


Have a New Moon Spell cast by a real Witch on the upcoming New Moon. A New Moon Spell to manifest whatever you most desire!
Cast on the next New Moon by Alizon, an experienced White Witch and Spell Caster.
---
D
on't miss out on the coming New Moon December 2023... Your chance to change your destiny:
You may want a New Moon Spell to:
Boost your Ancient Magical Chants

Attract a new love into your life
Begin a fresh start with an ex-lover
Success with any new project, enterprise or relationship

Commence a new career or business

Manifest a new period of abundant wealth and prosperity
Bring positive good luck for lottery wins and gambling
Or any positive purpose you may have
---