Generational Curses

In This Issue:
---
Where people seem to experience constant bad luck, the same ill luck and misfortune that their parents and grandparents had, they are often led to conclude that they are victims of a Generational Curse.
What are They?
Examples of what some people believe are curses plaguing them include physical and mental problems that can be associated with poor luck and ill fortune. Things always seem to happen to them which have a negative impact on their ability to enjoy a happy and stress-free life.
Addiction to alcohol, drugs and sex, mental illnesses such as depression anxiety and schizophrenia, hereditary illnesses such as heart disease and predispositions to cancer and poverty and money problems. Constant relationship problems, attracting the wrong people, conflicts, all this could be down to a Generational Curses.
There are many theories about how this could come to pass, and one main one being Past Lives Trauma.
Why are people Affected by Generational Curses?
Curses and Hexes
There's a theory that a hex or curse placed on an ancestor could be the source of the problems people are experiencing in their life. A family curse placed upon your forefathers is one example of this. Such a curse or hex is passed down through the generations.
Rebellion against God
There's also a belief that Generational Curses are passed down through generations due to bad behaviour or rebellion against God. This belief comes from Old Testament passages which say that God "punishes the children and their children for the sins of the fathers to the third and fourth generation" (Exodus 34:7).
Past Lives Trauma
There's a growing number of people who believe that the bad luck and ill fortune that they seem to be constantly experiencing can be traced back to Past Life trauma.
Many people believe that your conduct in Past Lives can affect your current life, in a bad way. It's a complicating factor to Generational Curses because it means that it's not related to what your ancestors did, but what your past life incarceration did, or even their ancestors!
Lifting Generational Curses
It can be very difficult to break curses of a Generational nature. A lot depends on how far back the curse or hex goes. However, Generational Curses also known as Family Curses can sometimes skip a generation. So even where you feel that your parents or grandparents have led charmed lives, that could not definitely exclude the possibility of being the victim of a Generational Curse.
Past Lives can complicate things. People who struggle to shake off the negativity, either with Curse Removal or Protection Spells, might be missing the link to Past Lives.
Protection Spell
I offer a powerful Protection Spell for people dogged by poor luck and negativity.
As a Coven member, you can have this cast for only $30 (UK about £23).
Follow the link below for more details about my Coven Spell:  Coven Spell
Curse Removal
You can submit details for a Curse Removal Ritual. I offer this free on my website.
WARNING: Don't subscribe more than once every 1 or 2 months, because you'll lose all the benefit from the Ritual. My advice is once every 2 months if you feel it's needed.
Past Life Purging
Many people had very vivid Past Life connections. Coupled with runs of bad luck, this may lead you to conclude that your bad luck is down to Past Lives Trauma. Such people should certainly consider Past Life Purging as a matter of urgency.
Again, I offer this free on my website. All the scars, trauma, and negative influences from Past Lives can be healed with past life healing.
Having your Past Life Purged can clean the plate. Even people with a long and complicated history of Past Lives.
Purging and erasing the influences of your Past Lives will help you to understand problems or behaviours you experience in this Life.
Follow the link for more details.
---
Unique Coven Spells
As a Coven Member and Subscriber, you are entitled to my special offer Coven Spell.
For only $30, you can have this Spell Cast to:
Follow he link for more details and order your Spell now, and change your life.
---
Snow Moon
The Full Moon on 19th November brings us the Snow Moon.
Prepare for Prosperity!
Gather and prepare your ingredients to Cast your own Prosperity Spell on the evening of the Full Moon itself.
Dried Sage in a flameproof dish

An altar candle

A small container to hold salt

A small dish or bowl to hold water

A tall green candle with holder

A copper coin

More Dried Sage
Full Instruction will be presented in my next Newsletter, or visit my Snow Moon Page now.
---
Very Useful Links
Link to all my most important and interesting information in one place, regularly updated!
The NEW Moon is approaching!
Get your New Moon Spell for May 2023

Don't miss out on the coming New Moon May 2023... Your chance to change your destiny:
You may want a New Moon Spell to:
Boost your Ancient Magical Chants

Attract a new love into your life
Begin a fresh start with an ex-lover
Commence a new career or business

Manifest a new period of abundant wealth and prosperity
Bring positive good luck for lottery wins and gambling
Or any positive purpose you may have
---
Powerful New Moon Spell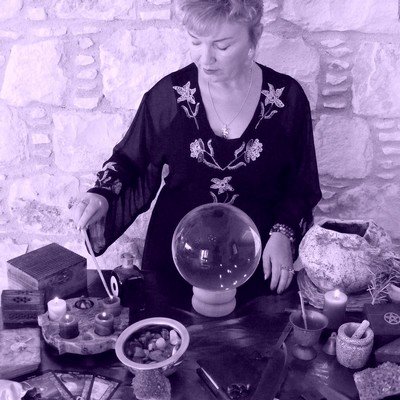 Cast within 24 hours of the New Moon by Alizon, an experienced White Witch and Spell Caster.
A powerful New Moon Spell Ritual to manifest change and success for you.
PRICE
From $80

AFTER YOU HAVE PAID
Click Here
to send me your details
I will need your full name and date of birth
Within 24 hours I will email you with confirmation and more details

When purchasing this service from me you are assumed to have read my Terms and Conditions
---