Free Psychic Reading from Alizon's Psychic Secrets
Free Psychic Reading
I am very happy to offer you a Free Psychic Reading. Psychic Readings can be a good way of getting a feel for a particular Psychic and to get some general insight into your current situation.

However, this Free Psychic Reading is for fun as it cannot address any specific problems, difficulties or dilemmas you are experiencing at the moment.

I can only offer these Free Psychic Readings for fun. This is because I strongly believe that for serious issues involving difficult choices, complex situations or fears about the future need specific and direct intervention. And I do this by Spell casting.
---
Casting Spells for Real Results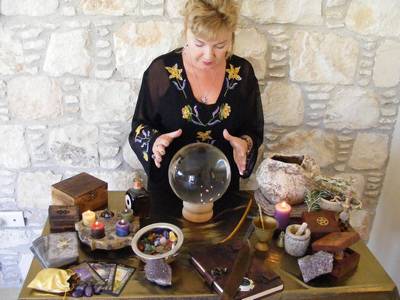 Having a Spell cast can bring miraculous results very swiftly and can literally change your destiny for the better.
If you have an interest in spirituality, are intrigued by astrology, fascinated by Tarot cards or captivated by Psychic abilities, then the next logical step is to look into the power of Magic.

Having a Spell cast is Magic you can believe in.

And even if you are slightly skeptical, uncertain or wary, powerful positive energies combined with expert Spell casting will soon have you convinced in the power of Magic.
Psychic Readings can be a way of getting answers to questions and for general divination. A Psychic Reading can help clarify decisions you need to make or point you in the right direction on your life journey.

But if you want or need a permanent solution to a problem, then Spell casting is the answer.

So if you wanted a Psychic Reading please think seriously about having a Spell cast instead. A Spell, by its very nature can change your future destiny amazingly unlike a Reading that can only give a likely outcome to a given situation.

For example rather than having a Psychic Reading or Tarot Reading to clarify whether your ex lover will return to you and if you have a future together you should instead seriously consider having a Reunite Lover Spell cast for you making the need for a Psychic Reading unnecessary.
Example 1: Artis from Minnesota USA who asked me for help to reunite with her soul mate. After having me cast a Spell to reunite them, Artis emailed me to let me know just how successful the Spell was as they were back together and their relationship was stronger and deeper than ever.
Similarly if you are worried about your finances rather than have a Reading to clarify the situation you can have a Money Spell instead.

Whatever your situation I'm certain I can assist you in manifesting your desired outcome into reality.

Spell casting is the best way of fixing a problem, rather than just thinking about how, if or when the situation could be resolved.

Example 2: Isabella from California, USA wanted a resolution to her compensation claim, and 2 weeks after having a Money Spell cast, the money came through nearly three times what she was expecting. For the first time in years she was debt free and could afford to move to her dream house.
A number of factors need to be taken into consideration for Spells to work and help you.

In its most basic form a Spell is a set of steps that uses a specific formula.

And just as conducting a scientific experiment, baking a cake or learning to drive, all need a formula to follow then so does successful Spell casting.

Magic in its purest form is the manipulation and harnessing of specific energies combined with will, intent and action. The specific energies needed for Spells that work in the way they were intended need to be carefully put together.

A skilled and experienced Spell caster will have a wide knowledge of the energies contained in specific ingredients needed for Spells to work.

Energy exists in all things including thoughts, emotions and feelings along with tangible things such as humans, animals, plants etc.

Just like baking a wonderful, tasty and successful cake a Spell needs the correct ingredients in the correct amounts by using tools and utensils in the correct way.

I am an experienced Spell caster and have a wide knowledge of herbs, oils, crystals and other ingredients, their qualities, their energies and how to use them successfully.

I have a deep understanding of the power of colour, moon phases, solar phases, astrological matters and other natural phenomenon. I am also very skilled in the use of altar tools and am attuned to the elements of air, earth, fire and water.

This is your opportunity to have me; Alizon, White Witch and Spell caster personally cast your own powerful Spell.

My Spells are cast in love and light, with harm to none and do not bend the will of anyone. In this way you can be assured that all positive ways to allow you your heart's desire are sought out.
Spells that work with the Law of Attraction are known to be very powerful and enable your wish or desire to be sent to the Universe swiftly and effectively.
I also offer a Free Spell in the form of a Cleansing Spell to remove any negative energies that may be surrounding you. This helps purify and cleanse your aura making you open and ready to receive positive energies and your heart's desire.
The Free Psychic Reading I offer here takes the form of a one card free Tarot Reading using your astrological Star sign. I do not require a question from you for this Free Psychic Reading just your name and date of birth.
Click the picture link for your Star Sign to get your Free Tarot Reading :
---
Sharing is Caring! Please share it with your friends!


The law requires me to state that the contents of this website are for entertainment purposes only.
Psychic, tarot and spell casting services cannot be a substitute for professional, legal,
medical, financial or psychiatric advice/care, where appropriate.
You must be at least 18 years old to make any purchase from me.

© Copyright All Original Content 2006 – 2021 Alizons-psychic-secrets.com. All Rights Reserved.
Reproduction in whole or in part without permission is not permitted.