The Empress Tarot Card
The Interpretation and Meaning of the Empress Tarot Card
 The Empress Tarot Card is part of my Tarot Card Meanings series...
The Empress card is numbered 3 in the Tarot. This card is one of the Major Arcana cards.
The Empress card meaning normally indicates fertility.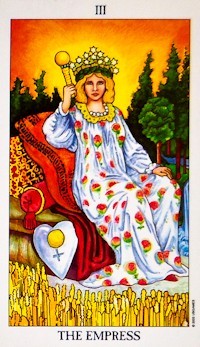 The Empress
This can be an actual pregnancy and birth of a child or the birth and development of ideas, relationships or creative or spiritual ventures.
The Empress can be connected with abundance, joy and beauty.
It is a good omen in Tarot Readings and shows the need to connect with mother earth and rejoice in the abundance of nature. 
Personality
The Empress, as with all the Major Arcana can be a representative of an individual or aspect of a personality. The Tarot card meaning for this card can indicate a motherly figure who is nurturing, caring and compassionate. It can also indicate someone from the star sign Cancer.

Love
In questions concerning love and romance in Tarot Readings the appearance of the Empress Tarot card can show a romance that is full of care and compassion. It can show that the love you give to others can be returned to you. Allow your heart to be open and you'll receive the blessing and wonder of a loving relationship.

Career

For career or business questions asked in Tarot Readings the Empress Tarot card often represents a surge of creative energy allowing you to find your true path and calling.
The Tarot card meaning for business can indicate the birth and growth of a lucrative idea or project.

Money

When the Empress has prominence in Tarot Readings it can mean that abundance will be flowing. You may be coming into some money that can be used to help nurture an idea.
The Tarot card meaning of the Empress in questions of finance can also show you to trust your intuition if making investments.

Health

The Tarot card meaning for questions concerning health can relate to 'women's problems', hormone fluctuations, pregnancy or menopausal issues. It can also act as nudge to look after yourself better.

General

If the Empress is prominent in a Tarot Spread it can show that you hold the power within you to nurture and nourish creative projects. This card also indicates taking care of one's self. If you are normally the caregiver to others this card may show that you also need looking after. If no one in your life can currently give you the love and care you need make sure you look after yourself and really care about you.
Reversed Tarot Empress Card Meaning
The reversed Tarot card meaning of the Empress Tarot card can show a lack of faith in yourself and a too heavy reliance on others.
Another meaning of the reversed Empress Tarot card is that of being overly possessive.
The Tarot Empress card can often show abundance awaiting you.
The most potent and powerful way to manifest this abundance is by having a Spell cast.
Having a Spell cast can bring miraculous results very swiftly and can literally change your destiny for the better.
If you have an interest in spirituality, are intrigued by astrology, fascinated by Tarot cards or captivated by Psychic abilities, then the next logical step is to look into the power of Magic.

Having a Spell cast is Magic you can believe in.

And even if you are slightly sceptical, uncertain or wary, powerful positive energies combined with expert Spell casting will soon have you convinced in the power of Magic.
I use Tarot cards in my Magic Spell Casting to change destiny for the better!!!

Spell Casting

To change your destiny for the better take a look at the Spells I cast. These include Money Spells, Love Spells and Sex Spells.

---
New Moon Spell September 2022

AFTER YOU HAVE PAID
CLICK HERE to send me your details
Within 24 hours I will email your detailed Spell schedule
When purchasing this service from me you are assumed to have read my Terms and Conditions
I look forward to casting your Spell on your behalf. The moment I cast a Spell for you it immediately begins working on your request. After the Spell has been cast I will send you notification that I completed and cast your Spell.
---
Don't miss out on the coming New Moon September 2022... Your chance to change your destiny:
You may want a New Moon Spell to:
Attract a new love into your life
Begin a fresh start with an ex-lover
Commence a new career or business

Manifest a new period of abundant wealth and prosperity
Bring positive good luck for lottery wins and gambling
Or any positive purpose you may have