Green Witches Coven News: Special Edition Jun 25, 2020
Merry Meet!
There will be a massive, World-Wide Spell Casting on the occasion of the next Full Moon 5th July. This Spell is designed to draw to you Health, Wealth, Happiness, Protection, and Security in these difficult times.
The Collective Will and Collective Power of the Green Witches Coven will be harnessed to Cast This Spell for the benefit of All.
Here are the details
This is a Spell cast by members of the Green Witches Coven. All Members are invited to join in and Cast this Spell at home.
Imagine the collective Power of thousands of Green Witches all Casting a Spell within the powerful energy of the Full Moon!
I hope all Coven members will join in!
The Spell
In my next Newsletter, due early July, I'll present details of the full Spell Casting.
This Spell is to be Cast on the day of the Full Moon on the 5th July. To prepare, you'll need representatives of the Elements
The elements are to be represented:
Air – burning incense, or sage
Fire – a lit candle, white preferably
Water – rainwater or tap water
Earth - salt
Spirit – for Spirit, choose what you are drawn to such as a white feather, a treasured possession (eg a beloved book), something that inspires a positive memory (eg a photo), etc.
Discount Full Moon Triple Cast Spell
Don't forget that as a Green Witches Coven Member, you can access my special Full Moon Triple Cast Spell page. Here I offer a substantial discount on my powerful Triple Cast Full Moon Spell, one of the most powerful Spells.
Special Offer to all Coven Members. Get access to my Discount Spell page.
The Password: COVEN77
Alizon's YouTube Channel
Check out and subscribe to my YouTube Channel for loads of Spells you can Cast yourself and Lots of information too!
Keep a lookout for the next Newsletter coming soon...
Always remember: Members of the Green Witches Coven are supported and protected by Powerful Energy. The Energy of the Coven!
Stay Safe!
Blessings to All!
Alizon
High Priestess
Green Witches Coven
The NEW Moon is approaching!
Get your New Moon Spell for September 2023

D
on't miss out on the coming New Moon September 2023... Your chance to change your destiny:
You may want a New Moon Spell to:
Boost your Ancient Magical Chants

Attract a new love into your life
Begin a fresh start with an ex-lover
Success with any new project, enterprise or relationship

Commence a new career or business

Manifest a new period of abundant wealth and prosperity
Bring positive good luck for lottery wins and gambling
Or any positive purpose you may have
---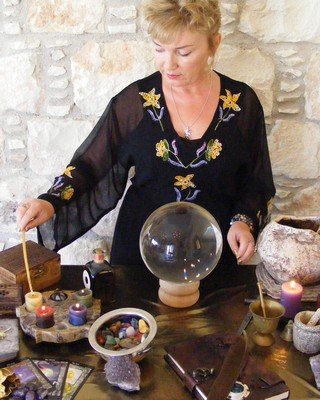 A New Moon Spell That Works


Have a New Moon Spell cast by a real Witch on the upcoming New Moon. A New Moon Spell to manifest whatever you most desire!
Cast on the next New Moon by Alizon, an experienced White Witch and Spell Caster.
---