Alizon Casting Spells to Change Your Life!

  SAFE
  EXPERT
  SKILLED
  TRUSTED
  RELIABLE
  EXPERIENCED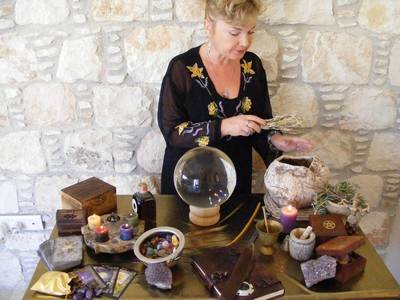 It's true that we all want to improve our lives and make our dreams a reality. And if you align yourself to the vibrational frequency of the Law of Attraction this is exactly what you can do!
And the easiest and most direct way to do this is via the ancient art of Spell casting by a real Witch.

Alizon's Green Witches Coven News: August 17, 2021
Merry Meet!
What if you won the Lottery?
Visit my most recent Blog post on my site and learn about how to cope with a HUGE lottery win. A big Lottery win WILL change your life, and these tips will help you prepare!
5 Top Tips for Surviving a Massive Lottery Win
---
Exclusive Spell Cast for Coven Members – only $30!
I've created a very special Coven Spell offered at my lowest price ever, so that even those who have limited budgets right now can take advantage of the awesome power of a Magic Spell cast exclusively by me, Alizon.
I use an ancient formula in this Coven Spell to truly enhance the positive energies of Mother Nature and the Universe.
To learn more and to see if you want to take advantage of this special priced Spell click the link:
Exclusive Coven Spell for Coven members
PASSWORD: COVEN77
---
The Full Moon Video and your Full Moon Discount Spell Offer
If you've not seen my video on the Magic of the Full Moon check it out here:
With increased lunar energy during the Full Moon phase, it's the perfect time to Cast a Spell knowing that the Moon is at its fullest and most potent.
As a Green Witches Coven Member, you can access my special DISCOUNT Full Moon Triple Cast Spell page. Here I offer a substantial discount on my powerful Triple Cast Full Moon Spell, one of the most powerful Spells anyone can cast.
Special Offer to all Coven Members. Get access to my Discount Full Moon Spell page by clicking the link below.
The Password: COVEN77
COVEN MEMBERS' FULL MOON DISCOUNT PAGE
---
The Corn Moon!
August brings us the Corn Moon on Full Moon night, the 22nd.
This Moon is full of Lunar Energy providing the Magic for new enterprises and projects. Ideal for Spell Casting to promote your new venture or idea.
Gather these ingredients before the 22nd and go to my Corn Moon page for details on how to Cast your own Spell!
Dried Lavender, dried Chamomile, dried Thyme, and dried Rosemary in a flameproof dish
An altar candle
A tall yellow candle with holder
Four objects connected with your skills or successes (or described in words)
---
COVEN NEWS: Past Editions
You can find web versions of all past Coven News editions with plenty of interesting information available to all Coven subscribers. Click the link:
Click
---
Useful Links
Alizon's E-BOOKS (many free!)
Your Password is COVEN77
---
---
Sharing is Caring! Please share it with your friends!


The law requires me to state that the contents of this website are for entertainment purposes only.
Psychic, tarot and spell casting services cannot be a substitute for professional, legal,
medical, financial or psychiatric advice/care, where appropriate.
You must be at least 18 years old to make any purchase from me.

© Copyright All Original Content 2006 – 2021 Alizons-psychic-secrets.com. All Rights Reserved.
Reproduction in whole or in part without permission is not permitted.