Alizon's Green Witches Coven News: August 17, 2021
Merry Meet!
What if you won the Lottery?
Visit my most recent Blog post on my site and learn about how to cope with a HUGE lottery win. A big Lottery win WILL change your life, and these tips will help you prepare!
5 Top Tips for Surviving a Massive Lottery Win
---
Exclusive Spell Cast for Coven Members – only $30!
I've created a very special Coven Spell offered at my lowest price ever, so that even those who have limited budgets right now can take advantage of the awesome power of a Magic Spell cast exclusively by me, Alizon.
I use an ancient formula in this Coven Spell to truly enhance the positive energies of Mother Nature and the Universe.
To learn more and to see if you want to take advantage of this special priced Spell click the link:
Exclusive Coven Spell for Coven members
PASSWORD: COVEN77
---
The Full Moon Video and your Full Moon Discount Spell Offer
If you've not seen my video on the Magic of the Full Moon check it out here:
With increased lunar energy during the Full Moon phase, it's the perfect time to Cast a Spell knowing that the Moon is at its fullest and most potent.
As a Green Witches Coven Member, you can access my special DISCOUNT Full Moon Triple Cast Spell page. Here I offer a substantial discount on my powerful Triple Cast Full Moon Spell, one of the most powerful Spells anyone can cast.
Special Offer to all Coven Members. Get access to my Discount Full Moon Spell page by clicking the link below.
The Password: COVEN77
COVEN MEMBERS' FULL MOON DISCOUNT PAGE
---
The Corn Moon!
August brings us the Corn Moon on Full Moon night, the 22nd.
This Moon is full of Lunar Energy providing the Magic for new enterprises and projects. Ideal for Spell Casting to promote your new venture or idea.
Gather these ingredients before the 22nd and go to my Corn Moon page for details on how to Cast your own Spell!
Dried Lavender, dried Chamomile, dried Thyme, and dried Rosemary in a flameproof dish
An altar candle
A tall yellow candle with holder
Four objects connected with your skills or successes (or described in words)
---
COVEN NEWS: Past Editions
You can find web versions of all past Coven News editions with plenty of interesting information available to all Coven subscribers. Click the link:
Click
---
Useful Links
Alizon's E-BOOKS (many free!)
Your Password is COVEN77
---
---
The NEW Moon is approaching!
Get your New Moon Spell for September 2023

D
on't miss out on the coming New Moon September 2023... Your chance to change your destiny:
You may want a New Moon Spell to:
Boost your Ancient Magical Chants

Attract a new love into your life
Begin a fresh start with an ex-lover
Success with any new project, enterprise or relationship

Commence a new career or business

Manifest a new period of abundant wealth and prosperity
Bring positive good luck for lottery wins and gambling
Or any positive purpose you may have
---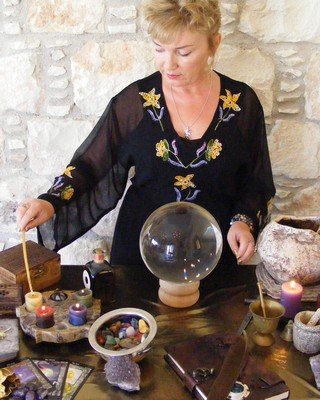 A New Moon Spell That Works


Have a New Moon Spell cast by a real Witch on the upcoming New Moon. A New Moon Spell to manifest whatever you most desire!
Cast on the next New Moon by Alizon, an experienced White Witch and Spell Caster.
---